Hat-trick hero Callum Wilson passes geography test
Thursday 23 November 2017By ESFA Office
Last Updated:
10/02/2021 10:50:12
The geography classroom at Glenmoor Academy was packed with over 50 pupils as they excitedly awaited the arrival of their AFC Bournemouth hero Callum Wilson. Four days before making his appearance at the ESFA PlayStation Schools' Cup Roadshow, Callum Wilson scored a hat-trick which helped secure an important three points in the Premier League against Huddersfield Town. As he walked into the classroom, the loud applause was fitting of his match winning performance.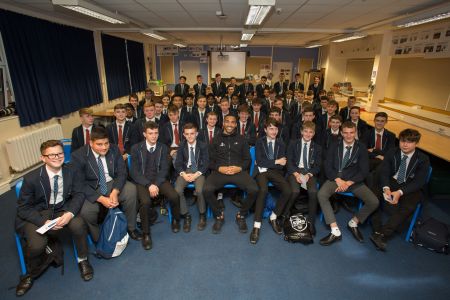 Callum Wilson's pupil Q&A session revealed that his strike against West Ham, which marked his first Premier League goal will be the one goal he never forgets, whilst proclaiming himself as the king of the nutmegs during Bournemouth training sessions. Callum went on to share his favourite memory so far in football as the moment AFC Bournemouth completed their fairy-tale promotion to the Premier League, in what was his first season at the club.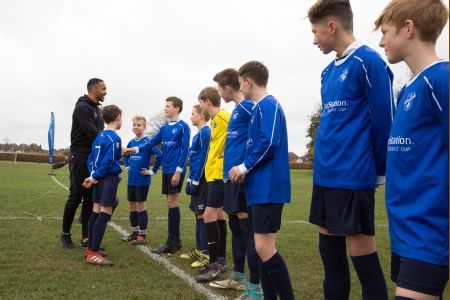 Glenmoor Academy have a strong football pedigree of their own, with numerous pupils playing for both AFC Bournemouth and Southampton Football Club Academy teams. Adding to the occasion of the roadshow event, Glenmoor were facing Mountbatten School from Southampton in the U13 Boys competition. Callum Wilson took time to meet both teams prior to kick-off, in a game which Glenmoor edged their way to a deserved 1-0 victory.
Immediately, after the Cup fixture, Glenmoor Academy U13 captain Ryan Chavez-Munoz headed to the school's GE hall that had been hosting the PS4 Gaming Zone throughout the day, where he would face Callum Wilson on FIFA 18. With the scores level at fulltime, it was the Premier League star that kept his nerve to win the penalty shootout. The crowd of pupils that were watching the FIFA 18 contest were rewarded with the opportunity of a selfie alongside the star guest.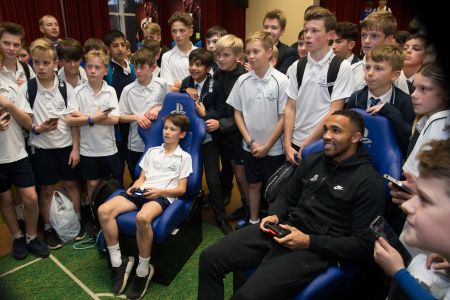 You can follow all the behind-the-scenes action across the PlayStation Schools' Cup Snapchat, Instagram and Facebook channels.
Facebook – search PlayStation Schools' Cup
Instagram/Snapchat – add/follow by searching psschoolscup
The ESFA can also be found on Faceook, Twitter and Instagram on our handle - @schoolsfootball
We would like to say a big thank you to Callum Wilson for proving a great inspiration to grassroots football and extend our appreciation to Glenmoor and Winton Academies for hosting the third PlayStation Schools' Cup roadshow of the season.
Archived News
Seasons
Season 2017-2018
November 2017
23rd :: Hat-trick hero Callum Wilson passes geography test