Girls' Football and the ESFA
Friday 10 November 2017By ESFA Office
Last Updated:
10/02/2021 10:50:12

Why we want #ESFAGirls to catch on
The English Schools' FA has facilitated a rich history of footballing successes since its creation in 1904 and like many other sporting organisations; has also seen a significant increase in Girls' Football over the last few years. The recent successes of the England Women's Team and growing popularity of the WSL are sure fire contributors to these increased numbers and the ESFA are very proud to be able to support Girls' Football across England through a huge number of National Cup competitions that we run through schools and Counties every season.
At present, the ESFA run competitions and tournaments for Girls in England from U11 right up to U18, providing footballing opportunities for over fifteen thousand school girls, nationally. The Association also run an U15 Girls' England squad, where talented players nominated by their local County Schools' FA are able to undertake a trials process with the opportunity to represent their Country as a well-earned reward for hard work throughout the process.
The English Schools' FA have been running competitions for girls to take part in since 1996 and since then, hundreds of thousands of schoolgirls across England will have honed their footballing skills through ESFA competitions and most importantly, had the chance to play and develop their game with their school friends and peers. Teams that are lucky enough to make it through to National Finals will have also experienced the exhilaration of being named one of the top two best teams in the country followed by the opportunity to battle it out at a prestigious football stadium and in recent years will have also had the match streamed live via the ESFA YouTube channel, allowing supporters that are unable to attend the Final to cheer their teams on from home.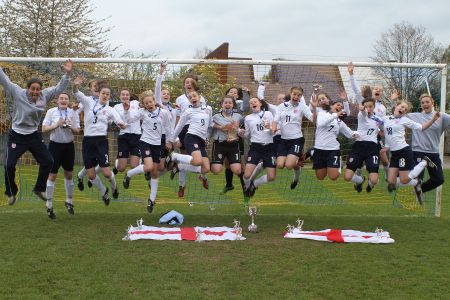 One of the ESFA's most successful U15 Girls' Squads featuring Ellie Brazil, Brenna McPartlan and Georgia Stanway, all of which have been part of the ESFA's GFW case studies this week
Throughout this week (6 – 12 November), the ESFA have created several player profiles of former ESFA U15 England schoolgirls to celebrate their achievements in line with Girls' Football Week, however we are consistently seeing a stream of girls playing within National Finals who go on to represent professional Clubs. In recent years, Aston Villa's first team player, Mollie Rouse took part in the ESFA U16 Premier League Schools' Cup final in 2015, Molly Johnson, Derby County first team player appeared in the Girls' U18 National final in 2015 and Fran Kirby, Chelsea FC and England Women's first team player competed in the U18 Girls' Final in 2010. These girls are perfect examples of the pathway created for school players through our Association helping them en route to successful footballing careers.
The ESFA have supported the growth and nurturing of Girls' Football for over 20 years and continue to provide some of the best grassroots opportunities for girls in England. Chances are created for teams to play against schools they wouldn't necessarily meet within local competitions and by running County Cups and an International Squad, a talent pathway is created in which schoolgirls can excel.
All these elements come together to create a rich tapestry of female footballers and competitions that the ESFA are incredibly proud of. This is why the Association have started rolling out the #ESFAGirls hashtag – to help evolve an online record of success and participation within girls' football at School and College level. So continue to help spread the word of Girls' Football and proudly promote the #ESFAGirls tag – because all players, teams, schools, teachers, parents and supporters are a huge part of making the beautiful game a little bit more beautiful.
Editorial by Sarah Kearney