Hammer Time for this Season's Second Tie of the Round
Friday 03 November 2017By ESFA Office
Last Updated:
10/02/2021 10:50:12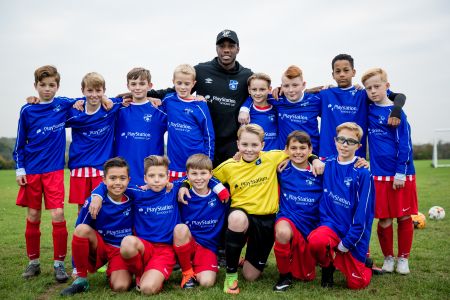 The start of November saw the second PlayStation Schools' Cup roadshow of the season. West Ham star Michail Antonio always wears a broad smile on his face, and an infectious laugh, so it was unsurprising he got such a warm welcome when he visited Emerson Park Academy.
During a Q&A session with over 40 pupils, some of the stories the Hammers star touched on included his favourite subjects at school were PE and Science, that Joe Hart was the club's summer signing that impressed him most and Manuel Lanzini is the king of nutmegs in training.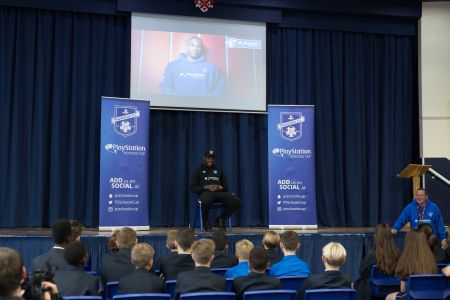 As part of the roadshow, Emerson Park Academy were playing St Mary Magdalene Academy in the PlayStation Schools' Cup U12 Boys competition. Prior to kick off both captains introduced their teammates to Antonio, before they enjoyed lining up with the West Ham star for team photos. Emerson Park Academy were clearly inspired by meeting their West Ham hero, having celebrated a 5-2 victory against St Mary Magdalene Academy.
Six pupils from the school were also rewarded by being selected to star alongside Antonio in a Sky Sports Game Changers Christmas Special feature filmed at the event. Another recognisable name at the event was freestyle footballer John Farnworth, who pulled off some amazing tricks in front of the West Ham winger, before interviewing Antionio for CBBC Match of the Day Kickabout.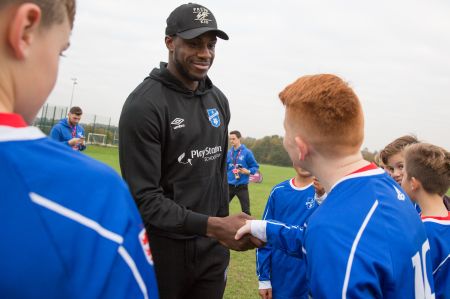 Antonio rounded off a busy afternoon when he took on pupil Jerry Reynolds for a game on FIFA 18, before taking time to have selfies with the crowd that had been watching the football contest on PlayStation 4.
You can follow all the behind-the-scenes action across the PlayStation Schools' Cup Snapchat, Instagram and Facebook channels as well as the ESFA Twitter and Instagram.
Facebook – search PlayStation Schools' Cup or Schools Football
Instagram/Snapchat – search psschoolscup or schoolsfootball
Twitter – search @PSSchoolsCup or @SchoolsFootball
We would like to say a big thank you to Michail Antonio for being such fantastic ambassador and extend our appreciation to Emerson Park Academy for hosting the second PlayStation Schools' Cup roadshow of the season.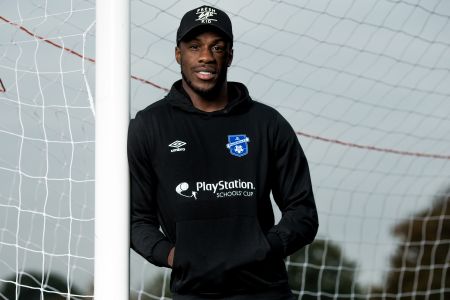 Archived News
Seasons
Season 2017-2018
November 2017
03rd :: Hammer Time for this Season's Second Tie of the Round