England U18's Quest for International Honours Continues
Wednesday 15 November 2017By ESFA Office
Last Updated:
10/02/2021 10:50:12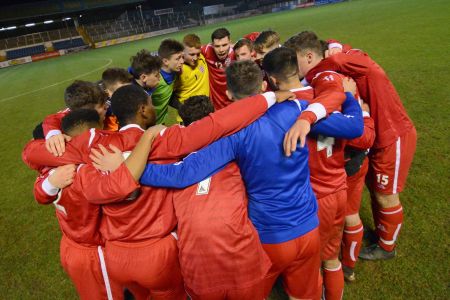 Regional matches scheduled for this weekend to allow U18 Boys to progress in the ESFA International trial process
The search for the ESFA Boys under 18 International Squad will continue this weekend when trials are held at Stafford Town FC on Saturday 18th and Thatcham Town FC on Sunday 19th November. These finals follow the two international friendlies for England which saw debuts for former schools' football players Joe Gomez and Tammy Abraham.
These trials are the second opportunity for the boys to impress selectors during the English Schools' FA's International process. All the players taking part were originally selected by their County to trial for International duty, and following four regional trials which took place nationwide throughout October, selected players have now progressed to this weekend's regional matches.
The two regional trials will take place this Sunday from 2pm at Thatcham and Stafford, full details can be found below. Boys that successfully complete this penultimate stage of the process will progress to the ESFA's 'Last 32' training weekend which will take place at Lilleshall National Sports Centre in Shropshire over the weekend of the 5 – 7 January. This final stage will include the last two trial matches where the final group of players will be split to play against the RAF and Royal Navy in their last chance to impress selectors and make the final cut.
The final squad will be announced following the trials at Lilleshall NSC and the England Squad will head back to Lilleshall towards the end of January to collect their kit and begin training ahead of the Centenary Shield fixtures, which will take place from 16 March.
The standards at trials have been notably high in recent years with a number of players progressing to play at higher levels of football. England star Chris Smalling, previously played in the ESFA Under 18 squad and went on to play for the men's national team. Furthermore, in recent years there have been success stories such as Frank Arhin and Aidan Stone who made the Under 18 squad after last seasons' trials. Arhin has since gone on to join Graham Potter's Ístersunds FK side that have risen to prominence in the last 6 years and are playing in the group stages of the Europa League and Stone was signed by Burnley FC as their U23 goalkeeper.
The ESFA are looking forward to welcoming back all participants to this year's trials and wish all the selected players the very best of luck in their footballing pursuits in the 2017-18 season.
Regional Trials: Saturday 18 and Sunday 19 November 2017
South East v South West

2.30pm KO

Thatcham Town FC, Waterside Park, Crookham Hill, Thatcham, RG19 4PA

North v Midlands

2.30pm KO

Stafford Town FC, Evans Park, Fairway, Stafford,

ST16 3TL
Last 32 Training Camp: 5 – 7 January
ESFA Trialists v RAF

10am KO

Lilleshall National Football Centre, Nr Newport, Shropshire, TF10 9AT

ESFA Trialists v Royal Navy

2pm KO

Lilleshall National Football Centre, Nr Newport, Shropshire, TF10 9AT
Archived News
Seasons
Season 2017-2018
November 2017
15th :: England U18's Quest for International Honours Continues