Maiden Erlegh School make the U16 National Final
Wednesday 27 February 2013By ESFA Office
Last Updated:
10/02/2021 11:49:20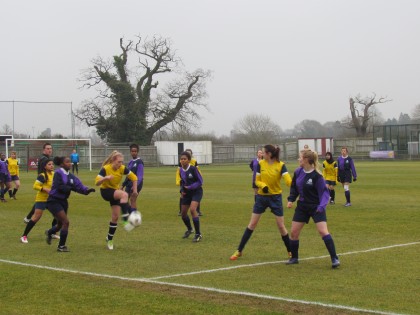 Maiden Erlegh School (Yellow) v Drayton Manor High School (Purple)
On a perfect pitch at Windsor FC, Maiden Erlegh and Drayton Manor School went toe to toe for a place in the ESFA U16 Girls National Final. The early signs were not good for the Reading based team, as their London based opponents dominated the early exchanges. However, having weathered the early storm without conceding, the team in bright yellow jerseys began to take control of the game all over the field.
Two unanswered goals in quick succession on the half hour saw confidence grow and by half time the writing was all but on the wall for the away side, much to the disappointment of the travelling supporters. A further breach of the deflated team's defence came immediately after half time to put the home side firmly in the driving seat. However, a quick response from Drayton Manor set the nerves on end once more. Another short period of dominance by the visitors followed, but their last onslaught was effectively brought to an end by the dismissal of their strongest player on 70 minutes, for a second bookbale offence. Without the strength of their outstanding Captain in defence, two more Maiden Erlegh goals followed quickly and at 5-1 the hosts could enjoy the final moments of the occasion relatively pressure free.
At the end of the game a jubilant Maiden Erlegh side congratulated each other and their opponents, before a celebarting in style in the changing rooms. A buffet was enjoyed by both teams, the officials, parents and representativies of the ESFA, who had given up their time to come along and support the girls.
Next stop: National Final. Pirelli Stadium. Burton Albion FC. Monday 18th March
Archived News
Seasons
Season 2012-2013
February 2013
27th :: Maiden Erlegh School make the U16 National Final