Kepier School into the Quarter Finals
Monday 11 February 2013By ESFA Office
Last Updated:
10/02/2021 11:49:20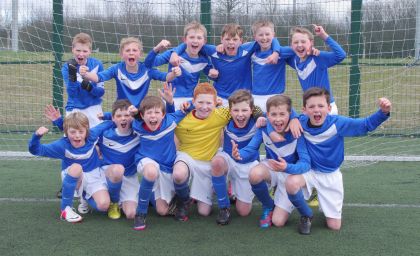 Kepier School celebrating their win in the Danone Nations Cup
Kepier entertained St John Fisher RC School of Harrogate in the last 16 of The English Schools' Football Association Danone Nations Cup on an overcast but dry day in Houghton-le-Spring.
In a tight and competitive first half, Kepier just edged the possession, but created few chances due to some excellent defensive work from the visitors. The breakthrough didn't come until the final minute of the half, when after some neat build up play Sam Robinson latched onto a through ball and calmly slotted the ball into the bottom corner of the St John Fisher goal.
The second half saw Kepier begin to dominate the centre of the park, controlling possession for large periods and forcing the visitors onto the back foot. However St John Fisher continued to defend bravely, and it was ten minutes in until Alex Johnson launched a speculative shot from well outside the box, which found its way into the bottom corner.
Kepier's confidence continued to grow, and the third goal wasn't long in arriving. Sam Robinson again showed his prowess in front of goal, shrugging off several challenges and again finding the bottom corner of the net. St John Fisher, to their credit, refused to let their heads drop and in a rare second half attack immediately afterwards forced Alex Johnson into some excellent defensive work to prevent a chance on the Kepier goal.
Kepier's fourth came from Luke Ridley a few minutes from the end of the match when he picked up the ball just inside the St John Fisher box and looped his shot over the keeper and into the far corner of the goal.
Kepier are now through to the quarter finals of the competition.
Manager, Martin Scott, said "Once again the boys have proved themselves a credit to their families and the school - I'm looking forward to the quarter finals of the competition and if the boys continue to play like they have today believe we can make it all the way to the final".

Archived News
Seasons
Season 2012-2013
February 2013
11th :: Kepier School into the Quarter Finals