U12 Indoor 5-a-side Cup: Midlands West Finals
Friday 08 February 2013By ESFA Office
Last Updated:
10/02/2021 11:49:20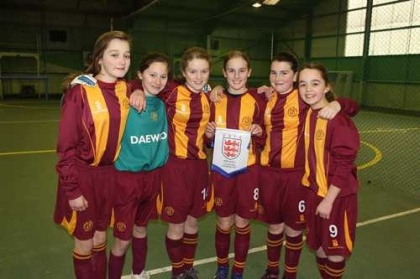 Thomas Telford Girls' Team celebrate win
The ESFA Under 12 Indoor 5-a-side Schools' Cup, sponsored by Munich Trophies, Midlands West Area Finals were played on Tuesday 5th February at the Coventry Connexion and were full of incident to say the least. Motorway crashes, broken down lorries and a blizzard all created mayhem and led to late start.
However with the co-operation of the schools we were soon back on track and the competition was as intense as ever but with really positive attitudes from players from all schools.
The girls' competition played in a league format with all 13 teams playing against each other was a new format and it worked very well. Thomas Telford, Witton and Kingsmead were the standout teams and the Thomas Telford's 3-2 against Witton was the decisive game as at the end of an intense four hours of non-stop football Thomas Telford were the winners by the narrowest of margins going through to the national finals with a 100% record.
The boys' competition played in an eight team two league format was also an extremely close run affair. After some closely fought encounters the four semi finalists were Thomas Telford, their Shropshire neighbours Meole Brace, Alvechurch and Bartley Green. Meole Brace and Alvechurch were the semi final winners and progressed to the final, where in a really close game, Alvechurch shaded Meole Brace to win the championship by a single goal.
Alvechurch unfortunately had to hand their place in the national finals to Meole Brace as almost their whole squad will be on a skiing trip when the final is due to be played.

Archived News
Seasons
Season 2012-2013
February 2013
08th :: U12 Indoor 5-a-side Cup: Midlands West Finals