U18 International preperations are under way

Friday 15 February 2013By ESFA Office
Last Updated:
10/02/2021 11:49:20
Andy Buckingham talks us through his weekend with the England Schoolboys, ahead of the international season start.
Lilleshall Squad Training Weekend
An enjoyable and valuable weekend for the England Schoolboys was tainted by a worrying ankle injury to Keiran Morris. I sincerely hope that he can recover in time to represent the team in the matches ahead. He is a wholehearted and committed player as well as being a terrific young man. Andy Blight (Assistant manager) and Michael Johnson (Goalkeeping coach) were able to assist me in putting the boys through their paces. We felt that progress was made with the team dynamic. It is vital at this stage that the players bond as a group, which is something that we will be able to do on our visit to Spain.
The Celebration dinner was memorable, it is tremendous to see the faces of the boys as they are presented with their England shirts. Prostar have provided them with a fantastic set of kits to train and play in, and we really appreciate the support they give the team. Likewise, Tom Shorey at inspireSport is also a wonderful supporter of the ESFA.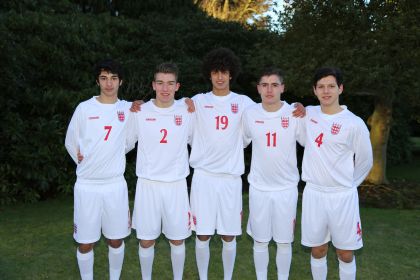 Some of the squad in their new kit!
Finally, may I thank in advance, Lincoln City FC and Plymouth Argyle FC for allowing us to use their grounds for the home international games in the Centenary Shield. The school associations in these areas have no doubt been working hard to make the games a special occasion. The players and staff really do appreciate the efforts made by the people on the ground.
Hopefully everyone benefits from the forthcoming trip to Valencia and all injuries have cleared up before we do battle with Wales on March 1st.
Looking forward to it all.
inspiresport prepare to take the boys to Spain
To mark the ongoing relationship with the ESFA, inspiresport are proud to be facilitating the England Under 18 Schoolboys on their trip to Valencia Club de Fútbol as part of their pre-international training camp.
This will be the 9th pre-international tour in a row that the team has been on with our tour providers, inspiresport.
The players will train at the official Valencia CF training facility -Ciudad Deportiva de Paterna- as well as a high quality natural grass satellite facility. In addition to playing a fixture against the Valencia U18 team the squad will receive a training session with one of the top academy coaches from Valencia. The group will be staying at the Husa 4* Hotel, situated just 200m from the Valencia CF training facilities.
Valencia CF is one of the most popular sport tour destinations available through inspiresport.
England Schoolboy U18 Team
Archived News
Seasons
Season 2012-2013
February 2013
15th :: U18 International preperations are under way