Chairman's Monthly Report
Friday 15 February 2013By ESFA Office
Last Updated:
10/02/2021 11:49:20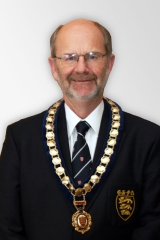 Neil Pont, ESFA Chairman
This month has once again seen me involved in some pleasing tasks in my role as Chairman. I hosted a long-service awards lunch in Penrith and presented this season's Under 18 ESFA international team with their shirts for their upcoming series of matches.
The lunch in Cumbria was to thank Gerry Holland (50 years) and Mike Stainton (40 years) for their dedicated service to schools' football. Also in attendance, besides the wives of Gerry and Mike, were Dave Prothero (Secretary) and Dick Scott (Chairman /Treasurer) of Cumbria County Schools' FA. Dave and Dick have already received their 40 year awards - so, if you include me in the arithmetic, those present had over 220 years' service to ESFA! Laudable though this may be, it is also rather worrying. I'm sure many of us involved in schools' football administration are looking over our shoulders and wondering who will take up the reins when we are gone.
So why is it they we are still involved? Surely because we still enjoy the work that we do. The involvement with like-minded colleagues; the pleasure of seeing young people blossom through the medium of schools' football and the sense of fulfilment of doing things well must all be factors that keep us going. But - are we blocking the paths of younger teachers who are willing to become involved? If this is not the case, will it all collapse when we go?
I am convinced that schools' football will continue to thrive - as long as we are providing a quality product that appeals to teachers and young people alike. We have to ensure that, when the current body of administrators calls it a day, that others will step forward because they couldn't bear to be without all that schools' football provides for them. So it is essential that we involve younger teachers in the administration of the game and let them see the rewards it brings. The notion of succession planning is one that we need to take on-board to ensure that the future is bright.
Your Council has worked with The FA to undertake research that will help us understand the problems that are faced in delivering school football. Many of you reading this will have participated in that research. Consultation has now ended and we will receive a report towards the end of March. The recommendations and findings from that report will help inform the new 3 year Development Plan that was agreed by Council at their meeting held at Lilleshall over the weekend 1st - 3rd February.
This was the same weekend that our new international squad came together to receive their uniform and shirts; to get to know each, to train and to play a friendly versus Loughborough University. On the Friday night a formal dinner was held, attended by Council and the players - who looked splendid in their new blazers that bear the 3 Lions badge.
When presenting the shirts, I talked to the players about how one quality that separates very good players from ordinary players is their ability to make the right decisions and choices when playing: when to pass or take a player on; when to jockey or when to tackle; how to support a team-mate in possession; how to regain possession of the ball; and many other such decisions throughout the game. I congratulated the players on the fact that they had already made a very good decision - to carry on with their education while still striving to play at the very highest level. We need to support other young people in making that choice to ensure they can achieve that life balance we all strive for. Football will not be a career for many but it will be a great source of enjoyment and satisfaction for a long, long time for those who participate in this great game. I am also reminded of one of the first pieces of advice I was given about the work of the ESFA a very long time ago - "we are here to provide football for boys, NOT boys for football" (obviously in an era before the girls' game had taken hold!).
ESFA will provide a wonderful football experience for the members of the international squad; an experience that comes as a reward for the way they have approached football from their early days in primary school through to playing for their districts and counties. Having met them, I am confident that they will be true ambassadors for school football in the months ahead.
Meanwhile teachers will be providing equally exciting football throughout the land. As the weather relents more football will be played and will we will see competitions reaching their climaxes. Keep enjoying the game!