U12 Indoor 5-a-side Cup: Midlands East Finals
Tuesday 12 February 2013By ESFA Office
Last Updated:
10/02/2021 11:49:20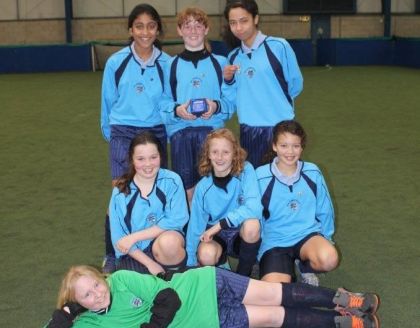 West Bridgford team
The tournament took place on Friday 8th February at the Soccerdome in Derby.
Eighteen boys teams and 11 girls' teams, most of them District champions, took part in a great day's football in the East Midlands Regional Round of the national indoor 5-a-side championship at Derby. The competition was fierce as only the winners of each section could qualify for the National Finals and after four hours, it was West Bridgford School's girls' squad and the boys of West Park School, Derby who triumphed.
GIRLS
The girls' competition was played in two League groups with the top two from each group going through to the knock-out semi-finals. Group A was dominated by Sirius Academy from Hull who won four of their games and drew the other after they had already qualified. West Bridgford, in contrast, lost two of their first three games, the first against Sirius and the third against South Charnwood (West Leicestershire) and despite a 4-1 win over Outwood Academy Valley (Worksop and Retford) seemed to have blown their chance of making further progress. However, a dramatic turn- around saw them beat Derby Moor School and Bourne Grammar (South Lincs) both 6-0 which took them into the knock-out stage in second place in the group behind Sirius.
In Group A, Abbeyfield School from Northampton proved the strongest side, netting 16 goals in their four games. After a slightly uncertain start in which they narrowly defeated Nottingham's Emmanuel School 3-2 and then drew 4-4 with South Hunsley (East Riding), they romped away with a 7-0 win against Vale Academy (Scunthorpe), the highest score in the girls' section during the day. Abbeyfield confirmed their top position with a 2-1 victory over Cherry Willingham (Lincoln and Gainsborough). Nottingham Emmanuel recovered well from the first match defeat and won their other three games 4-0, 4-1 and 3-2 to finish in second place.
In the semi-finals, Sirius seemed to confirm their position as favourites for the title with a 4-0 win against Emmanuel but West Bridgford were also convincing as they beat Abbeyfield 4-1. The final was very well fought and proved an exciting climax to an excellent competition. The Hull side took an early lead but a brave goal from Ashleigh Edwards who managed to hook the ball into the net from a prone position after colliding with the goalkeeper and the defender almost on the line. Both sides went close but in the penultimate minute, it was Edwards who coolly netted the winner with a shot across the keeper to put her side through to the National Finals.
BOYS
The boys' teams were divided into two groups of four and two of five with the teams in the groups of four playing each other twice to give them plenty of court time.
The strongest group on paper seemd to be Group A which included Northampton School for Boys, Malet Lambert (Hull), Lancaster (Leicester) and George Spencer (South Notts), all of whom have done well in national competitions in recent years. This proved to be the case as when the final game was played, three teams, Lancaster, Malet Lambert and Northampton were on seven points with only the group winners going through to the semi-finals. Malet Lambert met George Spencer needing only a draw to qualify but the latter won 4-2 to enable Northamptom to go through to the final on goal difference.
Group B was also very competitive with seven of the 12 games ending in draws before Priory Academy (Lincoln and Gainsborough) eventually progressed as group winners thanks to two victories from their six games bringing them nine points and a better goal difference than Kibworth, with Nottingham University Samworth Academy finishing third with eight points..
Group C proved to be a very high scoring group with 69 goals coming from the 10 games. Kingswood School (kettering and Corby) were involved in the two highest scoring games of the day; first they lost 7-4 to Martin High School (North Leicestershire) and in their next match won 7-4 against Humberston Academy (Grimsby and Cleethorpes). It was, however, West Park (Derby) who dominated the group with victories over Humberston, Boston Grammar (South Lincs) and Martin High and a draw with Kingswood.
In Group D, it was the Scunthorpe side, Melior Community Academy who opened up an early lead which they never lost with wins against Weavers School (Wellingborough and Rushden) 4-1 and South Charnwood (West Leicestershire) 5-2 and despite a surprise defeat in the return game against South Charnwood, they gained fifteen points from their six games to reach the semi-finals.
Melior whose Team Manager had not expected them to do well, continued in good form to defeat Priory 3-1 in their semi-final while the other game saw Northampton School for Boys and West Park draw 1-1 with the Derby school going through to the final 4-3 on penalties.
The final proved one step too far for Melior as after the first two goals were shared, West Park played some excellent football to ensure their presence at the national Finals on March 2nd at the same venue with a 3-1 win.
The whole tournament was played in the best traditions of the English Schools' F.A. with skill matched by sporting behaviour from all concerned.
Competing Schools
Boys
| | |
| --- | --- |
| Parkdale Community School | Chesterfield |
| Malet Lambert Language College | Kingston-upon-Hull |
| Lancaster Sports College | Leicester |
| Northampton School for Boys | Northampton |
| George Spencer Academy | South Notts |
| West Park School | Derby |
| Humberston Academy | Grimsby and Cleethorpes |
| Kingswood School | Kettering and Corby |
| Martin High School, Anstey | North Leicestershire |
| Boston Grammar School | South Lincolnshire |
| South Holderness School | East Riding |
| Priory Academy LST | Lincoln and Gainsborough |
| Nottingham University Samworth Academy | Nottingham |
| Kibworth School | South Leicestershire |
| Melior Community Academy | Scunthorpe |
| Weavers School | Wellingborough/Rushden |
| South Charnwood High School | West Leicestershire |
| Oakwood Academy Valley | Worksop and Retford |
Girls
| | |
| --- | --- |
| South Hunsley School | East Riding |
| Cherry Willingham School | Lincoln and Gainsborough |
| Abbeyfield School | Northampton |
| Nottingham Emmanuel School | Nottingham |
| The Vale Academy, Brigg | Scunthorpe |
| Derby Moor School | Derby |
| Sirius Academy | Kingston-upon-Hull |
| Bourne Grammar School | South Lincolnshire |
| West Bridgford School | South Notts |
| South Charnwood High School | West Leicestershire |
| Oakwood Academy Valley | Worksop and Retford |
Archived News
Seasons
Season 2012-2013
February 2013
12th :: U12 Indoor 5-a-side Cup: Midlands East Finals