U15 Girls Final Trial - North v South at Lilleshall Hall
Wednesday 20 February 2013By ESFA Office
Last Updated:
10/02/2021 11:49:20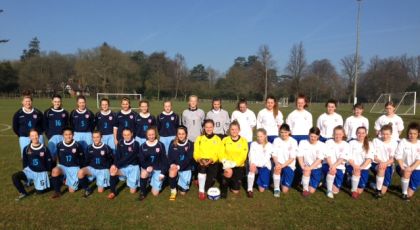 North v South squads
After the trials and tribulations of the cancelled trial in December the two day gathering in February, originally planned for the selected squad was extended to include all participants from the two squads representing the North and South.
The girls met up after lunch on Monday for a couple of hours coaching with the management team and the goalkeeping coach. After the evening meal an evening session in the lecture theatre was followed by an early night so that all would be fresh for their trial in the morning.
February in rural Shropshire is always cold and today was no exception. The day dawned to the mercury at -3 and fog enveloping the pitches. However by the time the two teams took to the pitch a beautiful day had arrived with the winter sun burning off the remnants of the fog and the temperature climbing to a balmy 7 degrees.
As ever in this situation a number of girls showed some early nerves but the game soon developed into a pattern where the North were the dominant force but the South were resolute in their defence. The deadlock was broken by the North in the first period and three further goals saw them run out as convincing winners.
The management team used the second half to mix up the teams to ensure that all girls were given pitch time in their chosen positions and as the session closed the management team were left with the difficult task of selecting the 16 girls who will go forward to represent their country in the forthcoming fixtures.
All girls were presented with certificates and badges to recognise their achievements to date.
ESFA wishes to thank today's officials from Burton on Trent for their efforts on our behalf as well as all of the participants at the trials and the parents who supported their daughters through this trial process. There will be some disappointed young people in contrast to the joys of those selected. Every girl present has made a huge contribution and are to be congratulated for making it to the last 34 in the country.
The squad will be posted on the website of the ESFA on Friday.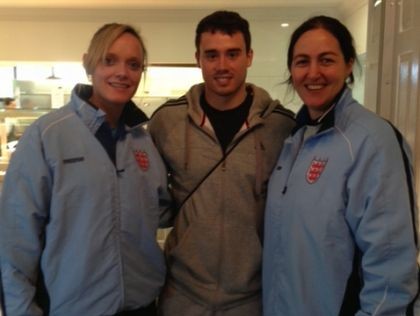 Miranda Hall & Sarah Steadman with Olympic Gymnast, Kristian Thomas
Also in residence during the trial period were the British men's gymnastic team and the management team of Miranda Hart and Sarah Steadman took the opportunity to be photographed with Olympic medallist Kristian Thomas, a rose between two thorns.

Archived News
Seasons
Season 2012-2013
February 2013
20th :: U15 Girls Final Trial - North v South at Lilleshall Hall