England U18 Keeper Lands Premier League Contract for 2017!
Thursday 25 May 2017By ESFA Office
Last Updated:
30/05/2017 09:51:54
England U18 Goalkeeper Aidan Stone pictured with the squad following this season's Trials
ESFA goalkeeper, Aidan Stone from Wolgarston School in Staffordshire, has signed a professional football contract with Premier League club Burnley, to finish off his excellent season playing internationally for England Schoolboys'.
Former ESFA U18 Team Manager, Andy Williams interviewed Aidan on his fantastic success -
ESFA – Aidan, congratulations on securing your first professional football contract with Burnley FC. Can you tell us when you first discovered there was interest and how it then all came about?
AS – Burnley have been tracking my progress with my club (Brocton FC) and followed it up by watching me against the Republic of Ireland in Dublin and then again against Wales in Bristol. I didn't know they were watching me and then I got an invite for a trial just 2 weeks after the game against Wales.
A professional contract is a schoolboy dream; have you had to pinch yourself and what has been the reaction from your family, friends and teachers to your news?
Yes it has all come about very quickly. My family, friends, and teachers were very pleased for me when I told them the news as they know how hard I have been working on and off the pitch to secure a move like this.
How did you hear of Burnley's interest and how did they make contact with you?
It was Nicky Law (Head of Recruitment) who originally contacted me. He made contact with me through my club, Brocton FC and said that they had watched me for the last few months for both Brocton and England. He said that he was very impressed with what he had seen during the games that he had watched me in and thought I had a lot of potential. They then invited me to go for a trial and it went from there.
Has anyone asked for your autograph yet?
A few of my parents' close friends have asked me for autographs as did a few of the fans whilst I was up there last week when they were having a tour of the training ground.
When do you start and what are you looking forward to most with Burnley?
I start on the 3rd of July for preseason training. I am really looking forward to learning a lot from the other (experienced) goalkeepers such as Tom Heaton, Paul Robinson and Nick Pope.
How has your ESFA experience helped to prepare you for what lies ahead this year at Burnley?
The intense training with Matt George and the selection process as a whole has allowed me to prepare well for what lies ahead with Burnley.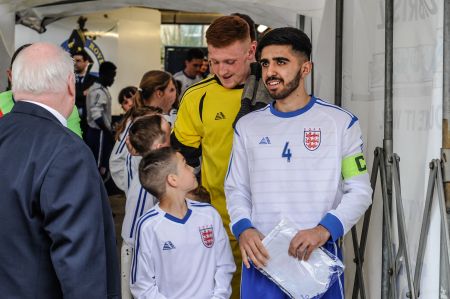 Aidan lining up in the tunnel ahead of the ESFA U18 Centenary Shield Match v Wales at Bristol Rovers FC
Let me take you right back to the start of the trial process this season. Did you ever think on that first day that you would end up representing your country and how difficult was it to get selected?
If I'm being honest I'd say no. In the first trial I knew that I had played well but I never thought that I would actually represent my country. The competition during the selection process was very good and also very tough.
What was the highlight of your Centenary Shield winning season?
It was all hugely memorable, but I'd have to say winning the shield was the best part and going home knowing that you're an international winner. No one can ever take that away from the players, so we are all very proud.
What has playing for ESFA taught you?
My experience with ESFA has taught me that if you want to be the best you have to find that extra energy on and off the pitch to put in that extra 10% so that you have a positive outcome by the end of the game.
There will be plenty of youngsters reading this aspiring to get involved in playing for the ESFA. What advice would you give them?
The advice that I'd give to youngsters reading this would be to keep working hard and never give up. The personal reward is fantastic and you will succeed if you keep working hard.
Going back can you tell us who first introduced you to football and why goalkeeping?
My dad was the one who first got me into football along with my uncle. I have only been playing in goal since I was 14 but I guess when I was playing in goal I got that extra buzz than I did when playing outfield which made me want to play in goal.
Give us an insight into goalkeeping. I guess the biggest question for a goalkeeper is how do you deal with conceding a goal or making a mistake?
I think as a goalkeeper you have to clear your mind straight away and refocus if you concede a goal or make a mistake because if you dwell on either this will affect the rest of your performance.
Who has been the biggest influence on your football development?
The biggest Influence on me would have to be my parents. I can't thank them enough for what they have done for me, such as driving me up the other end of the country on a Saturday afternoon to take me to a game and giving up their time in the week to take me to training.
Aidan it has been a pleasure catching up with you. Good luck with your Burnley adventures
The English Schools' FA would like to wish Aidan the very best and much success at his new club and within his footballing career.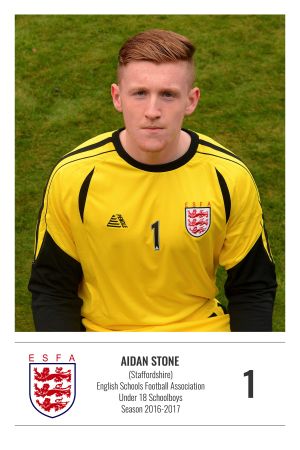 Latest News
Archived News
Seasons
Season 2016-2017
May 2017
25th :: England U18 Keeper Lands Premier League Contract for 2017!