ESFA PlayStation Under 15 Schools' Cup for B Teams Match Report
Tuesday 30 May 2017By ESFA Office
Last Updated:
10/02/2021 11:50:06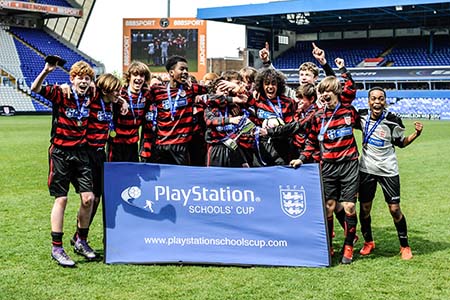 Cardinal Heenan Catholic Sports College have been confirmed as the winners of the 2017 ESFA PlayStation Under 15 'B' Team Cup for Boys' after beating Thomas Tallis School 4-2 in an entertaining game that could have gone either way in the end, simply because the pendulum swung one way and then the other throughout. An early brace from George Lang meant that Thomas Tallis were able to seize the early advantage which they were able to retain until the 72nd minute when Benjamin Hodgson scored the first of his four goals to cut the deficit. Cardinal Heenan then sent the game into extra time via Benjamin Hodgson's low driven free-kick from the edge of the area in the dying seconds of normal time. That goal appeared to deflate Thomas Tallis as Cardinal Heenan sealed the win in extra time courtesy of Benjamin Hodgson completing his four-goal haul; his hat-trick strike came from the penalty spot and he wrapped up the scoring with a cool finish past Ellis Payne in a one-on-one scenario. Both sides deserve tremendous credit for the entertaining spectacle that they produced in front of an extremely partisan and vociferous crowd on the hallowed St. Andrew's turf.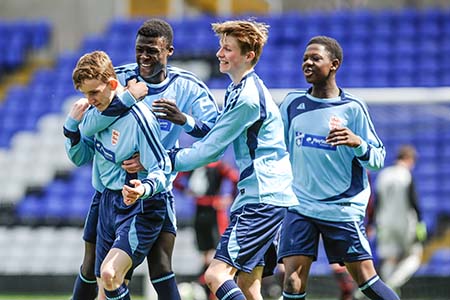 Match Background:
Both of this year's finalists had successfully navigated six previous rounds before today in what is most likely to have been a long and arduous road, full of many joys and sorrows, starting in September and culminating with this entertaining contest at St. Andrew's. As was the case in the previous finals, the quality of the two teams can be indicated by the degree of difficulty that each county had faced in getting to this stage: Cardinal Heenan had to overcome Thomas Telford School who had held as many as eight ESFA trophies coming into this season. Concurrently, Thomas Tallis successfully overcame Ivybridge Community College 2-0 in their respective semi-final fixture. Furthermore, it would be remiss of us not to briefly acknowledge both teams' exceptional pedigree in developing promising talent. In particular, Thomas Tallis School have helped to guide a number of their pupils towards careers in law, teaching and performing arts for example. All of these professions require a great deal of self-discipline and respect which are of course, key ESFA virtues. Likewise, Cardinal Heenan Catholic Sports College can count former Liverpool and England captain, Steven Gerrard, amongst their alumni. Therefore, it seemed that both teams would be evenly matched heading into the encounter.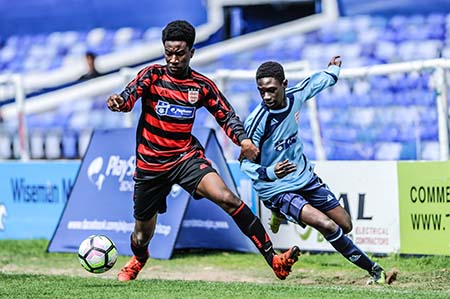 Match Details:
This eagerly awaited match up gave us an immediate glimpse as to what to expect for the rest of the match as George Lang let fly from the edge of the box and his shot drifted over the helpless Cardinal Heenan goalkeeper Jamie Rustage. Thus, Lang was able to open the scoring and enable Thomas Tallis to seize the early initiative. Thomas Tallis were understandably buoyed by the start that they had enjoyed and sought to double their lead as soon as possible. Consequently, Thomas Tallis looked to apply pressure to the Cardinal Heenan backline very high up the pitch but it was Cardinal Heenan who had the next few efforts on goal. Notably, they went close through their captain John Fox whose shot from approximately 20 yards out was well blocked. Subsequently, in the 20th minute, Kai Laite had a headed effort from 6 yards out fantastically saved by Thomas Tallis goalkeeper, Ellis Payne. After the subsequent corner was punched away, Cardinal Heenan's Benjamin Hodgson fired his shot wide. As is sometimes the case in football, despite all of Cardinal Heenan's pressure, Thomas Tallis were able to extend their lead against the run of play. As before, the goal came courtesy of George Lang as he raced onto a hopeful through ball from the impressive Nico Herelle to round the advancing Jamie Rustage and slot home. This put Thomas Tallis into a very commanding position heading towards the half time break and it was one that they were able to retain despite Cardinal Heenan forcing Ellis Payne into a smart save courtesy of Kai Laite's effort in the 33rd minute.
Half Time: Thomas Tallis School 2-0 Cardinal Heenan Catholic Sports College
The second half began in a disjointed fashion as both teams looked to take stock of their situation and a little while later Benjamin Hodgson had a shot saved from close range. Cardinal Heenan then appeared to take control and threw everything they had at Thomas Tallis in an effort to get back into the game. The first sign of this came in the 53rd minute when Pride Shumba warmed the gloves of Ellis Payne from 25 yards out. Following this, Benjamin Hodgson was also foiled by the excellent Ellis Payne, as he sent an effort towards goal from eight yards out. In response, Thomas Tallis' Nico Herelle saw his free kick saved in a rare foray forward. Cardinal Heenan finally broke through Thomas Tallis' stubborn resistance in the 74th minute when Benjamin Hodgson latched onto Louis Robinson's through ball to halve the deficit from close range. It was now or never for Cardinal Heenan and they sent as many men as they could afford to forward at every opportunity. As a consequence of that tactic, it left plenty of space for Thomas Tallis to exploit at the back when the opportunity presented itself. One such opportunity fell to Abdul Jobe in a one-on-one situation but his shot was well saved by Jamie Rustage. Almost immediately, Abdul Jobe had another one-on-one chance that ended up being a carbon copy of the last attempt – Jamie Rustage saving well. Thomas Tallis were left to rue the chances that they had spurned earlier on as with the last meaningful kick of the game, Benjamin Hodgson equalised courtesy of a low driven free-kick on the edge of the box.
Full Time: Thomas Tallis School 2-2 Cardinal Heenan Catholic Sports College
That goal right at the end of normal appeared to have deflated the Thomas Tallis players and this was somewhat reflected in the way both sides began the Extra Time period – Cardinal Heenan were on the front foot, pushing for a winner, whereas Thomas Tallis looked happy to just stay in the game to begin with. Benjamin Hodgson forced Ellis Payne into a low smart save from his 25-yard free-kick at the cost of a corner. From said corner, John Fox forced Ellis Payne into yet another save. The turning point of the game came very soon afterwards as Nico Herelle received his second yellow card for a rash challenge level with the edge his own penalty area. From the resultant free-kick, Cardinal Heenan were awarded a penalty courtesy of Joe Maginnis' handball; Benjamin Hodgson stepped up and calmly slotted his penalty into the bottom corner past the outstretched hand of Ellis Payne.
The second half started frantically with Abdul Jobe lashed his low shot just past the post when well-placed for Thomas Tallis. However, Benjamin Hodgson grabbed his fourth goal soon afterwards and in doing so killed the game as a contest. His fourth strike was yet another one-on-one opportunity - he ran through virtually unopposed and smashed his effort high into the roof of the net.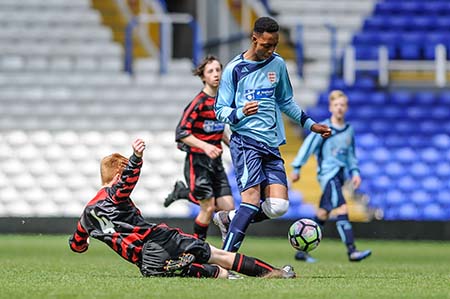 Joyous scenes followed at the final whistle as Cardinal Heenan Catholic Sports College celebrated a hard-fought victory. Thomas Tallis School, to their credit accepted their defeat gracefully and thoroughly deserved their applause after the match, as well.
Full Time (AET): Thomas Tallis School 2-4 Cardinal Heenan Catholic Sports College
Squads:
Thomas Tallis School: 1. Ellis Payne; 2.Glenn Bain; 3. Adejuwon Yussufu; 4. Joe Maginnis; 5. Frank Wilson-Pulley; 6. Tyler Vassalo; 7 Cameron Peart (C); 8. Nico Herelle; 9. Knoxe Ndangurwa; 10. Jordan Richmond-Fagbohun; 11. George Lang; 12. Jack Ferris; 14. Bishall Pachabya; 15. Abdul Jobe; 16. Emmanuel Ayode.
Cardinal Heenan Catholic Sports College: 1. James Rustage; 2. Adam Smith; 3. James Johnston; 4. Luke Fraser; 5. Gabriel Mbilo; 6. James Rossiter-Coan; 7. Steven Jones; 8. John Fox (C); 9. Kai Laite; 10. Benjamin Hodgson; 11. Louis Robinson; 12. Pride Shumba; 13. Kieran Forrester; 14. Jordan McIntyre; 15. Liam Murphy; 16. Charlie Molloy.
Match Officials:
Referee: Dumitru-Ravel Cheosiaua
Assistant Referees: Charles Humphreys and Davie Webb
Fourth Official: David Carney
The ESFA would like to place on record it's thanks to the staff at Birmingham City F.C. for hosting the event and PlayStation for sponsoring a plethora of our competitions, including this tournament. Further thanks go to 247tv for providing the live stream, as well as 353 Photography for providing the match photos.
https://www.youtube.com/watch?v=J4tPDlfPKD4
Images © ThreeFiveThree Photography - not to be reproduced without permission.
Archived News
Seasons
Season 2016-2017
May 2017
30th :: ESFA PlayStation Under 15 Schools' Cup for B Teams Match Report