ESFA PlayStation Under 14 Inter County Trophy for Boys' Match Report
Thursday 25 May 2017By ESFA Office
Last Updated:
30/05/2017 09:51:54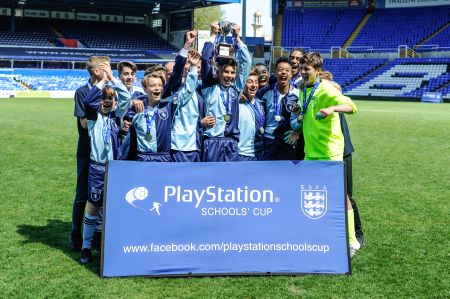 Kent County Schools' FA 4-0 Berkshire County Schools' FA
Kent County Schools' FA are confirmed winners of the 2017 ESFA PlayStation Under 14 Inter County Trophy for Boys' following an emphatic 4-0 victory over Berkshire County Schools' FA on Thursday 4th May at Birmingham City FC's St. Andrew's Stadium. The victory was assured by two sets of braces from George Baker-Moran (scoring in the 1st and 63rd minutes) and Morant Reid (netting in the 38th and 54th minutes respectively). Both sides deserve tremendous credit for the entertaining spectacle that they produced in front of an extremely partisan and vociferous crowd on the hallowed St. Andrew's turf.

Match Background:
Both of this year's finalists had successfully navigated four previous rounds in what is most likely to have been a long and arduous road, starting in September and culminating with this entertaining contest at St. Andrew's. As was the case in the previous finals, the quality of the two teams can be indicated by the degree of difficulty that each county had faced in getting to this stage: Kent beat Oxfordshire 2-0 in their respective last four fixture, in what could be described as a tight game since it appears that the only difference between the two sides was Kent's ability to take their chances when they were presented with them. Concurrently, Berkshire managed to overcome Lancashire 2-1 in their penultimate fixture. As before, it appeared to be a tight game but Berkshire just managed to do enough to win it. It would be remiss of us not to acknowledge each county's excellent reputation for developing promising sporting talent within their regions. Notably, Kent can claim to have helped Manchester United and England international, Chris Smalling along the way to becoming a professional footballer. Likewise, Berkshire run over 20 competitions across the county and their first national final success came in 1979. Therefore, the stage was set for a blockbuster.

Match Details:
Kent flew out of the blocks and broke the deadlock with their first meaningful attack as George Baker-Moran won a corner within the opening exchanges. The aforementioned corner was headed home by George Baker-Moran who had gotten in front of his marker to glance a header in – it may have been prevented had there been someone on the far post. Berkshire responded well and went relatively close with two efforts from Ross Evans, both of which were powerful efforts that flew agonisingly wide. In the opening ten minutes Torben Francis also had a shot from the edge of the box well saved by Kent keeper, Charlie Walker. Similarly, Jack Gibson fired over the bar for Berkshire in the 19th minute. There was almost a second goal for Kent in the 26th minute as Kent's Peter Iandolo, could not get anything on a driven cross in the corridor of uncertainty from George Baker-Moran, following a 4 versus 2 overload in favour of Kent. The last notable chances of the first half came courtesy of Max Ndah whose shot and the subsequent rebound were both well saved by Berkshire's keeper, Nojus Trinovas. In the final throes of the first half, Berkshire captain, Josh Brooking headed over from a corner.
Half Time: Kent County Schools' FA 1-0 Berkshire County Schools' FA
There was a scrappy start to the second half as both teams battled for control in the earlier stages. However, Kent doubled their lead, this time through Morant Reid who was found in acres of space inside the area by a lofted through ball from a team mate and he slotted calmly past the Berkshire keeper. As in the first half, Berkshire attempted to gain a foothold in the game and halve the deficit and Berkshire captain, Josh Brooking had a shot well saved from inside the area. At this point, the pressure was unrelenting from Kent and it seemed as if it was a matter of when not if, Kent scored. This proved to be the case as Morant Reid who raced towards goal, practically unopposed to slot coolly past Nojus Trinovas. Berkshire continued to push forward and as a consequence Kent were able to put the game beyond doubt through George Baker-Moran who again had the freedom of the pitch to turn home a low cross from 6 yards out in what was a very open end to the game. From this point onwards, Kent were able to see the game out successfully to be crowned champions of this year's competition.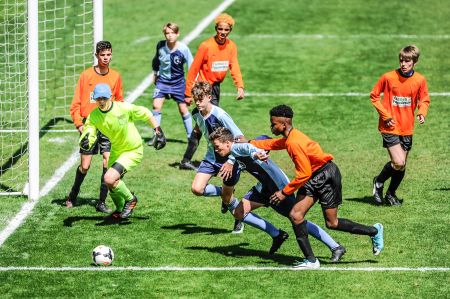 Joyous scenes followed at the final whistle as Kent County Schools' FA celebrated a hard-fought victory. Berkshire County Schools' FA, to their credit accepted their defeat gracefully and thoroughly deserved their applause after the match, as well.
Full Time: Kent County Schools' FA 4-0 Berkshire County Schools' FA
Squads:
Kent: Charlie Walker; George Baker-Moran; Richard Chin; Perri Iandolo; William Moses; Charlie O'Connell (C); Ike Orji; Morant Reid; Joshua Sword; Matthew Baker; Max Ndah; Jordan Gillmore; Will Guthrie; Robbie Roberts; Archie Cotton; Oliver Knowles.
Berkshire: Nojus Trinovas; Samuel Samuel; Nelson Abbey; Lynford Sackey; Josh Brooking (C); Ross Evans; Jack Gibson; Charlie Wiggett; Toby Raggett; Harvey Pope; Torben Francis; Harvey Collins; Archie Mills; Seb Linturn; Thomas Abanda; Peter Isaksen.
Match Officials:
Referee: Pete Wilson
Assistant Referees: Brad Taylor & Oliver Cooper
Fourth Official: Jack Prescott
The ESFA would like to place on record it's thanks to the staff at Birmingham City F.C. for hosting the event and PlayStation for their continued support and sponsorship of our U12 to U15 competitions. Further thanks go to 247.tv for providing the live stream, as well as 353 Photography for providing the match photos. Photos are available on 353 Photography's website.
https://www.youtube.com/embed/lGCLqKDEGLM?ecver=1
Images © ThreeFiveThree Photography - not to be reproduced without permission.

Latest News
Archived News
Seasons
Season 2016-2017
May 2017
25th :: ESFA PlayStation Under 14 Inter County Trophy for Boys' Match Report