PlayStation Schools' Cup Rep Team Finals at Birmingham City FC
Wednesday 03 May 2017By ESFA Office
Last Updated:
30/05/2017 09:51:54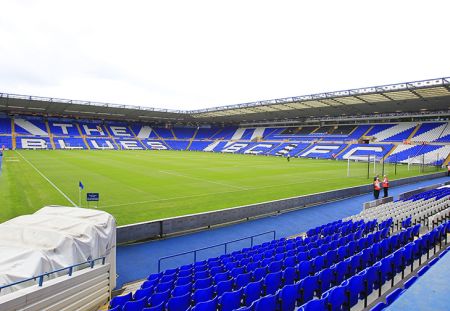 Four teams from across England will take part in their respective PlayStation Schools' Cup Finals tomorrow (Thursday 4 May) at Birmingham City's St Andrew's Stadium. The U14 Inter County Cup Final will kick off at 11:30am and the U15 Inter Association Trophy Final at 3pm. Both matches will be streamed live online via the ESFA's YouTube channel, ESFA TV, adding to this season's repertoire of live coverage.
ESFA U14 PlayStation Inter County Cup for Boys' | 11:30am KO
Kent County Schools' FA

Kent CSFA's current activities involve over 25,000 young people each season and they currently run a plethora of teams and competitions, locally. Their current teams include 10 County Rep sides, 100 Under 19 school teams in a league of 8 divisions and 2 9-a-side cup competitions, a league festival and four small-sided tournaments for U11 district teams. The squad will be determined to grab the title for their U14 team at Birmingham City this season.
Berkshire County Schools' FA

Berkshire SFA boasts active County Rep squads at U14 and U16 level for both boys' and girls'. The County also runs over 20 competitions for it's schools at both primary and secondary level. The County's first National Final success came back in 1979 and their U14 squad today will be planning to emulate the past successes of the team.
ESFA U15 PlayStation Inter Association Trophy | 3pm KO
Swansea Schools' FA

Swansea SFA is yet to win an ESFA Inter Association title since their last win in 1965. The Association came close in 2006 when they lost in the Final and this year, the team will be hoping to claim the title as their own. Their player, Lewis Reed has been commended for scoring a hat-trick in their semi-final match and helping secure their place in this season's final. Another of this season's players, Brad Gibbings, is currently at the Swansea City Academy and has also represented Wales this season.
Wirral Schools' FA

Wirral SFA have reached this season's Finals for only the second time in the Association's history. Beating current trophy holders, Liverpool SFA, in the semi-final, the team will be determined to take the trophy back to Merseyside. They boast four top goal-scorers for this season's team and the group have also been lucky enough to tour New York as part of their season.
We would like to wish all teams competing at BCFC the very best of luck in their National Finals and also like to thank PlayStation for their continued support of our Under 12 to Under 15 Schools' Cup competitions.
We are looking forward to welcoming team supporters from across the country along to St Andrew's Stadium tomorrow - with free entry for spectators into the stadium.
You can watch both matches live online and Tweet us your support on @SchoolsFootball!
Latest News
Archived News
Seasons
Season 2016-2017
May 2017
03rd :: PlayStation Schools' Cup Rep Team Finals at Birmingham City FC