Goodison Park to Host 2 ESFA PlayStation Schools' Cup Finals
Wednesday 03 May 2017By ESFA Office
Last Updated:
30/05/2017 09:51:54

Four National Finalists to take to Everton FC's Hallowed Turf in the Hope of Becoming National Champions 2017!
This season has seen teams from across the country enter into 45 English Schools' FA National Cup competitions to compete for the opportunity to be crowned National Champions. As part of this extensive programme of activity, a PlayStation Schools' Cup double header event will be hosted at Goodison Park, Everton FC, on Monday 22 May 2017:
ESFA U14 PlayStation Schools' Cup for Boys | KO 1pm
Beths Grammar School (Kent) v St Francis Xavier (Liverpool)
Current Holders: St Aloysius College (Islington & Camden SFA)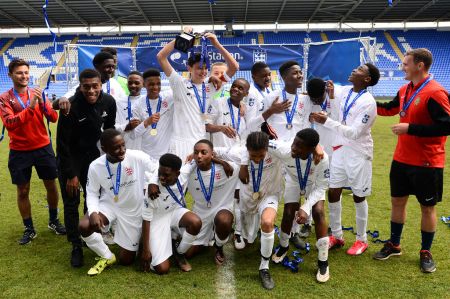 Last Season's U14 Boys' Winners - St Aloysius College from London with Arsenal's Alex Iwobi at the PS Schools' Cup Finals
ESFA U15 PlayStation Schools' Cup for Boys | KO 5pm
St Francis Xavier (Liverpool) v Little Heath School (Reading)
Current Holders: Bishop Stortford High School (Lea Valley SFA)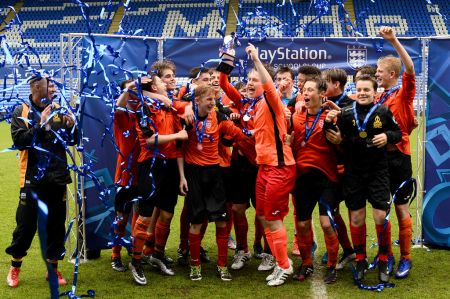 Season 2015-16 U15 PlayStation Schools' Cup Champions, Bishop Stortford High School, lifting the trophy at Reading's Madejski Stadium
This season's finalists have battled it out through nine rounds in each competition, to make it through to these prestigious National Finals. The event will be a celebration of top level football and pay tribute to the outstanding quality of football showcased through the ESFA and the fantastic young players developed by the schools' football system.
Andrea Chilton, ESFA CEO said 'I wish to congratulate all of the teams on their success in reaching the ESFA PlayStation Schools' Cup National Finals. It is testament to the commitment and hard work of players and staff, with the ongoing support of their schools and colleges, that they have reached the pinnacle of these competitions. We wish all of our worthy finalists the best of luck for a successful day.We would also like to thank the staff at Everton FC for their support in hosting this football final on our behalf.
Alan Johnston, ESFA Chairman said 'The quality of the experience the players will have in this match will be a memory that they will retain for the rest of their lives. The ESFA have been running schools' football for 112 years. I hope these finals will be able to portray the importance of this legacy. Schools' football is a unique experience for the thousands of schoolchildren who enjoy it every year and the principles of sportsmanship, good behavior, respect for officials and opponents are cornerstones of our philosophy. I hope everyone can feel a great sense of pride in what they and their team have achieved this season. The ESFA would also like to once again thank PlayStation for their ongoing sponsorship and support of our U12 – U15 Schools' Cup Competitions. It is a partnership which the Association is very proud of and is thrilled will continue into the 2017-18 season.'
The ESFA is extremely proud to be able to provide so many young footballers in schools and colleges across England with the opportunity to showcase their ability and teamwork and compete in prestigious ESFA National Cup Competitions. This season has seen over 6,700 teams enter at secondary school age and a further 7,000 teams participate at the primary school age group as well as opportunities for District and County representative team football.
Show Your Support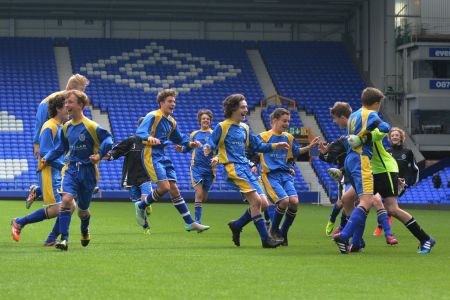 Entry to the Stadium to watch these two finals is FREE - so come along to Goodison on the 22nd from 45 minutes prior to KO and head over to the Upper Bullens Turnstiles to watch some great quality Schools' Football inside a Premier League Stadium for no charge!
Hospitality packages are also available for both National Finals at Goodison Park, further information is available and bookings can be made via our website, alternatively please contact sarah.kearney@schoolsfa.com for further details.
Watch online...
The finals will also be streamed live online and for free, thanks to 247.TV and will be able to view on our YouTube channel, ESFA TV. We have already had some phenomenal viewing figures this season - so subscribe to our channel and watch the action unfold in front of your eyes!
The ESFA wish the best of luck to all competing teams at Goodison Park this season and we hope to see you there.

Latest News
Archived News
Seasons
Season 2016-2017
May 2017
03rd :: Goodison Park to Host 2 ESFA PlayStation Schools' Cup Finals