ESFA PlayStation Under 15 Inter Association Trophy: Match Report
Tuesday 30 May 2017By ESFA Office
Last Updated:
30/05/2017 09:51:54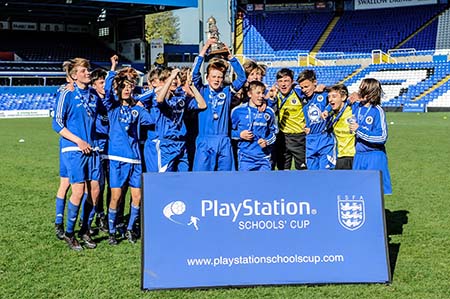 Swansea District Schools' FA 1-2 Wirral District Schools' FA
Wirral District Schools' FA have been confirmed as the winners of the 2017 ESFA PlayStation Under 15 Inter Association Trophy for Boys' after beating Swansea District Schools' FA 2-1 in an entertaining game that could have gone either way in the end. Goals from Liam Atherton and Liam Kelly within the space of two first half minutes gave Wirral a two-goal cushion at half time. It was a cushion that Wirral would need to make full use of as Lewis Reed would poke home after a goalmouth scramble in the 71st minute. This strike would prove to be nothing more than a consolation as Swansea were unable to get back on an even keel and Wirral were crowned champions of the ESFA's oldest tournament. Both sides deserve tremendous credit for the entertaining spectacle that they produced in front of an extremely partisan and vociferous crowd on the hallowed St. Andrew's turf.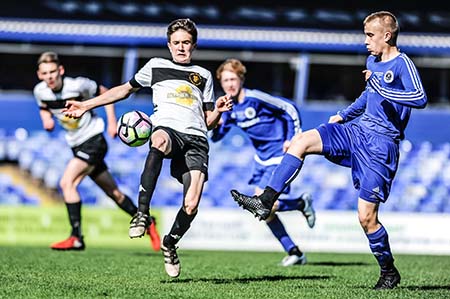 Match Background:
Both of this year's finalists had successfully navigated six previous rounds in what is most likely to have been a long and arduous road, starting in September and culminating with this entertaining contest at St. Andrew's. As was the case in the previous finals, the quality of the two teams can be indicated by the degree of difficulty that each county had faced in getting to this stage: Swansea had displayed their undoubted quality by overcoming Blackheath 3-0 in their semi-final fixture, whereas Wirral managed to convincingly beat neighbours Liverpool in their penultimate fixture. As before, it appeared to be a tight game but Berkshire just managed to do enough to win it. It would be remiss of us not to acknowledge each county's excellent reputation for developing promising sporting talent within their regions. In particular, Swansea have helped to develop a number of players in partnership with Swansea City F.C. One of these players was playing in this match – Brad Gibbings. Likewise, Wirral have successfully guided a number of their students into more than one Centre of Excellence in the past, with links to Tranmere Rovers, Wrexham and Chester City. Therefore, it seemed that both teams would be evenly matched heading into the encounter.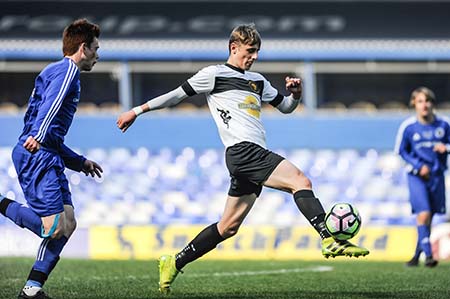 Match Details:
The aforementioned Brad Gibbings had the first opportunity of the game as he picked up the ball on the edge of the area and forced Wirral goalkeeper, Michael Kinsella into a smart save low down to his right-hand side. His heart would have been in his mouth however as he was unable to gather it at the first attempt, with Lewis Reed running in and sniffing an opportunity to score. Fortunately for Kinsella, he was able to smother the ball at the second attempt. The game had all the makings of an exciting end to end affair as Wirral responded through Daniel Edwards' powerful strike that flew over the bar. Subsequently, the ball broke kindly for Wirral captain, Luke Robinson just outside the box and he forced Swansea's goal keeper Ben Cutajar to save well from his effort. The end to end nature of the game continued as Swansea's Callum Jones had his free kick well held by Michael Kinsella. The game ebbed and flowed for the next ten minutes before Swansea's Callum Dolman warmed the gloves of Michael Kinsella with another powerful strike. Swansea came agonisingly close to opening the scoring in the twenty second minute as Brad Gibbings' corner resulted in a header being cleared off the line. Both sides then looked to trade blows on the counter attack with Wirral's George Nugent forcing Ben Cutajar into another smart save. Swansea will have been really disappointed not to have taken the lead with their very next attack, this time going close through Noah Daley as he fired wide of an open goal. Swansea were then made to pay for missing their chances as Liam Atherton opened the scoring as he followed up George Nugent's shot to tap home. Two minutes later it was 2 – 0 as Liam Kelly's header went in off a Swansea defender on the line. The last notable chance of the first half for Wirral fell to Thomas Taaffe as he had a shot well saved from inside the box. Swansea's final chance of the half fell to Callum Jones who curled his shot wide.
Half Time: Swansea District Schools' FA 0 – 2 Wirral District Schools' FA
The second half began in much the same vain as the first, with Swansea's Noah Daley having a shot saved in the forty first minute. Immediately afterwards, Wirral launched a counter attack that ended with Liam Atherton getting a toe on the ball to divert it towards goal. However, Swansea's Ben Cutajar dealt with the effort well. Swansea continued to look for a way back into the game and were unfortunate to see Lewis Reed's effort from a twenty-five-yard free kick well saved once more. In response, Thomas Taaffe dragged his shot wide from the edge of the box. In the fifty first minute, Wirral had a chance to extend their lead, but Liam Atherton could only fire over the bar when well placed. The next clear cut chance came in the sixty eighth minute as Swansea's Aaron Rainbow-Adams firing over the bar with Michael Kinsella caught in no man's land. Swansea did eventually pull one back courtesy of Lewis Reed who scrambled the ball home from close range after a melee in Wirral's box. The goal sparked renewed hope among Swansea's ranks and they laid siege to Wirral's goal, but their efforts came to nothing. As a result of Swansea committing more men forward in the hope of finding an elusive equaliser Wirral had a couple of chances to extend their lead further and put the game to bed once and for all. These chances materialised through Francis Ward who fired over the bar when free from six yards out. Only a last-ditch tackle prevented Wirral's Max Herbert from adding further gloss to the score line after he raced forward. Unfortunately for Swansea, that was the last notable chance of the match and as a result, Wirral were crowned champions.
Joyous scenes followed at the final whistle as Wirral District Schools' FA celebrated a hard-fought victory. Swansea District Schools' FA, to their credit accepted their defeat gracefully and thoroughly deserved their applause after the match, as well.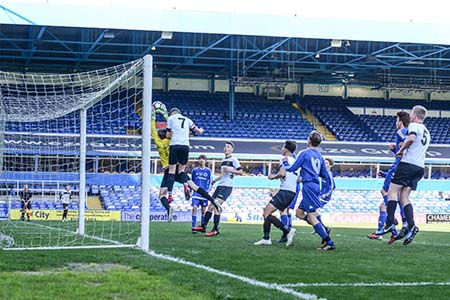 Full Time: Swansea District Schools' FA 1 – 2 Wirral District Schools' FA
Squads:
Swansea: 1. Ben Cutajar; 2. Callum Jones; 4. Rhys Britton; 5. Matthew Hutchison; 6. Callum Dolman; 7. Callum Dougal (C); 8. Brad Gibbings; 10. Noah Daley; 19. Lewis Reed; 22. Ben Webb; 3. Josh Bainbridge; 12. Jared Lake; 15. Tyler Ace; 16. Drew Lannen; 23. Kaiden Wheeler.
Wirral: 1. Michael Kinsella; 2. William McKechnie; 3. Owen Payne; 4 Luke Robinson (C); 5. Liam Kelly; 6. Aaron Rainbow-Adams; 7. George Nugent; 8. Daniel Edwards; 9. Liam Atherton; 10. Jake Bickerstaff; 11. Thomas Taaffe; 12. Jack Gibson; 13. Sean Greathead; 14. Francis Ward; 15. Joel Hall; 16. Max Herbert.
Match Officials:
Referee: Pete Wilson
Assistant Referees; Brad Taylor & Oliver Cooper
Fourth Official: Jack Prescott
The ESFA would like to place on record it's thanks to the staff at Birmingham City F.C. for hosting the event and PlayStation for sponsoring a plethora of our competitions, including this tournament. Further thanks go to 247tv for providing the live stream, as well as 353 Photography for providing the match photos.
https://www.youtube.com/watch?v=t8YCSkebVRc
Images © ThreeFiveThree Photography - not to be reproduced without permission.
Latest News
Archived News
Seasons
Season 2016-2017
May 2017
30th :: ESFA PlayStation Under 15 Inter Association Trophy: Match Report