Match Report: ESFA Under 16 Inter County Trophy
Wednesday 10 May 2017By ESFA Office
Last Updated:
30/05/2017 09:51:54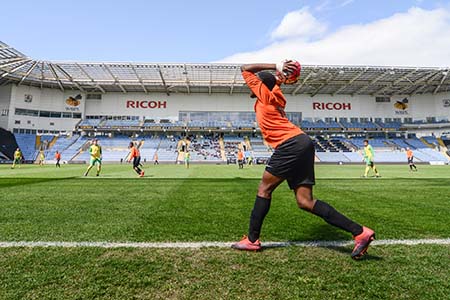 Staffordshire County Schools' FA 2-2 Greater Manchester County Schools' FA:
Staffordshire County Schools' FA have been confirmed as the winners of the 2017 Under 16 Inter County Trophy for Boys' after narrowly beating Greater Manchester County Schools' FA on penalties at the excellent Ricoh Arena on Saturday. Staffordshire broke the deadlock as early as the 5th minute through Kyle Johnson, who had headed home Declan Arber's inviting in-swinging cross. That lead was extended as soon as the 26th minute after the aforementioned Declan Arber headed Josh Stack's corner past Paul Moriarty. Greater Manchester stepped up their efforts to halve the deficit and they were rewarded almost immediately in the 34th minute courtesy of Livesy Mason who had intercepted a short back pass and finished coolly past Mawgan Blight, thereby leaving the tie evenly poised at half time. It was not until the very last minute of normal time that Greater Manchester pulled level, via Matthew Argen-Barnes expertly taken penalty to send the match into extra time. Despite the best efforts of both sides, the two teams were unable to convert one of their many efforts on goal and as such the game went to penalties, with Staffordshire captain, Jack Bromfield scoring the winning spot-kick to crown Staffordshire champions for the first time. Both sides deserve tremendous credit for the entertaining spectacle that they produced in front of an extremely partisan and vociferous crowd on a pristine Ricoh Arena pitch.
Match Background: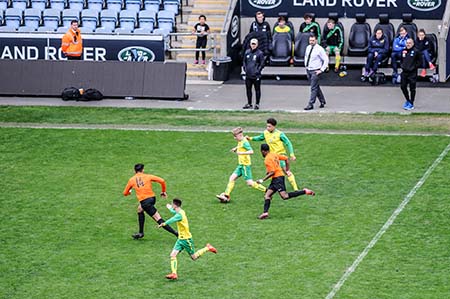 Both of this year's finalists had successfully navigated the trials process and five previous rounds in what is most likely to have been a long and arduous road, starting in November and culminating with this keenly fought contest at the Ricoh Arena. Indeed, the quality of this year's contest, as well as the strength of the two sides, can be indicated by the difficulty of both sides' respective semi-final fixtures: Staffordshire demonstrated their undoubted quality by overcoming Norfolk County Schools' FA 4-0 at Stafford Town F.C. Although, it is worth noting that they have been pushed close on a couple of occasions, earlier in the competition. An example of which would be their quarter-final fixture against Sussex, where they trailed 2-1 late on in the second half before two goals in the last couple of minutes sealed a 3-2 victory. Likewise, Greater Manchester successfully overcame Cheshire 2-0 in their semi-final at Cardinal Langley School, in what looked to have been a much tighter affair. Furthermore, it would be remiss of us not to briefly acknowledge both counties' exceptional pedigree in developing promising talent. In particular, Staffordshire can claim to have helped Mark Chamberlain (Stoke City & England), Adrian Heath (Current Minnesota United F.C. Manager: formerly of Stoke City & Everton, to name only two of his previous clubs) and John Brayford (Burton Albion F.C.) on their journey to become professional footballers. Conversely, Greater Manchester County Schools' FA can count a number of 'Fergie's Fledglings' amongst their alumni, including but not limited to Ryan Giggs, Nicky Butt and Paul Scholes. Therefore, the stage was set for something of a blockbuster.
Match Details: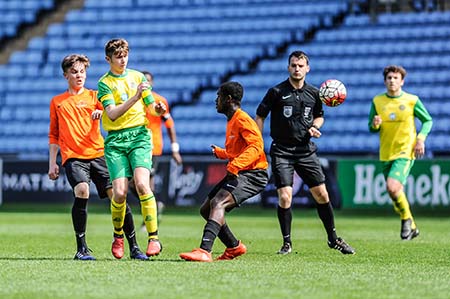 The match kicked off with Staffordshire looking to apply pressure to the Greater Manchester defence almost immediately, although this did not produce any chances of note. Greater Manchester responded well to Staffordshire's early forays, as George Broadbent forced an excellent save from Mawgan Blight (Staffordshire's Goalkeeper) after he was put through in a one-on-one situation and from the resulting throw in, Matthew Argen-Barnes fired over the bar from the edge of the box, when well placed. Greater Manchester were made to pay for their early profligacy in front of goal as Declan Arber won the ball back near the bye-line and sent over an inviting in-swinging cross to the far post for Kyle Johnson to get in front of the defender and head home. Not to be deterred by the setback, Greater Manchester had an effort sail over the bar courtesy of Matthew Argen-Barnes from the edge of the six yard box in the 18th minute and Sam Amankwaa had a cross headed away by the Staffordshire defence. The next notable chance fell to Greater Manchester following Livesy Mason's set-piece as Sam Amankwaa had a shot cleared off the line. Two minutes later in the 22nd minute, Greater Manchester's captain, Jean Belehouan could only direct his free header into the arms of Mawgan Blight. Immediately afterwards, Staffordshire launched a counter attack which resulted in Josh Stack sending his shot wide with just the keeper to beat. Staffordshire then gave themselves a two goal cushion in the 26th minute as Declan Arber headed Josh Stack's corner past Paul Moriarty from close range. The game quietened down for a short spell before Livesy Mason halved the deficit in the 34th minute, after he pounced on a short back pass from Jack Taylor to round the advancing Blight and finish coolly and get Greater Manchester back into the game. The last notable chance of the first half fell to Alfie Mallen, of Staffordshire who curled a shot wide from the edge of the box.
Half Time: Staffordshire 2-1 Greater Manchester
There was a frantic start to the second half as Greater Manchester looked to restore parity and the first clear cut chance fell to the impressive Matthew Argen-Barnes as his 35 yard free-kick cannoned back off the bar and the rebound was headed over by Charles Voss from six yards out. Greater Manchester then seemed very determined to turn the screw further as Sam Amankwaa dragged his half volley wide after the ball had dropped to him kindly on the edge of the area. Staffordshire had a goal disallowed in the 48th minute after Josh Stack was correctly adjudged to be off-side when reacting to a powerful shot on the edge of the area. Greater Manchester then had a couple of chances in very quick succession as Sam Amankwaa had yet another shot blocked from a corner and Charles Voss saw his header fly over the bar. At this point it may be fair to say that Staffordshire were only just managing to keep their counterparts from Greater Manchester at bay as evidenced by the fact that they only just managed to clear a corner following what could only be described as a game of pinball inside the Staffordshire area. Further proof of the previous assertion was provided just after the hour mark as Nas Shabir forced Mawgan Blight into a smart save from 20 yards out. Both teams seemed to adopt a very direct style of play in the closing stages albeit for very different reasons: Greater Manchester were very much aware that the clock was against them and Staffordshire were doing everything they could to ensure that their lead remained intact. Therefore, something had to give and ultimately it was Greater Manchester who prevailed after going close through Declan Baldwin and Livesy Mason, respectively.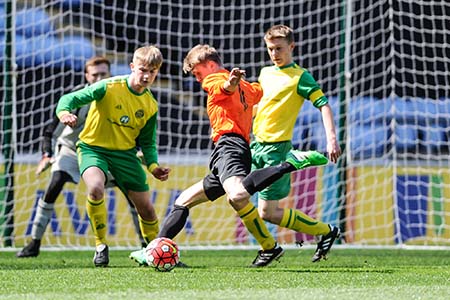 The winning goal arrived courtesy of Matthew Argen-Barnes via the penalty spot after Sam Amankwaa was bought down, via his shirt, by the attending Staffordshire defender. Matthew Argen-Barnes was given the responsibility from 12 yards out and coolly sent Blight the wrong way to send the game into extra time.
Full Time: Staffordshire 2-2 Greater Manchester
There was quite a feisty start to extra time period and this was reflected in the number of set piece opportunities that were awarded but not capitalised on by both sides. As a consequence, there were very few chances of note apart from an outstanding save from Mawgan Blight to acrobatically keep out Sam Amankwaa's header and thus preserve his side's chances of winning the match. Greater Manchester then went agonisingly close to winning the game through shots from Sam Amankwaa, Livesy Mason and finally Nas Shabir, but unfortunately for them, they could not find the crucial third goal. As a result of the stalemate, the match would be settled by penalties.
Greater Manchester took an early lead thanks to Paul Moriarty saving from Alfie Mallen and Charles Voss converting his effort. However, consecutive saves from Mawgan Blight to deny both Livesy Mason and Keafel Sheriff presented Staffordshire captain, Jack Bromfield with the chance to secure Staffordshire's maiden title at this age group. It was an opportunity that he duly took as he slotted his effort just beyond the reach of Moriarty.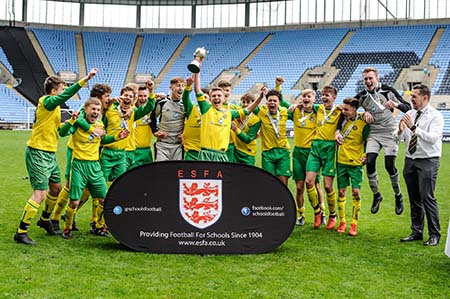 Joyous scenes followed at the conclusion of the shootout as Staffordshire celebrated a hard fought victory by soaking up the adulation of their friends and family. Greater Manchester, their credit, accepted their defeat graciously and thoroughly deserved their round of applause at the end of the match as well.
Staffordshire win 4-2 on penalties after extra time.
Squads:
Staffordshire: Mawgan Blight; Max Cuthbert; Jack Taylor; Alex Minshull; Oliver Hickman; Luke Campbell; Josh Stack; Jack Bromfield (C); Declan Arber; Kyle Johnson; Alfie Mallen; Tommy Wilkinson; Ethan Cartwright; Tom Bromfield; Owen Hall; Joe Trevor.
Greater Manchester: Paul Moriarty; Joshua Dickens; Javid Swaby-Neavin; Harry Norris; Jean Belehouan (C); Charles Voss; George Broadbent; Declan Baldwin; Sam Amankwaa; Livesy Mason; Matthew Argen-Barnes; Ezeikel Eme; Dmarni Mellor; Nas Shabir; Luke Merril; Keafel Sheriff.
Match Officials:
Referee: Martyn Fryer
Assistant Referees: Pete Wilson & Alex Shaw
Fourth Official: Richard Eades
The ESFA would like to place on record it's thanks to the staff at Coventry City F.C. for hosting the event, 353 Photography for providing the match photos. Further thanks go to 247tv for providing the live stream, as well as the students at Coventry University for their sports therapy expertise.
Check out the full match here. Thanks to 247.tv for providing the live stream on the day.
Images © ThreeFiveThree Photography - not to be reproduced without permission.
Latest News
Archived News
Seasons
Season 2016-2017
May 2017
10th :: Match Report: ESFA Under 16 Inter County Trophy