ESFA Danone Nations Cup Finals Kick Off at Stoke City Tomorrow (20 May)
Friday 19 May 2017By ESFA Office
Last Updated:
30/05/2017 09:51:54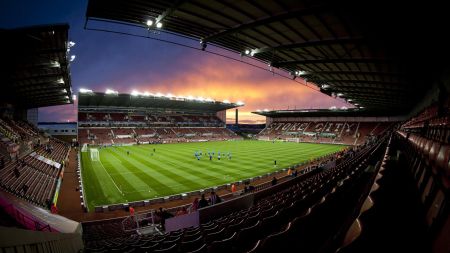 Some of the best primary school football talent in the country will be on show at Stoke City FC this Saturday (20 May), when the finalists get a taste of Premier League action as they contend to become National Champions of the ESFA Danone Nations Cup.
Twenty-four primary schools and eight inter-district teams will descend on the stadium to compete within the four Danone Nations Cup tournaments that will come to their conclusion this weekend. Regional Champions within the Schools' Cup, Small Schools' Cup, Girls' Cup and District Cup categories will take their final opportunity to win the coveted titles and take home the glory and the trophy, with all participants receiving medals for their accomplishments. Teams have already made it through a demanding qualifying process, winning through District, County and Regional competitions to make it this far, and the ESFA and Danone are looking forward to welcoming the teams, friends, family and supporters along to enjoy the atmosphere on the day.
Schools' Cup & Small Schools' Cup | KO 11am
Girls' Cup & District Cup | KO 3:30pm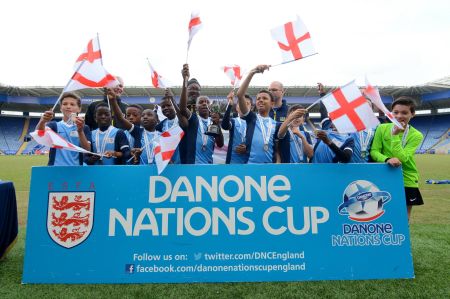 Last Year's DNC District Cup Winners Celebrated at Leicester City ahead of their trip to the World Finals in Paris
This will be the second consecutive year that the Danone Nations Cup Final is taking place at a Premier League ground, after teams took to Leicester City's Kingpower Stadium following the Foxes' Premier League victory last season. The ESFA and Danone are thrilled to be able to give these primary school children the opportunity to show off their skills at such a prestigious venue for 2017 and look forward to celebrating some of England's finest young talent on the pitch.
John Scales, former Tottenham, Liverpool and England centre back and ambassador of the tournament said 'The mantra of the Danone Nations Cup is 'believe in your dreams'. How fitting it will be to see the final at Stoke City Football Club, where so many footballing superstars have played in the Premier League. I can't wait to see the teams in action at the stadium. It will be a fantastic festival of high quality football and an opportunity for children to follow in the footsteps of current Premier League players such as Erik Lamela, Phil Jones and Benik Afobe, who all once took part in the tournament.'
Off the pitch, Danone will be showing its support and passion for both football and healthy lifestyles through its Eat Like A Champ (ELAC) stand, explaining all about the importance of a balanced diet and healthy hydration in a fun and engaging way. Danone will also bring back its Healthy Habits Recycling Lab, which will turn recycled plastic into beautiful medals in front of the children's eyes. This activity was already rolled out at the Regional Finals, where it was a big hit with the young players and their parents alike, demonstrating the many benefits of recycling.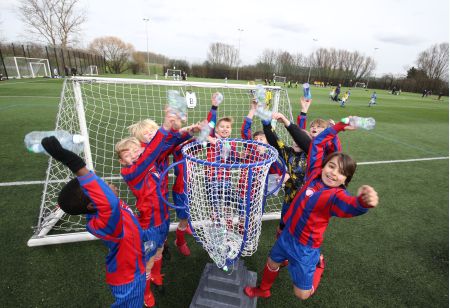 Regional Finalists recycling their bottles in the South West
The English Schools' FA and Danone are looking forward to welcoming all 32 Finalists to Stoke City on Saturday and wish them all the very best on their final match of the season.
Selected matches will also be broadcast live online via the ESFA's YouTube Channel, ESFA TV! Tune in from 11am to check out this incredible competition.

Latest News
Archived News
Seasons
Season 2016-2017
May 2017
19th :: ESFA Danone Nations Cup Finals Kick Off at Stoke City Tomorrow (20 May)