Blue Day for ESFA Volunteer of the Year
Thursday 25 May 2017By ESFA Office
Last Updated:
30/05/2017 09:51:54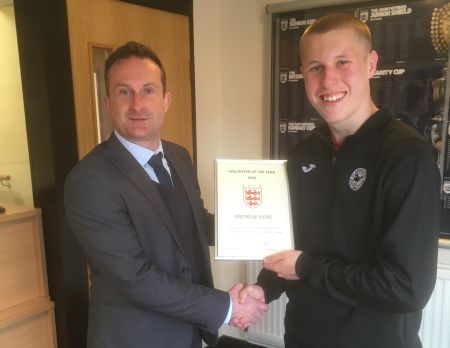 Andy Weston from the ESFA presenting Henry Box student, Andrew with his Award
Henry Box High School student Andrew Hunt's dreams came true recently when he bumped into some unexpected famous visitors!
Andrew was recognised by the English Schools' Football Association (ESFA) for the volunteer work he does at his school in Oxfordshire. The football mad student who was nominated by his teacher Mr Gilkes, gives up his time to run intra-school competitions, referees school matches and helps with the school teams in years 7and 8. This is all while still playing for his school and club and refereeing in local Oxfordshire leagues all whilst revising for his GCSE's.
As a massive Chelsea fan Andrew and his family were rewarded by the ESFA with tickets to the FA Cup semi -final at Wembley to see his beloved team beat Tottenham Hotspur..but this was just the beginning of what was to be an unbelievable few weeks.
Andy Weston , ESFA Football Development Manager and Shaun Gore, Head of Community Development at Chelsea had been in touch with one another and Shaun had kindly offered Andrew a visit round the Chelsea Training Ground and Academy in Cobham as guests of the club.
A secret plan was hatched and the school kindly gave Andrew time off to attend, but Andrew was unaware of anything until he reached the outskirts of Cobham, when the penny dropped! Andrew and his Dad were shown round the Cobham complex with its impressive 34 pitches, seeing former Chelsea favourites Jon Harley and Jody Morris and members of the Ladies team including England stars Karen Carney, Carly Telford, Claire Rafferty and Eni Aluko who were training.
However there was final very unexpected surprise!
Chelsea legends Graeme Le Saux and Frank Lampard were visiting the training ground to meet some old colleagues and very kindly took time to talk to Andrew about what he has done, offering him advice and even stopped to pose for photos. This was the absolute icing on the cake as Andrew's all time favourite player is…Frank Lampard.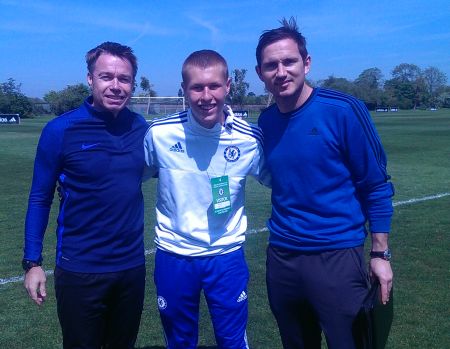 Andrew poses for a pic with Le Saux & Lampard at Cobham
Andy Weston added 'This was a fabulous gesture from Shaun and Chelsea to invite Andrew to Cobham and it is a day he will never ever forget. Volunteers are the life blood of football and to have a young lad giving up his time to help is a credit to him. We need to attract new volunteers in to schools' football and we are delighted we could reward Andrew with such an unforgettable experience.'
The ESFA are looking to expand on this season's Volunteer of the Year Awards for 2017-18 and will send out relevant information once available. In the meantime, if you know of any corporate sponsors that may be interested in helping us to develop these ideas further then please contact Sarah Kearney.
Well done Andrew on your fantastic work and hopefully winning this award will encourage you to continue to progress with your volunteering within Schools' Football.

Latest News
Archived News
Seasons
Season 2016-2017
May 2017
25th :: Blue Day for ESFA Volunteer of the Year