Match Report: Hudl Under 18 Elite Schools' & Colleges' Cup for Boys
Tuesday 11 April 2017By ESFA Office
Last Updated:
10/02/2021 11:50:03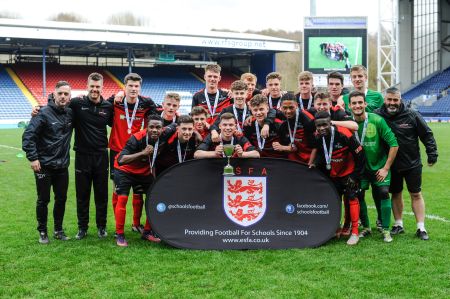 U18 Elite Cup Champions 2017 - Hartpury College celebrate at Blackburn Rovers FC
Monkseaton High School (North Tyneside SFA) 1-2 Hartpury College (West Gloucestershire SFA)
Hartpury College have been confirmed as the winners of the inaugural Hudl Under 18 Elite Schools' & Colleges' Cup for Boys', having beaten Monkseaton High School 2-1 in Friday's final at Blackburn Rovers F.C. It proved to be an excellent advert for schools' and colleges' football with Hartpury College taking the lead through England schoolboy star, Kingsford Adjei's low finish across goal right on the stroke of half time. Monkseaton High School rallied and drew level in the 55th minute, courtesy of Luke Grant's precise strike on the edge of the box. Hartpury sealed the win in the 67th minute thanks to Jordan Hodges, who just managed to get a toe on Kingsford Adjei's low driven cross. Credit must go to both sides for the pulsating spectacle that they produced on a pristine Ewood Park pitch.
Both of this year's finalists had successfully navigated six previous rounds in what is most likely to have been a long and arduous road, starting in September and culminating with this rip-roaring final at Blackburn Rovers F.C. Indeed, the quality of this year's contest can be indicated by the difficulty of both sides' respective semi-final fixtures: Hartpury successfully overcame Buckswood School 4-2 and concurrently, Monkseaton High School squeezed past Rushcroft Foundation 1-0, in what appeared to be a very tight encounter. Furthermore, it would be remiss of us not to briefly acknowledge both teams' exceptional pedigree in developing promising talent. In particular, Monkseaton can name Chesterfield's Lee Novak amongst their alumni as well as having a current England Schoolboy international within their ranks in forward, Daniel Barlow. It is also worth mentioning, given the surroundings on the day, that Monkseaton are coached by former Blackburn Rovers and Aston Villa striker, Graham Fenton. Likewise, Hartpury have not one but four of our England Schoolboy internationals within their squad in Kingsford Adjei, Jordan Staten, Max Harris and last but not least Frank Arhin. This is an exceptionally noteworthy achievement in its own right; however, Hartpury College won the ESFA Under 18 Colleges' Trophy for two years running from 2015. Not to be outdone however, Monkseaton were also victorious in the ESFA Under 18 Schools' Cup for Boys' in 2015. Therefore, the stage was set for something of a blockbuster.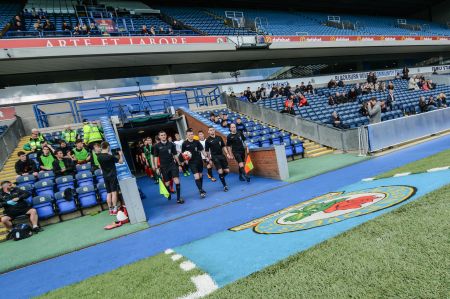 This eagerly awaited match-up got off to a flying start with a fantastic tackle from Jordan Staten to prevent Kelvin Thear from escaping down the wing for Monkseaton, as both teams looked to stamp their authority on this tremendous event. On this occasion, Kelvin Thear had displayed an exceptional turn of pace to leave his direct opponent for dead, only for Staten to come sliding in with a well-timed tackle and put the ball out for a throw-in. It was then Hartpury's turn to threaten through a succession of corners: the first of which was a pacey cross towards the near post that was turned behind by the Monkseaton defence. Subsequently, a floated delivery from Frank Arhin was headed wide by an off-balance Jordan Staten. Five minutes later, Tyler Brock was extremely unlucky not to have made early inroads into the score line after a sumptuous ball inside the full back from the impressive Kieran Alder, just wouldn't fall quite right for him to have a shot, albeit the fact that he was under significant pressure from the Monkseaton rear-guard at the time. Almost immediately afterwards the aforementioned Alder curled a shot over the bar from the edge of the box after being set up by Kingsford Adjei. Monkseaton then looked to turn the tide on Hartpury by exerting a spell of pressure on their opponents for the first time. This manifested itself through a blocked shot courtesy of Kelvin Thear from 25 yards out, though this had been preceded by some neat build up play from Monkseaton nonetheless. Just a minute later, Monkseaton were unfortunate to see a cross on the overlap from Luke Grant cut out on the edge of the box. Therefore, on the whole, it might be said that it had been a fairly even start from both teams. In the 12th minute, Kingsford Adjei began to show glimpses of his undoubted potential when he embarked on a direct run at Monkseaton' s full back, sending him one way then another, as a result he was fouled approximately 20 yards from goal – the resultant free-kick was well claimed by Monkseaton keeper, Joe Thompson. Hartpury almost broke the deadlock in the 15th minute, after Tyler Brock saw his side footed effort heroically cleared off the line by Luke Grant following good combination play from Kingsford Adjei and Frank Arhin. This incident was all the more remarkable given that he had actually run beyond his goalkeeper in anticipation of such a situation occurring. Hartpury then sought to ramp up the pressure on Monkseaton even further with Kingsford Adjei's low shot that he couldn't quite get hold of. Therefore, it drifted harmlessly into the arms of Joe Thompson. In the 19th minute Monkseaton's Daniel Barlow and Hartpury's Ben Aitken were involved in an innocuous collision after both individuals had made a genuine attempt to get to the ball. The aftermath of the collision had left both players requiring medical attention and unfortunately Daniel Barlow was unable to continue. Naturally, we would like to take this opportunity to wish both players well with their recovery.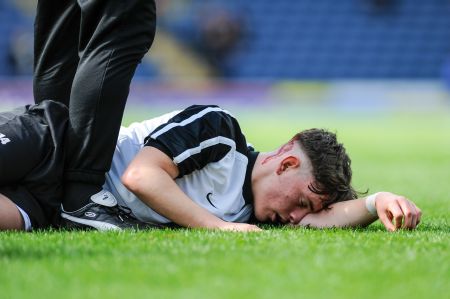 Monkseaton & England U18 Schoolboys' Danny Barlow suffered a head injury during the Elite Cup Final
When play resumed another mazy run by man-of-the match, Kingsford Adjei was halted prematurely by the despairing Monkseaton defenders and the subsequent free-kick was well parried by Monkseaton's number one. Following this, in the 31st minute, Max Harris was called on to make his first real save in the Hartpury goal, saving well from Monkseaton's number nine. It was at this point that Monkseaton attempted to get their foot on the ball so as to try and take some of the sting out of the game, with Kelvin Thear having a shot saved by Max Harris. Furthermore, Monkseaton had a 25-yard free kick easily saved in the 45th minute. As is typical of football sometimes, Hartpury withstood this spell of pressure from Monkseaton and took the lead in stoppage time, thanks to a low, crisp finish across the goalkeeper from Kingsford Adjei after the ball had broken kindly to him on the edge of the area. It would have been devastating for Monkseaton to have conceded on the stroke of half time, however, on the balance of play it would be fair to say that Hartpury had edged the first half. It was now up to Monkseaton to respond in the second half.
Half Time: Monkseaton High School 0-1 Hartpury College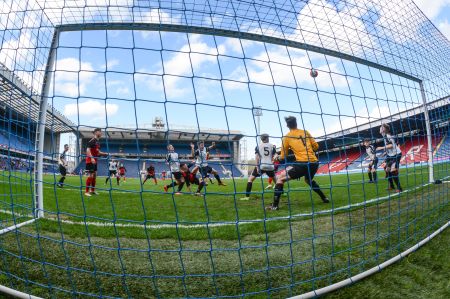 The second half started in a frenetic fashion with only an acrobatic save from Joe Thompson denying Troy Walters as his effort looked bound for the top corner, in the 46th minute. The next meaningful action took place in the 51st minute as Kieran Alder played a ball down the side of the centre halves for Tyler Brock to run on to. Unfortunately for him and Hartpury, he could only drag his shot millimetres wide of the far post. Three minutes later, parity was restored, this time through Luke Grant's rocket of a shot into the far corner, after a long ball was helped on by Kelvin Thear's deft touch; Grant then displayed a touch of elegance to kill the ball and get it out of his feet in one motion. He then whipped a shot past Max Harris, thereby sparking joyous celebrations on the Monkseaton bench. The tie was now evenly poised and it remained to be seen which way the pendulum would swing next. Hartpury responded to the setback well with Tyler Brock seeing his effort deflected wide for a corner, which came to nothing. However, Troy Walters deserves to be commended for his excellent run that created the opportunity, as he made a diagonal run from in to out before taking the ball expertly on his chest; after bamboozling the Monkseaton defence, he laid it off for Brock to have the aforementioned pop at goal. The manager of Hartpury College, Paul Tassell then rang the changes in an effort to regain the lead – Troy Walters and Tyler Brock left the field and were replaced by Jordan Hodges and Will Tunnicliff.
The next meaningful action occurred in the 61st minute as Monkseaton's tormentor in chief, Kingsford Adjei played a delightful reverse ball in behind the Monkseaton defence for Frank Arhin to run on to. Unfortunately for him, his cutback was scrambled away by the covering defenders. Hartpury continued to look dangerous, whenever they went forward, this time though they were denied by the offside flag after some incisive play by the front three. This particular foray forward consisted of a barnstorming run down the wing from Frank Arhin, who then cut the ball back to Adjej to play a delightful ball inside the full back to a teammate, but he had just strayed offside. Hartpury's play was rewarded in the 67th minute when Jordan Hodges put them ahead from a clinical counter attack. It all began when Monkseaton were caught in possession around the halfway line and Eoighan Sherrard played a long ball down the line to Jordan Hodges, who laid the ball off for Kingsford Adjei to race towards the byeline and flash a low cross across the face of goal. Hodges had continued his run and stretched every sinew he had available to divert the cross past the helpless Joe Thompson. Buoyed by his goal, Jordan Hodges showed admirable strength to win a corner off Monkseaton captain, Joseph Gibson. From the resultant corner, the ball fell to Joe Harrison, whose ambitious overhead kick drifted harmlessly over the bar.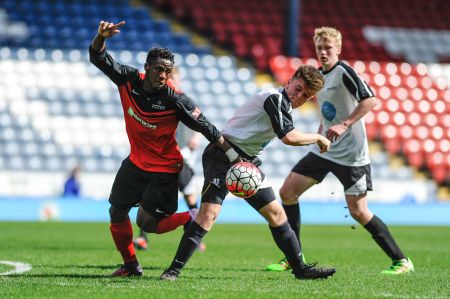 At this point, Monkseaton were trying manfully to get back level but unfortunately their final ball let them down on a number of occasions. However, the next chance would have most likely fallen to Jordan Hodges but for an impressive last ditch tackle from Joseph Gibson, in the 72nd minute. Hartpury almost extended their lead in the 79th minute as Kingsford Adjei fired over the bar, having been assisted by Will Tunnicliff with Adjej given the freedom of the penalty area. The next phase of play would prove to be decisive as Kelvin Thear got a toe on a long clearance from Joe Thompson, in order to take it past the onrushing Max Harris. In spite of the situation, Hartpury were rescued by some great defending from Ben Aitken, who managed to block Thear's effort. Undeterred by the lack of a leveller, Monkseaton continued to apply pressure to the Hartpury backline through Luke Grant whose 25-yard strike was well saved by Max Harris. The last notable chance of the match fell to Frank Arhin, who saw an effort from the edge of the box drift wide. From then on it was a case of Hartpury looking to protect what they had whereas Monkseaton threw everything they had at their opponents in one final onslaught. This manifested itself through a succession of throw ins deep in Hartpury's half; despite all of this, Hartpury coped well and saw the game out successfully.
Joyous scenes followed at the final whistle as Hartpury College celebrated a hard-fought victory. Monkseaton High School, to their credit accepted their defeat gracefully and thoroughly deserved their applause after the match, as well.
Full Time: Monkseaton High School 1-2 Hartpury College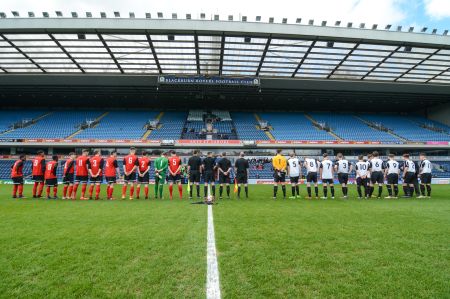 Squads
Monkseaton High School: 1. Joe Thompson, 2. Daniel Bell, 3. Aaron Kodistra, 4. Karl Ross, 5. Joseph Gibson (C), 6. James McAuley, 7. Kelvin Thear, 8. Luke Grant, 9. Kieran Brannen, 10. Corey Graham, 11. Danny Barlow, 12. Jack Pearson, 14. Callum Guy, 15. Jake Jensen, 16. Jack Ramsay, 19. Ben Sidney Wilmot. Manager: Lee Picton
Hartpury College: 1. Max Harris, 2. Eoighan Sherrard, 3. Ben Aitken, 4. Michael Ford, 5. Jordan Staten (C), 6. Joe Harrison, 7. Kingsford Adjei, 8. Kieran Alder, 9. Troy Walters, 10. Frank Arhin, 11. Tyler Brock, 12. Harry Franklin, 14. Tom Morgan, 15. Will Tunnicliff, 16. Jordan Hodges, 21. Alejandro Argelles. Manager: Paul Tassell
Match Officials
Referee: Ed Duckworth
Assistant Referees: Ed O'Donnell & Joshua Smith
Fourth Official: Marlon Gupta
The ESFA would like to thank both the staff at Blackburn Rovers FC for supporting us by hosting the event and to Hudl for their sponsorship of the tournament this season.
Imagesİ ThreeFiveThree Photography - not to be reproduced without permission

Archived News
Seasons
Season 2016-2017
April 2017
11th :: Match Report: Hudl Under 18 Elite Schools' & Colleges' Cup for Boys