Match Report: ESFA Hudl Under 18 Schools' Cup for Boys
Monday 03 April 2017By ESFA Office
Last Updated:
10/02/2021 11:50:03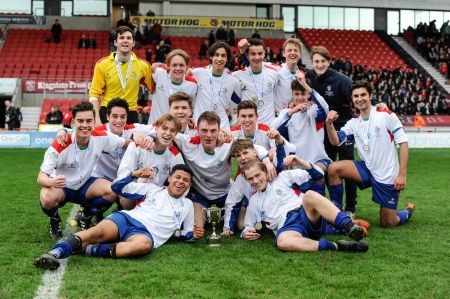 Millfield U18 Boys celebrate their win with their Trophy & Medals
Altrincham Boys' Grammar School (Trafford SFA) 0-2 Millfield School (Mid Somerset SFA)
Millfield School have been confirmed as the winners of this season's Hudl Under 18 Schools' Trophy for Boys, having beaten Altrincham Boys' Grammar School 2-0 in yesterday's final. The victory was secured courtesy of a first half volley from Harrison Adron and a poacher's finish from Matt Samuel, following a well worked set piece. It was a very feisty and passionate affair that was; on the whole, very evenly contested for the majority of the match. Therefore, both sides deserve tremendous credit for the entertaining spectacle that they produced in front of an extremely partisan and vociferous crowd.
It is worth noting that both institutions have a proud pedigree when it comes to nurturing promising sporting talent with Millfield School having ably assisted a number of professional footballers in their formative years, including but not limited to A.F.C. Bournemouth's Tyrone Mings and Exeter City striker Reuben Reid. Millfield School also came into this tie hoping for a repeat of their exploits in 2008 when they triumphed over Maghull High School 8-0, in the very same tournament. Likewise, Altrincham Boys' Grammar School can count A.F.C. Rochdale's Matthew Lund, while four of their match-day squad are currently on the books of Altrincham F.C. Therefore, the stage was set for a blockbuster.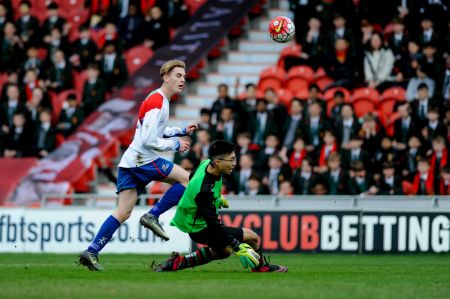 The short summary does not even come close of capturing the nuances of this encounter, with the first few minutes, consisting of both teams trying to establish a foothold in the match. Altrincham Boys' Grammar School looked to have set up to impose themselves physically on Millfield School, whereas Millfield School looked to get the ball into the impressive creative duo of Teo Teniente and Harrison Ardron, at every possible opportunity. As a consequence, there were a couple of early free-kicks and crosses from Millfield School that were either well defended by Altrincham, or easily claimed by Altrincham's keeper, Young Lu. Additionally, the decision making and composure of a number of the Millfield players deserves commending. In particular, special mention goes to Harry Lee who showed some fancy footwork to escape the attentions of the surrounding Altrincham forwards, in an effort to set up an attack, but his efforts were, unfortunately for him in vain, as it was snuffed out in its infancy. The first clear cut chance on goal arrived in the 21st minute when a free kick from 25 yards out from Millfield's captain, Matt McGlinchey was curled into the grateful arms of Young Lu. It was after this point that Millfield began to take a firm grip on the game, threatening Altrincham's goal every time they went forward, with some neat, incisive play from Peiter Stein, Fred Francis and Harrison Ardron, resulted in the latter's darting run inside being cut out at the last possible moment, in the 23rd minute. Altrincham were almost forced to play on the counter attack and Dylan Scanlan did an excellent job, ploughing a lone furrow up top for Altrincham in running the channels, especially when showing great strength in holding of the Milfield defence to win a free-kick, thus relieving some of the pressure. In the 35th minute, the pressure told as a quick throw in from Harry Lee on the left hand side was played back to him by a team mate. Lee then proceeded to whip an inviting cross across the face of goal for Harrison Ardon to volley an emphatic effort into the ground, past the despairing dive of Young Lu and ripple the onion bag. Altrincham looked to respond straight away and Dylan Scanlan fired a shot into the arms of Millfield's keeper, Marcus Price. Their subsequent claims for a penalty were waved away, following good build up play. In the last action of the first half a neat shimmy from Sam Bown saw his subsequent cross blocked; the resulting corner, was claimed by Marcus Price.
Half Time: Altrincham Boys' Grammar School 0-1 Millfield School
Any hopes that Altrincham had of easing their way into the second half were quickly extinguished as Millfield doubled their lead in the 49th minute. Dan Walker was fouled out wide, just level with the penalty area. Harrison Ardron sent a deep free-kick over towards the back post, which was then headed back across goal by a team mate for Matt Samuel to tap home from a yard or two out. A couple of minutes later, Millfield almost made it three, when Harrison Ardon dragged his shot well wide from 10 yards out, having been put through in a 1-v-1 situation by Dan Walker. Millfield continued to dominate the play and soon afterwards Harrison Ardon played a lovely cross field ball to Harry Lee, who was then dispossessed by Altrincham's defence, at the expense of a corner, which came to nothing. The next notable chance came via a set piece as Alex Eckland headed wide following an inviting delivery from a wide position. Almost immediately afterwards, Henry Blease was released down the right hand side and, spotted an opportunity to get Altrincham back into the match, having outpaced Millfield's defence when he audaciously attempted to lob Marcus Price from an acute angle. Unfortunately for him, it drifted over the bar and out for a goal kick. The game then proceeded to lose a bit of its flow as Altrincham sought to apply as much pressure on Millfield as possible, perhaps being a little over zealous at times, understandably so. However, a combination of set pieces and counter attacking football appeared to be their best way of getting back into the match with Oscar Armitage's deep free kick headed behind for a corner, which was dealt with well by Millfield.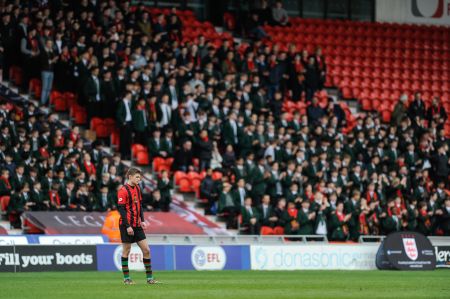 It required all of Altrincham's remaining energy to keep Millfield at bay, who had to commit more players forward, to try and salvage something from the game. However, this strategy left them vulnerable on the break, with both Ben Lerougetel and Sam Taylor passing up opportunities to add to the score line when well placed in injury time.
Joyous scenes followed at the final whistle as Millfield School celebrated a hard-fought victory. Altrincham Boys' Grammar School, to their credit, accepted their defeat gracefully and thoroughly deserved their applause after the match, as well.
Full Time: Altrincham Boys' Grammar School 0-2 Millfield School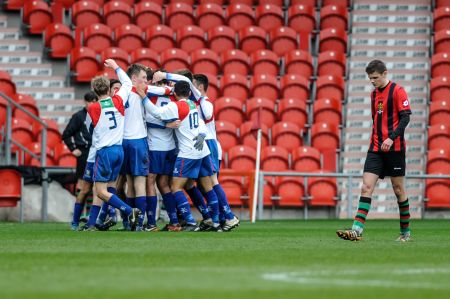 Squads:
Altrincham Boys' Grammar School: Young Lu, Tom Kelly (C), James Riley, Oliver Harding, Jack Blundell, Tom Burke, Oscar Armitage, Harry Sheridan, Dylan Scanlan, Henry Blease, Raj Singh, Jack Billington, Alex Emmett, Louis Foster
Millfield School: Marcus Price, Stan Cunningham, Harry Lee, Alex Eckland, Fred Francis, Matt McGlinchey (C), Teo Teniente, Peiter Stein, Oli Light, Dan Walker, Harrison Ardron, Cormac Pike, Jack Hunter-Lees, Ben Lerougetel, Sam Taylor, Matt Samuel
Match Officials
Referee: Martyn Fryer
Assistant Referees: Miles McKinlay & Paul Wilcox
Fourth Official: Dan Andrews
The ESFA would like to place on record its thanks to the staff at the Keepmoat Stadium for hosting the event and to Hudl for their sponsorship of the tournament this season.
Imagesİ ThreeFiveThree Photography - not to be reproduced without permission

Archived News
Seasons
Season 2016-2017
April 2017
03rd :: Match Report: ESFA Hudl Under 18 Schools' Cup for Boys