Match Report: Bob Docherty Cup - England v NI
Thursday 20 April 2017By ESFA Office
Last Updated:
10/02/2021 11:50:03
England Under 15 girls faced Northern Ireland needing a win to guarantee a place in the Bob Docherty Cup Final on Wednesday morning - but came up just short against another well organised outift.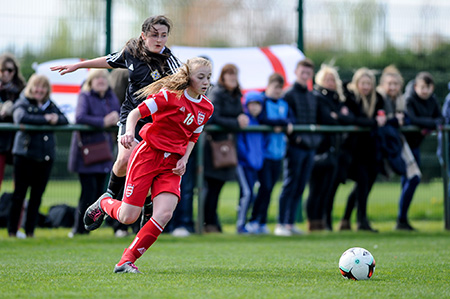 With a strong wind swirling around the AUL Complex, England kicked off with the wind at their backs and were on the front foot for most of the half but, as with the game on Sunday, clear chances were few and far between.
England were determined in their efforts but Northern Ireland were defending well and that, combined with the lack of a clinical final ball, meant the deadlock looked unlikely to be broken.
Once again a number of set pieces were wasted although England came close to scoring right at the end of the first half when Lexie Harrison picked up a loose ball from an Irish headed clearance and fired a shot from the edge of the box that was blocked on the line.
The second half began in pretty much the same vein as the first, England looking to press and claim the win that would see them through to the final but the Irish were in stubborn mood and they almost took the lead early on in the second period when they saw a close range effort tipped onto the bar by Eleanor Heeps and cleared from inside the 6 years box.
England came close top breaking the deadlock when Abigail Fenton pressured the Irish keeper into clearing a through ball that hit an retreating defender and rolled towards an open net but Fenton was unable to reach the loose ball before it was cleared.
Shortly after the game turned on its head when the Irish keeper saved a low shot with her legs and then, at the other end, England conceded a penalty when Lexie Harrison was harshly adjudged to have fouled the Irish forward from a free-kick into the box and the converted spot kick gave England a mountain to climb.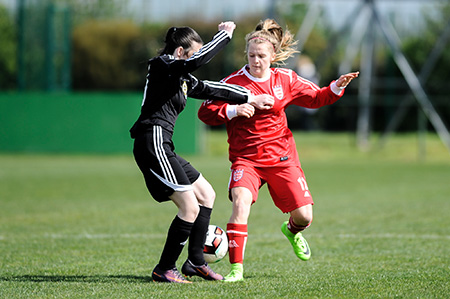 Although they pressed for a goal that would give them a lifeline the ball would just not fall and when Abigail Fenton was through, lobbed the keeper and the ball drifted wide, you knew it was not going to be England's day.

A well organised and battling Irish side coupled with a strong wind made conditions difficult for both sides all through the game and England were left to rue the chances they did miss in a narrow 1-0 defeat.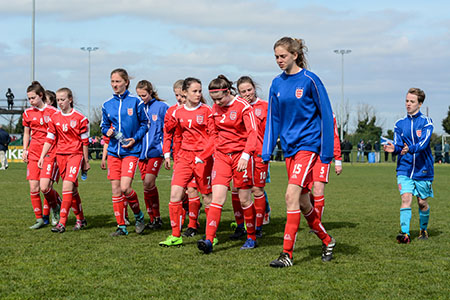 The girls will now face Scotland in the 5th v 6th place play-off on Wednesday and a chance to end the campaign on a positive note.
Archived News
Seasons
Season 2016-2017
April 2017
20th :: Match Report: Bob Docherty Cup - England v NI