England U15 Schoolgirls Represent Their Country This Weekend
Friday 07 April 2017By ESFA Office
Last Updated:
10/02/2021 11:50:03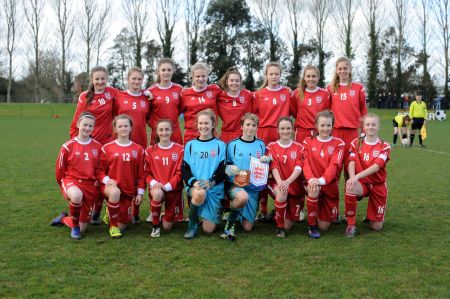 ESFA U15 Squad 2017 at their recent match in Ireland
FAI SCHOOLS will welcome their counterparts from England, Scotland, Wales and Northern Ireland to the impressive surrounds of the AUL Complex in Clonshaugh this weekend
The International tournament will cater for the best U15 Schools' players in their respective jurisdictions. The four day event will kick off on Sunday evening, April 9 at 6pm. With the England contingent defending their title from 2016.
As host nation, the Republic of Ireland have invited club representatives Shelbourne Ladies to participate in this year's event. Last season saw hosts Wales invite their younger age group (2001) to compete alongside their 2002 Select in Dragon Park. Similarly, a MGL Select participated in this tournament when FAI Schools last facilitated the competition.
This will be the fourth occasion for the FAI Schools Association to play host having previously catered for the event as far back as 2004 in Co. Clare when Scotland secured the title for a second consecutive year. Four years later it was the turn of Salthill Devon FC, Galway which saw Michael Gallagher's Captain Olivia Smartt (Mount Sackville) lift the Cup for the Republic of Ireland.
As well as the Irish players donning the Irish jersey, it will be a massive occasion for Shelbourne Ladies, who will no doubt relish the opportunity afforded to them. The club have tasted recent success having captured the FAI Women's U16s Cup last weekend with a victory over a much fancied Enniskerry in Home Farm FC, Whitehall.
Shelbourne Manager Casey McQuillan will opt for a new look side as he enters the contest with a select from 2001, 2002 and 2003 at his disposal. The club will have a series opener as they face defending Champions England on Sunday evening. The crunch encounter will provide him with an opportunity to assess his players on the big occasion before they take on Northern Ireland on Monday evening.
Wales will come into this tie with some notable players making a welcome return. Lucy Attwood played for their first team in Dragon Park last season with colleague's Ellie Mai Sanford, Hayley Hoare, Grace Corne, Aneeka Bardsley, goalkeeper Deanna Lewis and Jasmine Simpson all featuring for their second tier squad and making the step up this season. Head Coaches Kat Lovett and Matthew Clement will be hoping that the girls can upset the hosts with a full three points to kick start their campaign on the right note.
Scotland would like to emulate the success that their U19s are currently having at the Elite Phase in Limerick when they enter the fray on Monday evening against the Republic of Ireland. The squad have been selected since January and have enjoyed an excellent campaign thus far with a number of competitive friendlies under their belt as well as their annual trip to Jersey which reaped dividends for David Thomson's charges. Mearns Castle High scholar Cara Henderson will make a return from their 2016 squad and will be one to watch out for come match day!
Defending Champions England will see Claire Robinson at the helm this season ably assisted by Stephanie Libby and the experienced Andy Williams. The well-polished unit enjoyed a training camp in Porto this season as well a number of competitive outings against some top class opposition. Their preparations were hampered slightly by the late withdrawal of Molly Bull due to injury which will see only 15 players make the trip to Dublin.
Northern Ireland will make the short journey South to Dublin with a startling six squad members making another appearance at the Bob Docherty Cup as Leah McAvoy, Joely Andrews, Carla Devine, Aimee Lee Peachey, Rachel McLaren and Jessica Magee all feature for Gail Redmond's side. The Northerners will have an opportunity to review the Shelbourne crew on Sunday before they feature against them on Monday evening. The next test will be England on Tuesday afternoon before the play-off's Wednesday morning.
The Bob Docherty Cup is always highly contested with some very close calls in recent years. The Republic of Ireland just missed out on the silverware last season as England's Holly Manders' second half strike was the only difference between the two sides.
The competition has seen four of the five nations lift the title in its 15 year history. Top of the leader board is Scotland with six titles to their credit (2003, 2004, 2006, 2009, 2013, 2015) closely followed by the Republic of Ireland on five (2002, 2005, 2007, 2008, 2010).
REPUBLIC OF IRELAND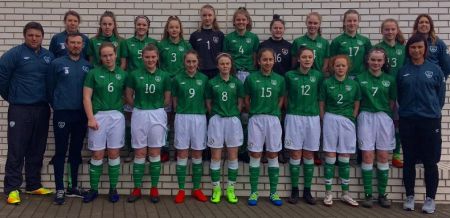 Ria McPhilbin (Coláiste Iognáid), Courtney Maguire (St. Laurence's College, Loughlinstown), Mia Dodd (Presentation Secondary School, Warrenmount), Ellie Ferguson (Coláiste na hInse, Laytown), Nadine Clare & Shauna Carroll (both Loreto Secondary School, Foxrock), Taylor White (St. Dominic's College, Cabra), Jessica Ziu (Larkin CC, Cathal Brugha Street), Kayla Brady (Wilson's Hospital School, Multyfarnham), Aoibheann Clancy (Presentation Secondary School, Thurles), Zara Foley (Ballincollig Community School), Sophie Liston (Scoil Mhuire agus Ide, Newcastle West), Kelsey Munroe (Ballinrobe Community School), Kate O'Dowd (St. Nathy's College, Ballaghaderreen), Emilia Koziel (Dominican College, Taylor's Hill), Muireann Devaney (St. Clare's Comprehensive School, Manorhamilton), Anna Fahey (St. Paul's Secondary School, Oughterard), Emily Whelan (Ardgillan Community College, Balbriggan)
MANAGEMENT
Lorraine COUNIHAN, Manager (Coláiste Mhuire, Buttevant), Maureen O'DONNELL, Assistant Manager (Deele College, Raphoe), Richard BERKELEY, Coach (Sancta Maria College, Louisburgh), David ROONEY, GK Coach, Aoife BURKE, Physio, Aoife LYNCH, Video Analyst
SHELBOURNE LADIES FC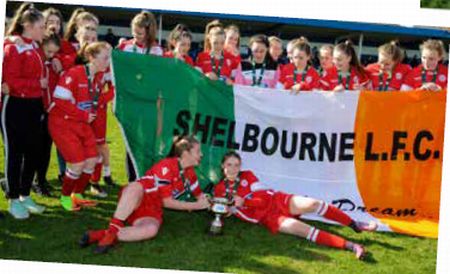 Jodie Leavy, Shannon Guildea, Nicole Keogh, Jess Carroll, Jodie McQuillan, Sarah O'Sullivan, Kerri Duffy, Chloe Johnston, Faye Larkin, Lucy Edwards, Lara Walshe, Taylor Massey, Simone Peat, Sophie Murray, Rebecca Cooke, Emma Ring, Zoe Leonard, Ellen Tester
MANAGEMENT
Casey McQuillan, Karen O'Connell, Keith Hennessy, Stephen Gray, Jason Dunbar, Kayleigh Cooling, Rebecca Fitzsimons
WALES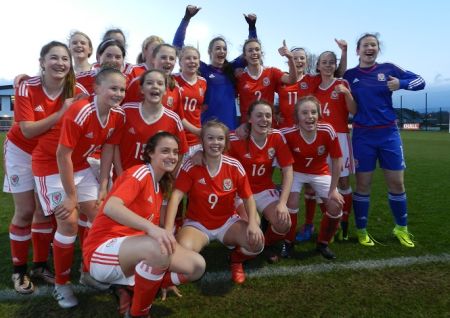 Lucy Attwood, Aneeka Bardsley, Grace Burke, Grace Corne, Grace Godwin, Phoebe Hampson, Hayley Hoare, Carrie Jones, Cerys Jones, Ellen Jones, Deanna Lewis, Esther Morgan, Ellie-Mai Sanford, Elena Scrivens, Jasmine Simpson, Josie Smith, Samantha Wynne, Anna Bebb
MANAGEMENT
Matthew Clement, Kat Lovett, Loren Dykes, Jack Long, Charlotte Preen, Clare Daley, Wayne Peter, Josh Harfoot, Garther Rogers, Alan Morgan
NORTHERN IRELAND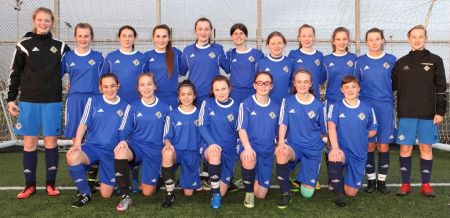 Maddie Clifford, Kirsty Cameron, Ellie Duffy, Rachel McLaren, Jessica Magee, Joely Andrews, Kerry Beattie, Toni Leigh Finnegan, Casey Howe, Carla Devine, Leah McEvoy , Cora Morgan, Cara Mervyn, Anna Wilson, Teegan Lynch, Jessica Rea, Erin Canavann, Aimelee Peachey
MANAGEMENT
Gail Redmond, Danielle McDowell, Andy Smyth, Amie Campbell, Leah McCready.
ENGLAND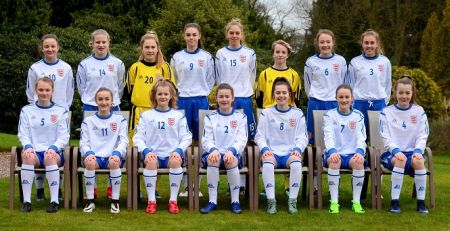 Lucy Williamson, Arabella Suttie, Deerna Goodwin, Melissa Robertson, Emily Wallace, Jasmine McQuade, Emma Harries, Sophie Peskett, Gemma Lawley, Georgia Brown, Jess Brown, Abbie Fenton, Libby Gilmore, Sharna Wilkinson, Lexie Harrison
MANAGEMENT
Claire Robinson, Stephanie Libbey, Will Smith, Andy Williams, Hannah Cornell
SCOTLAND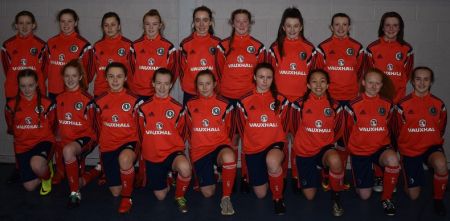 Georgia Crooks, Mhairi Crooks, Hannah Cunningham, Carly Girasoli, Cara Henderson, Rebecca McAllister, Philippa McCallum, Laura McCartney, Chelsea McEachran, Karsey McGlinchey, Kathleen McGovern, Rosie McQuillan, Aisha Maughen, Aaliyah Jay Meach, Hannah Scott, Eilidh Shore, Jodie Strachen, Alicia Yates
MANAGEMENT
David Thomson, Jim Bettley, Gillian Duffy, Mark Grant, Kirsty Hendry
FIXTURES
All fixtures will take place at the AUL Complex, Clonshaugh
Bob Docherty Cup Group Stages | U15 Girls' International Tournament
Republic of Ireland v Wales
Shelbourne v England
Sunday, April 9, KO 6pm
Bob Docherty Cup Group Stages | U15 Girls' International Tournament
Republic of Ireland v Scotland
Shelbourne v Northern Ireland
Monday, April 10, KO 6pm
Bob Docherty Cup Group Stages | U15 Girls' International Tournament
Wales v Scotland
Northern Ireland v England
Tuesday, April 11, KO 2pm
Bob Docherty Cup Play-offs | U15 Girls' International Tournament
5 v 6
3 v 4
Wednesday, April 12, KO 10.30am
Bob Docherty Cup Final | U15 Girls' International Tournament
1 v 2
Wednesday, April 12, KO 11.00am
Bob Docherty Cup Roll of Honour
YEAR

WINNER

VENUE

2002

Republic of Ireland

Ballymena, Northern Ireland

2003

Scotland

Edinburgh, Scotland

2004

Scotland

Clare, Republic of Ireland

2005

Republic of Ireland

Ballymena, Northern Ireland

2006

Scotland

Dumfries, Scotland

2007***

Republic of Ireland

Wrexham, Wales

2008

Republic of Ireland

Salthill Devon, Galway

2009

Scotland

Belfast, Northern Ireland

2010

Republic of Ireland

Glasgow, Scotland

2011

Northern Ireland

Cardiff, Wales

2012

Northern Ireland

AUL Complex, Dublin

2013

Scotland

Shaws Bridge, Belfast

2014

England

Repton School, Derbyshire

2015

Scotland

Toryglen, Glasgow

2016

England

Dragon Park, Wales

2017

AUL Complex, Dublin

***

Renamed Bob Docherty Cup
The ESFA would like to wish the very best of luck to our U15 girls this weekend and we will keep you updated via Twitter across the events.

Archived News
Seasons
Season 2016-2017
April 2017
07th :: England U15 Schoolgirls Represent Their Country This Weekend