Former England U18 Schoolboys Captain Honoured by Primary School
Monday 03 April 2017By ESFA Office
Last Updated:
10/02/2021 11:50:03
Craig speaking with some of the Lunt's Heath children on his return
Former u18 captain and 2006 Centenary Shield winner Craig Heenighan inducted into former Primary school's Hall of Fame inspiring the next generation.
"The children of Lunt's Heath are thrilled to have welcomed Craig back and to be able to induct him into our Hall of Fame. It is right and proper that we recognise his achievements in this way as he contributed so much to our school. We are just delighted he was able to return and inspire our pupils who themselves have their own ambitions for the future." Andy Williams, Headteacher.
During primary school, Craig enjoyed everything that school had to offer. He dedicated his daily efforts to all aspects of learning whilst also generously giving his talents to the school competing in the Quiz Team. Craig was a sports lover from a young age thriving in the many school teams such as football, rugby, cricket, tennis and athletics; and he states PE as his favourite subject at Lunt's Heath. Aged under 9 he unanimously won Player of the Year in the Runcorn & District league voted MOTM every single game by the opposition team manager the only time this had ever been achieved. This quickly attracted the interest of Everton FC and a trial period with them. He always aimed to do his best which often resulted in him being awarded captain as he had good leadership skills combined with compassion, he never discriminated between ability feeling everyone had something to bring to the team.
Craig represented LHPC at the Café Royal in London as part of Kids Against Tobacco campaign after winning the Roy Castle Lung Cancer Foundation a poster competition. This won him a prestigious Blue Peter badge and an interview on TV. However his overriding memory of Lunt's Heath was of lining up along the edge of the playground in summer time, waiting for the dinner ladies to complete their field inspection before allowing the children to play on the grass at lunchtime!
After leaving Lunt's Heath in 1999 to attend Wade Deacon, he worked hard and played hard - year on year he had 100% attendance, represented the school in many different ambassadorial roles, and captained several school sporting teams (basketball, cricket, and football). Footballing success was a regular feature of those young teenage years as he led Wade Deacon onto league and cup successes. During these high school years Craig successfully managed to combine his studies, with football to school of excellence standard at Blackpool FC, with a maturity beyond his years.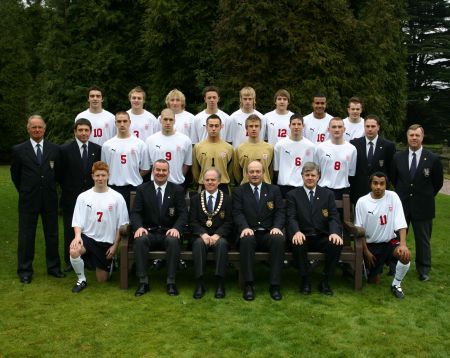 The 2005-2006 England U18 Schoolboys, Captained twice by Heenighan
Upon leaving High School with 11 GCSEs Craig continued his studies at Widnes Sixth Form College where sporting success would continue. Having successfully captained Cheshire U18s Craig was nominated for England Schoolboy trials for two consecutive years. Undeterred with falling short at his first attempt, his dream of representing his country would come true the following season, when Craig captained the England Schoolboys against Australia (scoring on his debut) and again against Northern Ireland in a 3-0 victory which led to him lifting that season's Centenary Shield. This achievement attracted lots of interest from Universities in the USA all of them offering him a scholarship, which ultimately was his aim, combining his love of sport and studying.
Craig spent four years at Nova Southwest University Florida captaining the football team for four years and being named US male athlete of the year 2015. On the successful completion of his Bachelor of Science Business Administration degree, and International Business Management masters' degree, Craig returned to working life here in Widnes.
Lunts Heath Primary School are incredibly proud of Craig's achievements and are privileged to honour him as the first inductee into their newly formed Hall of Fame.
Archived News
Seasons
Season 2016-2017
April 2017
03rd :: Former England U18 Schoolboys Captain Honoured by Primary School