Match Report: Hudl Under 18 Colleges' Cup for Boys
Monday 03 April 2017By ESFA Office
Last Updated:
10/02/2021 11:50:03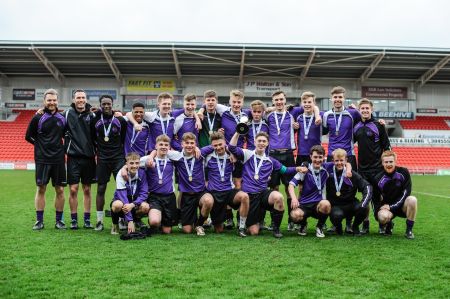 Farnborough VI Form College - National Champions - with their winners medals and trophy
Farnborough Sixth Form College (Aldershot & Farnborough SFA) 3-2 York College (York & District SFA)
Farnborough Sixth Form College have been confirmed as the winners of this season's Hudl Under 18 Colleges' Trophy for Boys, having beaten York College 3-2 in Wednesday's final at Doncaster Rovers F.C. The contest itself was finely poised at 1-1 at half time, following an excellent display of York College forward Tom Hullock's predatory instincts with a 16th minute tap in, inside the six-yard box. Parity was restored in the 34th minute, courtesy of Owen Powell, capitalising on a set piece situation, to equalise for Farnborough Sixth Form College. Early in the second half, both sides traded blows: Sean Hunter put York College ahead with a composed finish from inside the area, whilst Jake Wilson channelled his inner Beckham, to pull Farnborough level. The aforementioned Wilson would then go on to double his tally, and in doing so would provide the winner, by firing a low shot underneath York keeper, Nick Lock. Overall, the general opinion was that this was an entertaining game that ebbed and flowed from the very first minute, until the very last. Therefore, both sides deserve a huge amount of credit for the pulsating spectacle that they produced late on Wednesday afternoon.
Both of this year's finalists had successfully navigated six previous rounds in what is most likely to have been a long and arduous road, starting in September and culminating with this evenly contested final at the Keepmoat Stadium. Indeed, the standard of this year's competition can perhaps be indicated by the degree of difficulty that the teams faced in their respective semi-finals: York College scraped past Priestley College (Warrington) 4-3 in early February, whilst Farnborough Sixth Form College were pushed all the way by Palmers' College, (Thurrock) needing penalties to secure their place in the final. Additionally, it would be remiss of us not to acknowledge the excellent reputation that both sides have in nurturing young talent as York College can proudly count twins, Romario and Ronaldo Viera, both of Leeds United, amongst their alumni. Likewise, Farnborough Sixth Form has helped to support a number of individuals to progress into enviable employment opportunities that include the Ritz Hotel in London and the Royal Navy. All of these examples promote the key ESFA values of self-discipline and positive decision making. Consequently, the stage was set for an enthralling encounter.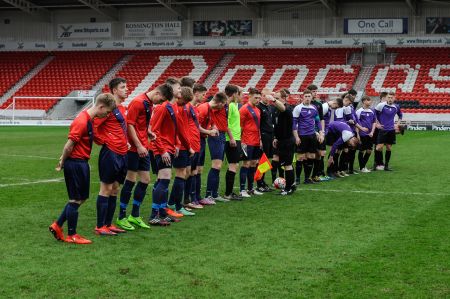 This short summary does not even come close to adequately detailing all of the events present in the match. However, we were soon given an inkling of what was to come when, in their very first attack, York College's Sean Hunter was denied by some excellent goalkeeping by Farnborough keeper, Matt Russell who rushed off his line in order to narrow the angle and block the subsequent shot. A couple of moments later, Fraser Hansen, helped to fashion another opportunity to open the scoring for York, this time though, it came via free-kick on the left-hand side, which was level with the penalty area. Hansen whipped in a low, out-swinging cross that evaded almost everybody, eventually reaching York's captain, Kieran Holmes, whose powerful near post shot from an acute angle, was excellently blocked by the Farnborough defence. York continued to push for an early advantage, winning a corner after Jack Simpson's shot was deflected behind by the covering Dan McLennan, although this came to nothing. Farnborough, then fashioned a great opportunity against the run of play, but Arran Deere miscued his shot and as a result it travelled safely through to York's number one, Nick Lock. These early exchanges would set the tone for the breathless end to end action that would follow. It was only a matter of time before the early offensive play produced a goal and it was York College who drew first blood, courtesy of Tom Hullock in the 16th minute. The goal came about following fantastic play between Matthew Savage and Jack Simpson, with the former releasing the latter into the wide area. Jack Simpson then proceeded to face up his opponent, backing Dan McLennan into his own box. Simpson then showed great awareness to return the ball to Savage, in space on the edge of the box. York's number 8 dinked a ball into Fraser Hansen to attempt an audacious back-heel that defected of an unlucky Farnborough defender and into the path of the grateful Tom Hullock to score. Undeterred by the setback, Farnborough looked to respond immediately, with set pieces appearing to be their most potent weapon, as was demonstrated when Jake Wilson was fouled 25 yards from goal. Unfortunately for Wilson and Farnborough, Liam Whyte sent the resultant free-kick over the bar. The pendulum continued to swing both ways as a mazy, direct run from saw him beat all comers, almost reaching the bye line whereby he saw his attempted cross cut out by Farnborough's retreating defence. Sensing an opportunity for a counter attack, as York College had committed many men forward they took the direct route. This manoeuvre very nearly paid off as Nick Lock appeared to misjudge the flight of the ball, thus presenting Jake Wilson with the opportunity of an easy finish, however only a great covering tackle from Harry Sheppeard prevented him from doing so. The next goalmouth action of note came courtesy of Farnborough's Jake Wilson and his set-piece prowess after he smacked the woodwork from approximately 25 yards out, with the keeper beaten all ends up. York in an effort to make Farnborough pay for their profligacy in front of goal, launched yet another counter attack headed by Joe Dunnett who managed to successfully navigate his way towards the bye line but as before saw his cross eventually cleared. Farnborough entered the dressing rooms level at half time courtesy of Owen Powell who diverted Harvey Griffiths' high and hanging free kick into the net after Elliot Anderson had got a little too tight to the aforementioned Griffiths' for the referee's liking. This is despite the fact that York College twice fired over the bar in the final minutes of the second half first from Matthew Savage and Fraser Hansen, both when well placed. However, it remained level at the half-time whistle to set up a cracker of a second half.
Half Time: Farnborough Sixth Form College 1-1 York College
Much like the first half, the second period began in a frenetic fashion with York College looking to re-establish a hold on the game, sandwiched in between a foray from Farnborough. Initially this was attempted through a neat bit of interplay between Jack Simpson and Matt Sheppeard, their little give and go was eventually dealt with by Farnborough at the expense of a throw in. However the game remained wide open as proven by Alex Penny's marauding run and cross that was easily claimed by the keeper. Subsequently, Tom Hullock saw his shot well blocked in the 48th minute. Following this, there was a bit of a lull in the game with the majority of it being played in the midfield; perhaps understandably so given the cut and thrust nature of the match up until this point. Five minutes later in the 55th minute, normal service was resumed when the impressive Frank Hansen had a shot blocked yet again.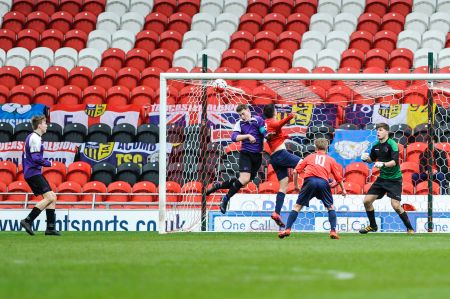 York College, proceeded to double their lead in the 61st minute, as a loose pass was intercepted by Kieran Holmes who then took the bull by the horns, charging forward before exchanging passes with Donald Chimallio expertly executing the slide rule pass into Frank Hansen, who had found himself in between the lines. York's creator in chief then set up Sean Hunter, who calmly slotted the ball in between Matt Russell's legs to score. Cue pandemonium as Farnborough hit back with their very next attack as Jake Wilson was pulled back 25 yards from goal. Wilson brushed himself down, stepped up and curled the shot past the despairing dive of Nick Lock. In truth, it was a strike that two goalkeepers wouldn't have prevented – David Beckham, eat your heart out! It was a case of now or never for both teams to secure a place in the annals of history. York made the first move as Matt Savage sent a ferocious strike wide from 20 yards in the 67th minute. However, Farnborough made them pay for a defensive lapse in the 70th minute as a long ball from Sam Henneberg saw Jake Wilson beat the offside trap and he then slotted the ball underneath the unlucky Nick Lock - he had got something on Wilson's effort but couldn't quite prevent the ball from hitting the back of the net.
Understandably, York resolved to throw everything they had, plus the kitchen sink at Farnborough. However, they couldn't quite make their dominance pay despite Tom Hullock and Matt Savage firing over the bar in quick succession. As a consequence, the ending to the game was somewhat disjointed and nervy as there were a lot of set-piece opportunities that went unpunished. The last notable action of the match saw a counter attack from York College; result in their claims for a penalty being waved away by the match referee.
The final whistle soon followed, bringing with it jubilant scenes from both the Farnborough players and partisan crowd alike, particularly as this was their maiden title success. York College, to their credit accepted their defeat gracefully and thoroughly deserved their applause after the match, as well.
Full Time: Farnborough Sixth Form College 3-2 York College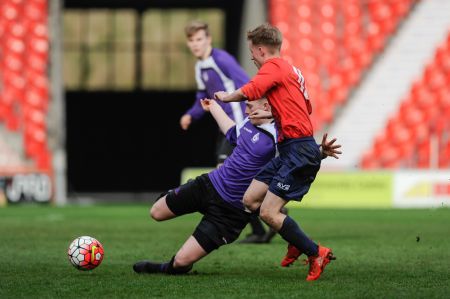 Squads:
Farnborough Sixth Form College: Matt Russell, Sam Henneberg, Dan McLennan, Liam Whyte (C), Owen Powell, Cameron Smith, Arran Deere, Harvey Griffiths, Alex Penny, Charlie Bushell, Jake Wilson, Adam Campbell, Ryan Funnell, Alex Stone, Andy Martin, Scott Davies.
York College: Nick Lock, Harry Sheppeard, David Barber, Elliot Anderson, Kieran Holmes (C), Joe Dunnett, Jack Simpson, Matthew Savage, Sean Hunter, Tom Hullock, Fraser Hansen, Angus Richardson Donald Chimallio, Reece Kral, Dan Davison, Charlie Birley.
Match Officials
Referee: Dan Andrews
Assistant Referees: Miles McKinlay & Ian McGuinness
Fourth Official: Paul Wilcox
The ESFA would like to place on record its thanks to the staff at the Keepmoat Stadium for hosting the event and to Hudl for their sponsorship of the tournament this season.
Imagesİ ThreeFiveThree Photography - not to be reproduced without permission

Archived News
Seasons
Season 2016-2017
April 2017
03rd :: Match Report: Hudl Under 18 Colleges' Cup for Boys