Premier League Launch New Players' Kit Scheme!
Wednesday 18 March 2015By ESFA Office
Last Updated:
31/03/2015 09:01:36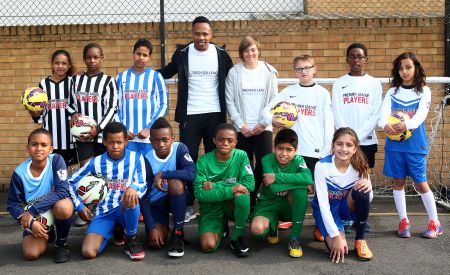 APPLICATION PROCESS NOW OPEN FOR SCHOOLS TO REQUEST FREE FOOTBALL KITS
Southampton and England right-back Nathaniel Clyne returned to his old primary school today to help launch this year's Premier League Players' Kit Scheme. At the event, which took place at the Allen Edward Primary School in Stockwell, Clyne was joined by Women's England international Fran Kirby to distribute a free full football team kit to Year 5 and 6 pupils at the school.
The Premier League Players' Kit Scheme, which is now in its fourth year, sees players from each of the 20 Premier League Clubs donate full team kits to schools across the country. Any school and district teams can apply online via this link to also be in with a chance of receiving a free full team kit.
To date the Premier League, alongside its official partner, Nike, have provided 48,825 individual kits to junior teams both via the online national application system and through individual player nominations.
Clyne, who took part in a sports session and Q&A with the pupils also spoke about his journey from playing football in the playground to taking part in matches on the world stage, saying:
"The Premier League Players' Kit Scheme is a great initiative and I'm proud to be able to revisit my primary school as a top-flight player and give something back to those who helped support and encourage my progression as both a student and as a football player. I hope the donation of these football kits will help inspire children nationwide to play sport, get active and maintain a healthy lifestyle."
Simon Morgan, Head of Community Development at the Premier League added:
"Over 3,000 schools and district teams have already benefited from the Premier League Players' Kit scheme thanks to donations from Premier League players. I hope that the attraction of having the Premier League badge on their shirts will encourage more schools to sign up via the online application form, which in turn will help encourage their participation in football."
The window to apply closes at 5pm on Friday 24 April 2015 and if you have any questions you can contact the PLCF here.

Archived News
Seasons
Season 2014-2015
March 2015
18th :: Premier League Launch New Players' Kit Scheme!