ESFA U18 Inter County Final – Kent v Humberside: Wednesday 11 March
Monday 09 March 2015By ESFA Office
Last Updated:
31/03/2015 10:01:36
The National Competitions Department are pleased to announce that the Under 18 Inter County Trophy Final will take place this Wednesday 11 March at Cambridge United FC's ground, Abbey Stadium with a 2pm KO.
The Inter County Finalists are Kent and Humberside, who have done extremely well to have progressed through the competition to make it to this final, prestigious stage!
The final will be recorded by our friends at 247.TV, which will be available to view following the match for £5 via this link. Copies of the match will also be available to purchase afterwards. We will keep you updated with any changes to the scheduling.
ESFA accredited photographer from 353 Photography will also be in attendance to comprehensively capture all the excitement and atmosphere of the day. All his photos will be available to view and purchase following the match via his website. He is able to offer some fantastic deals on prints and information for this can be found below.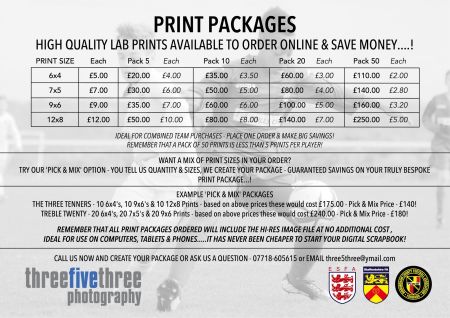 Hospitality packages are available for the match day and for just £20 you can expect the following;
Pre-match and half time tea, coffee and biscuits served in the Directors' Lounge
Match ticket with reserved seating in the Directors' Box
Souvenir match programme
Post-match hot pasta buffet served in the Hospitality Lounge
If this is something you would be interested in, please email sarah.kearney@schoolsfa.com.
Tickets to attend the match are £4 for adults and £2 for Under 16s, these will be available to purchase, along with match programmes on the day, or you can email the Competitions Department to request them in advance.
We very much hope that you would like to join us in supporting these teams after all their hard work in reaching this coveted final and we wish both teams the best of luck!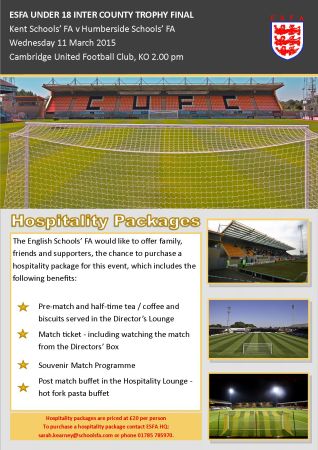 Archived News
Seasons
Season 2014-2015
March 2015
09th :: ESFA U18 Inter County Final – Kent v Humberside: Wednesday 11 March