PlayStation Tie of the Round in Sunderland with Wes Brown
Wednesday 04 March 2015By ESFA Office
Last Updated:
31/03/2015 09:01:36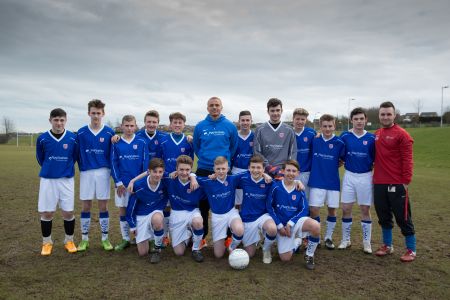 Wes Brown was the talk of the town after visiting The Academy of Shotton Hall for the latest ESFA and PlayStation Tie of the Round event last Wednesday 25 February.
Excitement reached fever pitch at Peterlee-based The Academy of Shotton Hall as Sunderland defender Wes Brown paid a visit to support the PlayStation Schools' Cup.
Ahead of his return to boyhood club Manchester United, the two-time Champions League winner was there to cheer on the school's Under 15 team who had impressively made it to the quarter finals of the ESFA Under 15 PlayStation Open Schools' Cup.
Wes took centre stage in the school's state-of-the-art performance theatre earlier in the day as he supported a Q&A with nearly 100 of the school's pupils, as well as getting involved in a fair few selfies and giving a video interview to a couple of the school's budding journalists!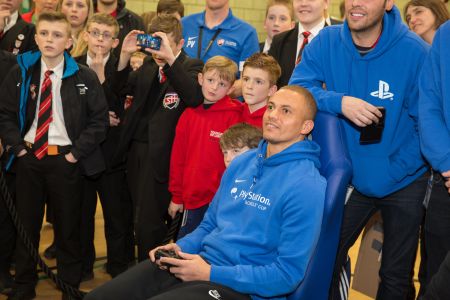 Wes also took the chance to take a look in the school's sports hall, which had been transformed into a PlayStation gaming zone for the day and used as a reward for pupils doing well in their studies. Wes himself couldn't resist having a go on the virtual pitch as he faced one of the school's pupils in a game of FIFA 15.
Unfortunately for the U15 team their journey in the national competition came to an end after a 5-2 defeat to Cardinal Langley RC High School from Rochdale. The home side heroically battled back from 2-0 down to level matters at 2-2 before their opponents pushed on in the second half to book their place in the semi-finals and find themselves just a game away from the PlayStation Schools' Cup Festival.
Wes commented: "It was great to support grassroots football at The Academy of Shotton Hall yesterday and a really enjoyable experience. Having come through ESFA tournaments myself growing up I know how important it is in helping to develop talented young players and it's great that so many schools are involved with the PlayStation Schools' Cup."
We would like to a say a massive thank you to The Academy of Shotton Hall for being such fantastic hosts for the day!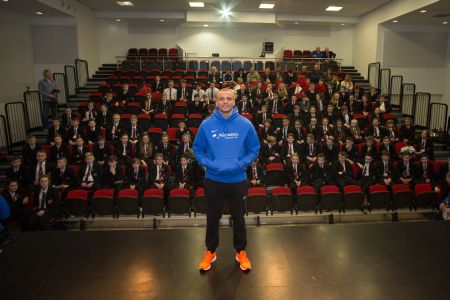 There are two more Tie of the Round events to come this season one in Potters Bar and the last in Liverpool – we're already excited to see what these events will bring!
We would like to thank again all the schools that have taken part in these events this season and also thank all the Premiership players that have participated in supporting the work of the ESFA in partnership with PlayStation.

Archived News
Seasons
Season 2014-2015
March 2015
04th :: PlayStation Tie of the Round in Sunderland with Wes Brown