ESFA U15 Girls' Team Win in their First International Match
Tuesday 24 March 2015By ESFA Office
Last Updated:
31/03/2015 09:01:36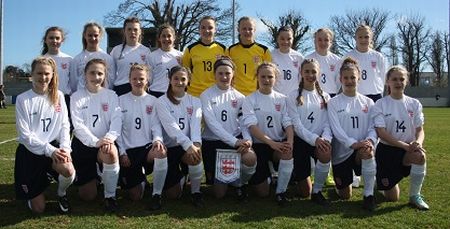 Last weekend, the U15 Girls' International team travelled to Dublin to play Republic of Ireland in their first invitation international match of the season at Home Farm FC.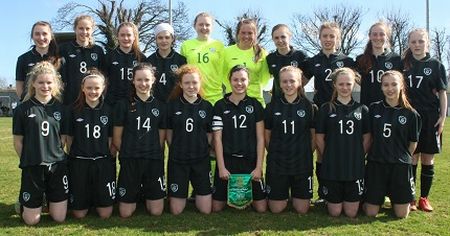 The Football Association of Ireland Schools have kindly sent the below match report following the England Girls' success!
Saturday, March 21, 2015
Republic of Ireland 0-1 England
Miri Taylor (51)
Counihan's side put in a solid performance against the England schools select but a wonder goal from substitute Miri Taylor early in the second half was enough to see England take the win.
The Irish were hit with a body blow leading into the game as Tiegan Ruddy (St. Wolstan's CS) was ruled out due to injury. This ensured a late call up for Glenties student, Danielle McDevitt
Ireland did manage an equalizer on the hour mark as Amy Boyle Carr's screamer on the edge of the box found the top corner only for the goal to be disallowed. Aoife Lynagh's corner was deemed to have floated over the end line before coming back off the crossbar for Carr to volley home.
The visitors were match sharp and created plenty of chances courtesy of Miri Taylor and Molly Pike but the deadlock remained.
Ireland's best chance fell to Captain Tara Mannix as her free kick from 20 yards out went agonizingly over the bar
Phoebe Warner could have got on the score sheet herself late on as her thunderous shot rattled Turner's crossbar with only seconds remaining.
Disappointing for the girls not to have shared the spoils but Counihan will be delighted with the work rate shown today.
The England management remained upbeat and were delighted to take out the many positives from the game, especially from a much improved second half performance. There is a strong feeling that the girls have settled quickly and confidence is growing as they continue to develop their game and team unity.
Next up for the Schools side is a trip to Glasgow in early April as they compete in the annual Bob Docherty Cup. England won this event last season with Ireland in runners up spot. The tournament kicks off on April 6 with the Irish playing England again. This will be followed up with games against Wales, Northern Ireland and Scotland
REPUBLIC OF IRELAND: Niamh COOMBES, Sadhbh DOYLE,Tara,Katie BOLGER BURDIS,Tyler TOLAND,Meghen HENGERER, Aoife LYNAGH,Rachel BAYNES,Heather PAYNE, Tara CULLY, Amy BOYLE CARR.
SUBS USED: Bethany CARROLL for Bolger Burdis, 25.Louise MASTERSON for Cully, 40. Erica TURNER for Coombes, 42. Courtney HISTON for Payne, 69.
SUBS NOT USED: Ciara MAHER, Michelle O'DRISCOLL,Danielle McDEVITT
ENGLAND: Hannah HAMPTON, Anna KING, Maddie BRANT, Olivia SMITH, Katherine TURNER, Niamh CASHIN Sophie CHARLTON, Phoebe WARNER, Ava KVYKEN, Bronwen THOMAS, Maddie PHILLIPS
SUBS USED: Molly PIKE for Maddie PHILLIPS, Poppy PATTINSON for Sophie CHARLTON, Jenny MYLER for Hannah HAMPTON, Amelia HAZARD for Ava KUYKEN
SUBS NOT USED: Libby SMITH, Mia PARRY
Bob Docherty Cup (U15 Girls International)
Toryglen Football Centre, Glasgow (3G)
Monday, April 6, KO 4.45pm
England v Republic of Ireland 16.45
Scotland v Northern Ireland 16.45
Tuesday, April 7, KO 9.45am
England v Scotland
Republic of Ireland v Wales
Tuesday, April 7, KO 3.45pm
England v Wales
Republic of Ireland v Northern Ireland
Wednesday, April 8, KO 3.45pm
England v Northern Ireland
Scotland v Wales
Thursday, April 9, KO 10.45am
Republic of Ireland v Scotland
Northern Ireland v Wales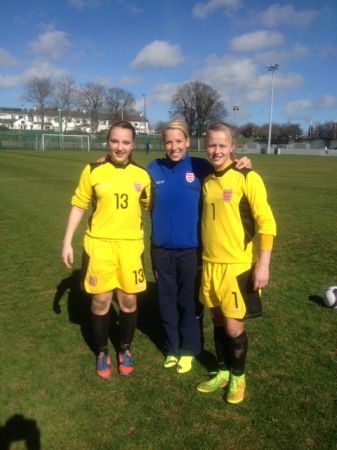 Archived News
Seasons
Season 2014-2015
March 2015
24th :: ESFA U15 Girls' Team Win in their First International Match