Harry Kane announces 2015 PlayStation® Schools' Cup Festival as stars of tomorrow get their chance to shine
Monday 16 March 2015By ESFA Office
Last Updated:
31/03/2015 09:01:36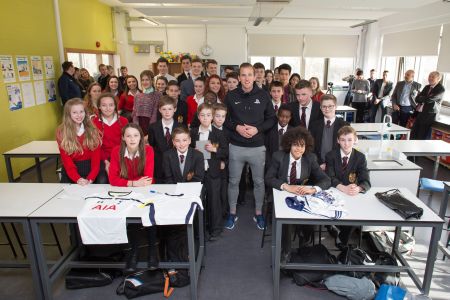 Harry Kane with some of the pupils at Dame Alice Owens School
Reading FC's state-of-the-art stadium to host PlayStation Schools' Cup Festival for a second consecutive season
15 different U12-U15 national schools football finals, including both boys' and girls' teams, to be contested across three action-packed days
Tottenham Hotspur star Harry Kane has officially announced the 2015 PlayStation Schools' Cup Festival, which will see schools across England descend upon Reading FC's Madejski Stadium for 15 national football finals between 18th and 20th May.
Kane, who was visiting Dame Alice Owens School in Hertfordshire this week to support this season's tournaments, helped announce the dates of the finals which comprise the biggest schools' football competition in England – the PlayStation Schools' Cup. When growing up, Kane attended Chingford Foundation School in Waltham Forest, who themselves have entered six PlayStation-backed tournaments this season.
Kane, one of the hottest prospects in English football explained: "The chance for all the finalists to play at a state-of-the-art stadium in what is now the biggest tournament for schools in this country will be something they remember for the rest of their lives and a great occasion to help nurture home grown talent."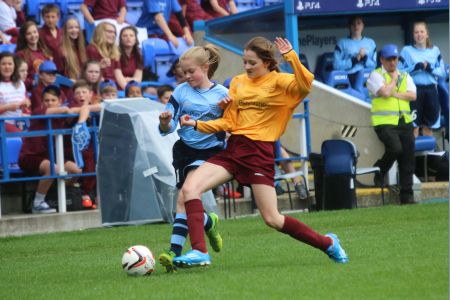 Since September, U12-U15 boy and girl footballers from schools across England have been competing to reach this illustrious stage and get their hands on the prestigious national trophies.
The tournament finals range from the main PlayStation Schools' Cup competitions through to 'Small Schools' trophies and 'B Team' cups, all of which have provided a fun and competitive cup format that has been accessible to schools of all sizes and abilities.
The finals are part of the PlayStation Schools' Cup, the grassroots football partnership between PlayStation and the ESFA. Now in its second season, the partnership has successfully engaged over 2,000 schools and given over 100,000 children the chance to experience the pride of representing their school in national football tournaments.
All 30 teams taking part will be given the full matchday experience for their final as they warm up in Reading FC's £1million indoor training facility before changing in either the home or away dressing room and making their way onto the Madejski Stadium pitch.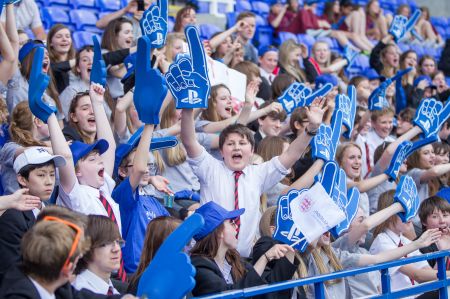 The Festival represents a fantastic day out for supporters too as over 5,000 spectators headed to the Madejski Stadium for the 2013/14 season finale. As well as watching a feast of football, families and school colleagues were treated to a range of activities including PlayStation gaming zones in the concourse, free prize giveaways and half-time spectator competitions – all which contributed to an amazing carnival atmosphere.
More activities are confirmed for the 2015 finals with as many spectators as possible encouraged to come and experience the occasion and watch some of England's brightest young talents. Tickets are free and all attendees will receive a complimentary matchday programme.
Already proving its credentials for nurturing young players, in the past year 15-year-old Fraser Hornby has gone from PlayStation Schools' Cup player to professional footballer after signing for Premier League side Everton. Fraser was part of the Northampton School for Boys U14 team who were narrowly defeated in the final of the ESFA Under 14 PlayStation Schools' Cup at the Madejski Stadium last May.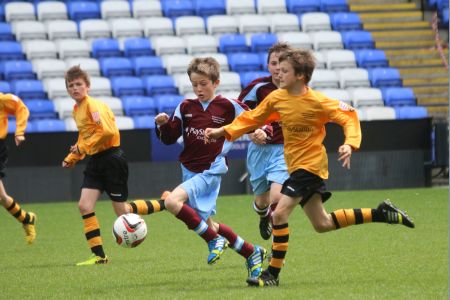 PlayStation UK Marketing Director Murray Pannell commented: "We are very grateful that leading Premier League footballers such as Harry Kane have helped build the profile of the PlayStation Schools' Cup. We're equally delighted that we are able to return to the Madejski Stadium once again. This year has seen an increase in the amount of PlayStation Schools' Cup tournaments and with the help of the ESFA we have been able to reach out to even more schools and give a further boost to grassroots sport in England. Seeing so many smiles on the faces of everyone involved was great to see and we have no doubt that the Festival will once again create lifetime memories for all the players involved and provide an experience that all their family, friends and fellow pupils can enjoy."
ESFA Chairman Mike Spinks added: "It's amazing how quickly seasons pass by and we are once again hugely grateful to PlayStation for their ongoing support to grassroots football. Last year's Festival was a first for the ESFA in hosting so many finals at one location but it proved to be such a fantastic occasion and one that will live long in the memory. We look forward to watching some of the future stars of tomorrow out on the pitch."
Schools, players, parents and teams can find all the latest news, stories and competitions by logging onto the website. They can also keep up to date via Facebook and Twitter.
For more information on ESFA tournaments, visit our official website.
Archived News
Seasons
Season 2014-2015
March 2015
16th :: Harry Kane announces 2015 PlayStation® Schools' Cup Festival as stars of tomorrow get their chance to shine