U18 Inter County Final: Kent 3-4 Humberside
Thursday 12 March 2015By ESFA Office
Last Updated:
31/03/2015 09:01:36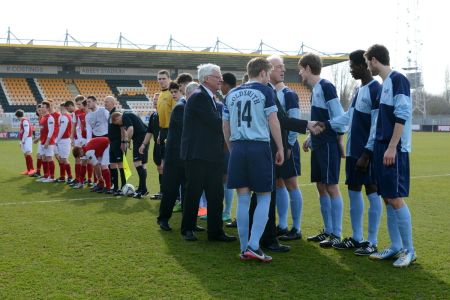 Cambridge United's R Costings Abbey Stadium played host to the ESFA Under 18 Inter County Trophy final between Kent Schools' FA and Humberside Schools' FA on Wednesday 11 March.
Kent, the defending champions, took an early lead in the ninth minute when Elliott Cutts fired past Humberside keeper, Jordan Douglas, from outside side the penalty area.
Humberside replied almost immediately when captain, Jamie Forrester, replicated a similar strike to Kent's opener just a few moments earlier to level the score.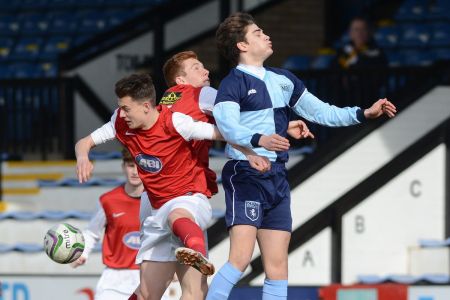 On 20 minutes, Kent almost re-established their lead when George Mitchell engineered space inside the penalty area and managed to smash an effort against the Humberside bar.
Humberside grabbed the lead on 31 minutes thanks to a Mattie Start glancing head, following a well delivered free-kick into the Kent penalty area.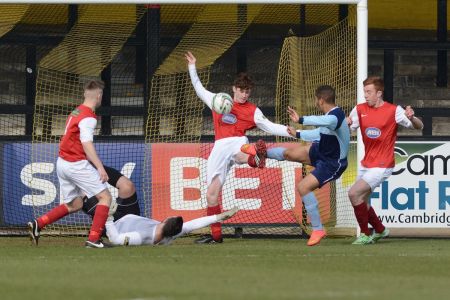 Kent drew level just before the interval on 43 minutes, following a spectacular free-kick from Kane Butler, which curled inside the diving Jordan Douglas' left hand post.
Elliott Cutts bagged his second goal of the game when he headed home a free-kick at the near post, to put the south-coast county 3-2 up.
Humberside substitute, Keane Parsons, drew the East Midland outfit level with a lobbed effort on 79 minutes.
Just as the encounter looked like into was going to slip into extra time, Humberside number 11, Martin Jones, slotted home past the Kent keeper, Jamie Weller.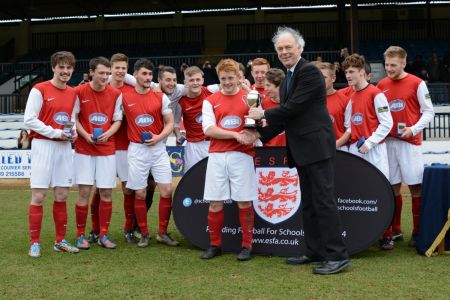 ESFA Chairman, Mike Spinks, was on hand to present the trophy to Humberside captain, Jamie Forrester.
Photographs if this event can be purchased by threefivethree photography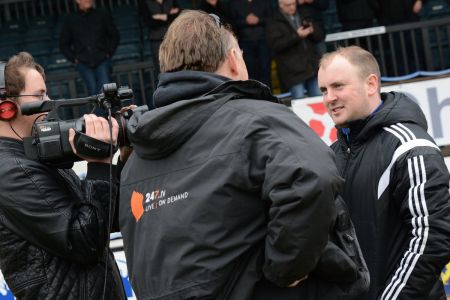 The match was recorded by 247 TV and can be viewed at http://www.247.tv/schoolsfootball/
Team Line-ups
Kent SFA:
42. Jamie Weller (Tunbridge Wells Grammar School for Boys)
2. Rene Armstrong (Dover Grammar School for Boys)
6. Kane Butler (Maidstone Grammar School)
7. Elliott Cutts (Simon Langton Grammar School for Boys, Canterbury)
14. Jack Goldsmith (Captain - Maplesden Noakes School, Maidstone)
16. Stephen Ikpeme (Ravensbourne School, Bromley)
19. George Mitchell (Queen Elizabeth's Grammar School, Faversham)
22. Patrick Okwudinka (Chatham House & Clarendon Grammar School, Ramsgate)
27. Harry Priddle (The Abbey School, Faversham)
33. Dominic Snee (The Abbey School, Faversham)
37. Josh Wisson (Maplesden Noakes School, Maidstone)
Substitutes
1. Ben Kitcherside (The Howard School, Rainham)
10. Nathan Dennis (Holmesdale School, Snodland)
17. Charlie Manning (The Abbey School, Faversham)
24. Chimdi Otuadinma (Borden Grammar School, Sittingbourne)
34. Jack Steventon (Hayesbrook School, Tonbridge)
Team Managers:
John Coles
Steve King
Paul Castle

Humberside SFA
1. Jordan Douglas (Hessle High School, East Riding)
2. Jack Tranmer (Hessle High School, East Riding)
3. Tate Dean (St Mary's Sports College, Hull)
4. Kurtis Bedford (Bishop Burton College, East Riding)
5. Jake Crozier (Hornsea Language College, East Riding)
6. Jordan Day (Wyke College, Hull)
7. Jordan Organ (Withernsea High School, East Riding)
8. Younes Grairi (St Mary's Sports College, Hull)
9. Mattie Start (St Mary's Sports College, Hull)
10. Jamie Forrester (Captain - St Mary's Sports College, Hull)
11. Martin Jones (St Mary's Sports College, Hull)
Substitutes
12. Joe Winship (Franklin College, Grimsby)
14. Lewis Reeve (Hornsea Language College, East Riding)
15. Stephen Richardson (South Hunsley School, East Riding)
16. Keane Parsons (Wyke College, Hull)
Team Managers:
Luke Moulds
Mark Phillips

Archived News
Seasons
Season 2014-2015
March 2015
12th :: U18 Inter County Final: Kent 3-4 Humberside