ESFA National Finals 2017 Kick Off in Birmingham
Thursday 02 March 2017By ESFA Office
Last Updated:
30/03/2017 15:14:52

The start of over 40 National Schools' Cup Finals is marked by the U12 Indoor 5-a-Side Finals this Monday
The English Schools' FA's National Competitions Department will be descending on a variety of different footballing venues between now and the end of May, to bring the 2016-17 season of National Competitions to a conclusion. National Champions in over 40 competitions will be crowned over the coming weeks, after taking part in months of competitive matches across the country.
The first National Finals of the season will take place on Monday 6 March at PlayFootball Birmingham, where the winners of both the Boys' U12 Indoor Football Fives and the Girls' U12 Indoor Football Fives will be sought over the course of the day.
The competition, sponsored by our medal providers Impact Trophies, will be held at PlayFootball for the first time and schools from as far as Tyneside, down to Jersey will all be in attendance, competing for the coveted titles. The teams have won District rounds and Area Finals to make it to this year's National Finals and are already winners in their own right just for making it this far in the competition.
Boys' Cup Competing Teams: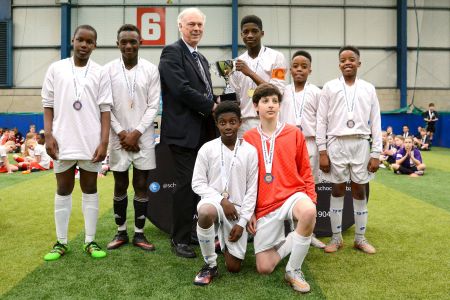 2015-16 Winners St Aloysius from Islington & Camden SFA
Churchill Community College (North Tyneside SFA)
Thomas Telford School (Telford & Wrekin SFA)
Gordano School (North Somerset SFA)
Le Rocquier School (Jersey SFA)
Poynton High School (Macclesfield & District SFA)
South Hunsley School (East Riding SFA)
Licensed Victuallers' School (East Berkshire SFA)
Enfield Grammar School (Enfield SFA)
Girls' Cup Competing Teams: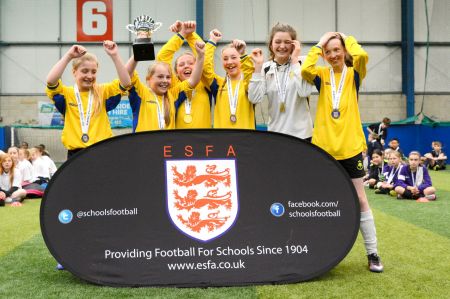 2015-16 Girls' Winners, Alder Community High School from Tameside SFA lifting the trophy!
St Mary's Catholic School (Newcastle Upon Tyne SFA)
Thomas Telford School (Telford & Wrekin SFA)
Gordano School (North Somerset SFA)
Queens' School (Watford & District SFA)
Corpus Christi Catholic High School (Preston SFA)
The Duston School (Northampton SFA)
Cheney School (Oxford City SFA)
Kingsdale School (South London SFA)
Photographs from Monday's final will all be available thanks to 353 Photography and a round up of the days' events will appear on our website next week. Follow @SchoolsFootball on Twitter to keep up with the progress throughout the day and Tweet your support to your teams!
Good luck to all schools involved! See you on Monday!

Archived News
Seasons
Season 2016-2017
March 2017
02nd :: ESFA National Finals 2017 Kick Off in Birmingham