Match Report - ESFA U18 Colleges' Cup for Girls National Final
Tuesday 28 March 2017By ESFA Office
Last Updated:
30/03/2017 15:14:52
South Gloucestershire & Stroud College v Gateshead College
Wednesday 22 March
KO 12pm
Gateshead College take the win in Nottingham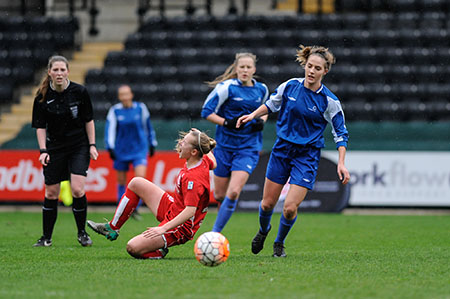 Gateshead College have been confirmed the winners of this year's Hudl Under 18 Colleges' Trophy for Girls', emerging victorious following an enthralling game that can only be summed up using the age-old cliché 'a game of two halves'. The win came courtesy of first half strikes from Georgia Gibson and Louise Griffiths, before Holly Chandler showcased her predatory instincts to half the deficit when following up after a shot from South Gloucestershire and Stroud College's number 10, Paige Sawyer early in the second half. Both schools should be congratulated for the excellent spectacle that they produced on the day, and is something that both parties will no doubt look back on fondly in the future, given the significance of the occasion.
It would be remiss of us to mention that this match could easily be considered as a 'clash of the titans' because between them, the two sides have won five of the seven Under 18 Girls Colleges' finals: this year's match was a repeat of the 2013 final, which Gateshead College won 3-0. That, in itself would be a remarkable pre-cursor to the action, but both colleges can claim to have nurtured some outstanding talent in the past, with South Gloucestershire and Stroud College being guided to success by none other than the England Women's Manager Mark Sampson for their first three titles. Likewise, Gateshead College can count Manchester City and England striker, Jill Scott amongst their alumni. Therefore, the stage was set for a blockbuster.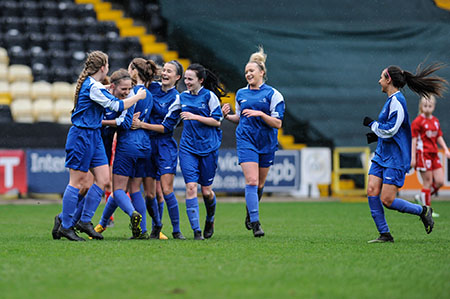 This short summary does not even come close to fully describing the action in what was a fantastic advert for both Girls' and Schools' football across the country with Gateshead starting the stronger, whereby, they raced out of the blocks to force two early corners that were well defended by South Gloucestershire and Stroud College. Immediately after this however, South Gloucestershire and Stroud College embarked on a quick counter attack, which although this came to nothing set the tone for the rest of the first half with Gateshead having the lion's share of the chances and play. Their dominance was rewarded in the 12th minute, when Gateshead intercepted Amy Goddard's misplaced pass to square the ball for the onrushing Georgia Gibson to curl a lovely strike past SGS' keeper, Aimee Watson. It was soon 2-0 in the 32nd minute when Louise Griffiths got her head onto a corner, which rolled agonisingly in the far corner, sparking wild celebrations in the away dugout. The goal was made all the more remarkable, given the fact that Griffiths' glancing near post header looked to be going wide initially, but spun back in towards the goal and nestled into the far corner. This pattern continued with Gateshead having numerous shots which kept Watson busy, notably when Georgia Gibson continued her impressive performance by hitting the bar in the 38th minute- a rasping drive that left Aimee Watson well beaten. From then until the end of the first half, the one-way traffic continued, with only a combination of excellent goalkeeping and last ditch defending keeping the score at 2-0.
Half Time: South Gloucestershire and Stroud College 0-2 Gateshead College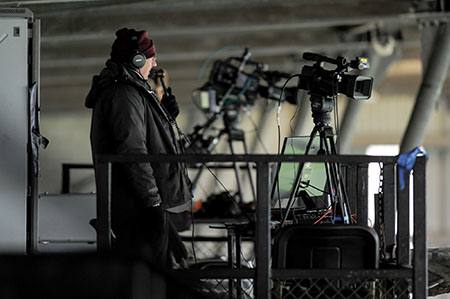 caption textSouth Gloucestershire and Stroud College emerged reinvigorated for the second half. Their bright start was rewarded when South Gloucestershire and Stroud College pulled one back, following good build up play, Paige Sawyer had a shot that was only half stopped by Gateshead's keeper – Claudia Moan, who could only push it back into the danger area. As a consequence, Holly Chandler showcased her predatory instincts to halve the deficit in the 58th minute, firing into an open goal. The goal had evidently lifted South Gloucestershire and Stroud College, who then looked to throw caution to the wind along with the proverbial kitchen sink in an effort to find an equaliser. Gateshead though, much to their credit came back strongly almost immediately and were unlucky not to have restored their two-goal cushion in the 62nd minute through Aneece Legg, as she curled a 25 yard towards the top left hand corner. Such was the quality of her strike, one could have forgiven her for beginning to celebrate but Aimee Watson produced an unbelievable display of athleticism to tip the shot round the post. In the 65th minute, a barnstorming overlap from South Gloucestershire and Stroud's Flo Allen almost provided the equaliser as her cross was only just cleared following a bit of a melee. Unperturbed by the lack of an equaliser, Paige Sawyer proceeded to curl a shot into the grateful arms of Claudia Moan. Sawyer seemed determined to drag her side level and in attempting to do so produced a classic Cruyff turn that the great man himself, would have approved of. Unfortunately for her though, the subsequent shot went well wide of the goal.
There was a lull in the action around the 70th minute mark as both teams struggled to get a rhythm going in a bid to gain control of the match. It took until the 82nd minute for the game to burst back into life with a disallowed goal as the impressive Paige Sawyer was ruled offside, credit must go to her for her finish though, as she slotted her low strike into the bottom corner. By now, Gateshead College were looking to shut up shop and see the game out and as such the flow that was present in the game earlier on had disappeared. Therefore, the remaining opportunities were crafted from South Gloucestershire and Stroud's set pieces, who seemed to have set up camp in Gateshead College's half but their endeavours bought no reward.
Joyous scenes followed at the final whistle as Gateshead College celebrated a hard-fought victory. South Gloucestershire and Stroud College, to their credit accepted their defeat gracefully and thoroughly deserved their applause after the match, as well.
Team Line Ups
South Gloucestershire & Stroud College
Aimee Watson, Flo Allen, Morgan Wollen, Lauren Cornock, Destiny McDonald-Ferguson, Amy Goddard, Holly Chandler, Poppy Wilson, Romany Cochrane, Paige Sawyer, Libby Goater & Bettina Hawkins.
Gateshead College
Claudia Moan, Erika Warren, Emily Tait, Beth Guy, Molly Lister, Louise Griffiths, Annece Legg, Georgia Gibson, Bridget Galloway, Danielle Brown, Chloe Sharp, Abbie Watson, Abbie Gilchrist, Larissa Brown, Laura Ducker & Ellie Mark.
Match Officials
Abi Marriott (Referee), Chloe Taylor & Chloe Matthews (Assistant Referees), Amy Powell (Fourth Official).
Remember that you can watch the video of the game, complete with commentary, via out YouTube Channel. Click here to find out more.
We would like to express our thanks to 353 Photography for taking the photos on the day. Click here to see the full album and to purchase the photos at a very reasonable price.
Images © ThreeFiveThree Photography - not to be reproduced without permission
Archived News
Seasons
Season 2016-2017
March 2017
28th :: Match Report - ESFA U18 Colleges' Cup for Girls National Final