Match Report - ESFA U18 Schools' Cup for Girls National Final
Tuesday 28 March 2017By ESFA Office
Last Updated:
30/03/2017 15:14:52
Durham VI Form Centre v Barking Abbey School
Wednesday 22 March
4pm KO
Barking Abbey successful at Meadow Lane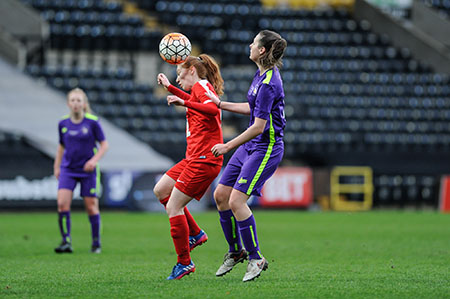 Barking Abbey School have been confirmed as the winners of this season's Hudl Under 18 Schools' Trophy, after they defeated Durham Sixth Form Centre 4-0 in yesterday's final. A first half strike from the impressive Anais Reynolds was followed up by second half brace from Kaydee King and a poacher's finish from Anele Komani. Although the score line would perhaps suggest that there was quite a difference between the two teams, in truth, it was just a case that Barking Abbey School were extremely clinical in the final third when compared to Durham Sixth Form Centre, who more than matched Barking Abbey for the majority of the match. Both schools should be congratulated for the excellent spectacle that they produced in very challenging conditions.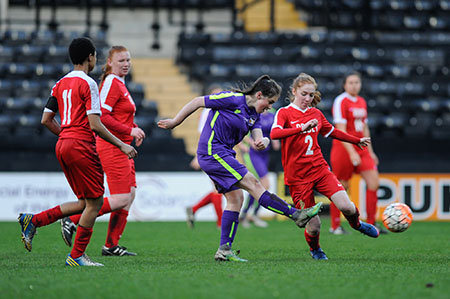 Our two competing teams had both had equally long journeys in order to compete in the final at Notts County, therefore one may have expected a tight and tense start to the game. However, it was Barking Abbey who seized the early initiative as Anais Reynolds was caught offside in the second minute in a clear show of intent. Durham Sixth Form Centre did well to respond to the early pressure and when launching a counter attack of their own, Sophie Wood had an effort from around 8 yards out cleared off the line by Barking Abbey captain Aysha Bentick. The first goal of the game was to follow five minutes later courtesy of Anais Reynolds who lashed a shot over the advancing Morgan Harle in the Durham goal, after holding off the attentions Durham defence. The rest of the first half was conducted in an end to end fashion as Durham looked to restore parity before the half time interval. As a consequence, there were chances aplenty for both teams. There were a couple of chances that are worthy of a quick mention – in the 16th minute, player of the match, Klesha Darroux displayed some fancy footwork to break clear of the Durham defence, before shooting agonisingly over the bar. Furthermore, in the 23rd and 27th minute, Durham's Sophie Wood created two glorious chances from crosses that either just evaded everyone or resulted in a scuffed shot. Not to be deterred however, Sophie Wood embarked on a mazy run that was halted by a mistimed tackle approximately 20 yards out. Shannon Reed stepped up to take the resultant free kick, which was acrobatically tipped over by Durham goalkeeper, Ellie Bowman. The final chance of the first half fell to Anais Reynolds who had a shot saved by Morgan Harle with her legs.
Half Time: Durham 0-1 Barking Abbey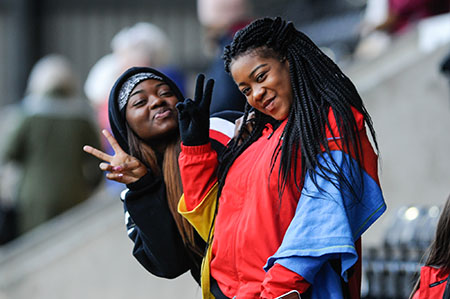 There was a frenetic start to the second half with Anais Reynolds firing over the bar in the 47th minute. Barking Abbey immediately doubled their lead when Klesha Darroux played a lovely cross field ball to Maisie Ryan to centre. Despite Durham's best efforts the cross hit the unfortunate Katie Robinson and fell into the path of the onrushing Kaydee King to side foot home. Durham earned a corner following the restart, and were extremely unlucky not to have reduced the arrears after a volleyed effort on goal was blocked by the Barking Abbey defence. In the 59th minute, Durham were extremely grateful to Morgan Harle who produced a stunning double save from inside the six yard box to keep them in the game. Imogen Bennett would then go on to hit the bar with their next attack as Imogen Bennett let fly from at least 30 yards out, leaving Morgan Harle a mere spectator. Fortunately for her, the woodwork came to her rescue. Durham subsequently exerted a period of sustained pressure on the Barking Abbey goal, whereby only a combination of the post and good defending kept Durham at bay.
It was 3-0 in the 79th minute as Anele Komani poked home from inside the six yard box after a corner was floated over the keeper to put the game beyond Durham Sixth Form College. Kaydee King then wrapped up the scoring in the 88th minute, by calmly sidefooting the ball into the net, after it had fallen kindly to her in the area.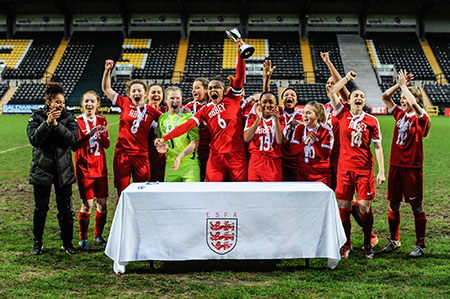 The final whistle soon followed, bringing with it jubilant scenes from both the Barking Abbey players and partisan crowd alike. Durham to their credit accepted their defeat gracefully and thoroughly deserved their applause after the match, as well.
Team Management
Durham VI Form College
Morgan Harle, Megan Elliott, Kathryn Riley, Frayah Munro, Ebony Thompson, Katie Robinson, Leanne Bates, Shannon Reed, Sophie Tierney, Katie Ellison, Sophie Wood, Helen James, Jenny Smithson, Megan Hocking.
Barking Abbey School
Ellie Bowman, Imogen Bennett, Maisie Ryan, Olivia Smith, Kaydee King, Aysha Bentick, Milly Thompson, Alexis Hobbs, Klesha Darroux, Morgan Duffield, Anele Komani, Rosie Chapman, Sindi Kanto, Viviane Osakanu, Lucy Barnes, Anais Reynolds.
Match Officials
Abi Marriott (Referee), Chloe Matthews & Chloe Taylor (Assistant Referees), Amy Powell (Fourth Official).
A special thanks to 247.tv for streaming the game live via our YouTube Channel (ESFA TV). This can be viewed back by clicking here.
Thanks also go to 353 Photography who have provided all of the photos from the game. Click here to see the gallery and photos are also available for purchase at very reasonable prices.
Images Š ThreeFiveThree Photography - not to be reproduced without permission
Archived News
Seasons
Season 2016-2017
March 2017
28th :: Match Report - ESFA U18 Schools' Cup for Girls National Final