ESFA Announce Boys' U18 Double Header at Doncaster Rovers FC
Monday 13 March 2017By ESFA Office
Last Updated:
30/03/2017 16:14:52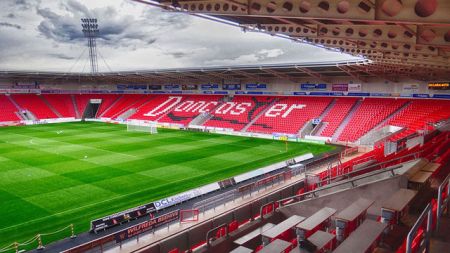 Doncaster's Keepmoat Stadium will host the celebration of U18 Boys' football on 29 March
This season has seen teams from across the country enter into 45 English Schools' FA National Cup competitions to compete for the opportunity to be crowned National Champions. As part of this extensive programme of activity, an U18 Boys' double header event will be hosted at Keepmoat Stadium, Doncaster Rovers FC, on Wednesday 29 March 2017
ESFA U18 Hudl Schools' Cup for Boys
Altrincham Boys' Grammar School v Millfield School
KO 12pm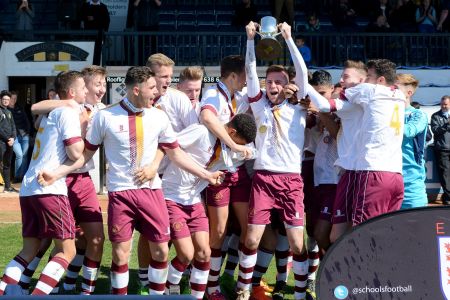 Last year's Schools' Cup Champions, Thomas Telford School, celebrating their win!
ESFA U18 Hudl Colleges' Cup for Boys
Farnborough Sixth Form College v York College
KO 4pm
Last year's U18 Colleges' Champions, Hartpury College, lifting the trophy following their National Final win!
The above finalists have battled it out through eight and six rounds, respectively, to make it through to these prestigious National Finals. The event will be a celebration of incredibly high level football and pay tribute to the outstanding quality of football showcased through the ESFA and the fantastic young players developed by the schools' football system.
Doncaster Rovers have been kind enough to allow us to utilise their fantastic Keepmoat Stadium facilities for the third, consecutive year now and we want to welcome as many spectators as possible on the day – the atmosphere in the stadium makes all the difference to the teams! Admission to the finals is just £4 adults and free entry for students up to 18 years – spectators can arrive from 11:30am for the Schools' Cup and 3:30pm for the Colleges' Cup and a kiosk will be open to purchase refreshments. Match day programmes will also be available to purchase for just £1.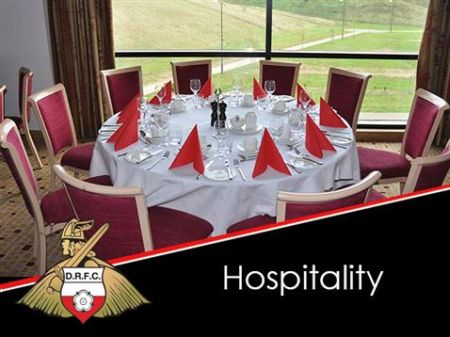 Hospitality packages for both matches are now also available to purchase online until Friday 17 March. This gives spectators the opportunity to support their teams in style! Hospitality packages include:
Pre-match and half time refreshments in the Boardroom
Match ticket and Directors' Box seating
Souvenir match programme
Post-match meal, including dessert, with the Players, Officials and VIPs in the Restaurant
You can find further details and also purchase packages directly through our website here. If you require any further information, please email Sarah Kearney directly.
This season's Under 18 National Cup competitions have been sponsored by Hudl – providers of sport analysis software that is simple to use and can create fantastic results. If you want to find out how Hudl can work for your teams or schools then have a look at their website here.
We would like to welcome as many spectators as possible along to witness what's sure to be a fantastic show of footballing talent, however, if you are unable to make it don't despair – all National Finals this season will be streamed live online and for FREE via our YouTube channel, ESFA TV. You can also keep up with live match feeds and updates via our Twitter account, with match feeds supplied by ClubApp – you can download the app free from the App Store or GooglePlay to find out more!
The ESFA would like to wish the very best of luck to all four teams competing in these prestigious cup finals and we look forward to welcoming everyone to Doncaster Rovers on the 29th.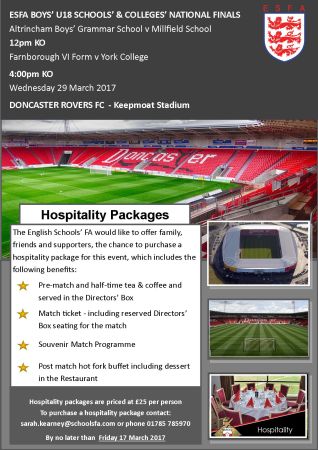 Archived News
Seasons
Season 2016-2017
March 2017
13th :: ESFA Announce Boys' U18 Double Header at Doncaster Rovers FC