England's First Home International – Streamed Live Tonight!
Friday 24 March 2017By ESFA Office
Last Updated:
30/03/2017 15:14:52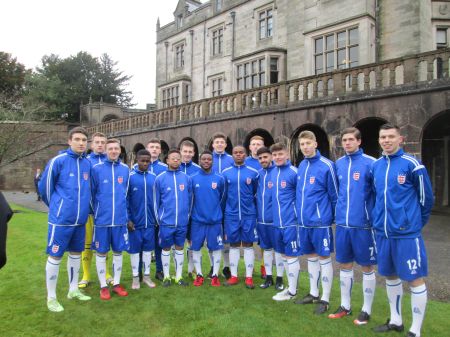 You've heard about the rise in the use of Live Streaming for Schools' Football – tonight is a chance to see check the coverage out!
This week, the Media have been reporting the rise of school sport online streaming and have featured the fact the ESFA have been doing this now for the last 2 seasons. You can have a read through the article in The Times here but you can check out the fantastic coverage supplied by 247.TV tonight - as England take on Northern Ireland in our first home international of the season, in the Centenary Shield competition.
ESFA U18 Schoolboys v Northern Ireland
Friday 24 March 2017
KO 7pm
Torquay United FC
You can watch England v Northern Ireland LIVE online and for FREE via our YouTube Channel, ESFA TV.
Simply click on the link below to view the live coverage with full commentary and instant replays! You can get interactive with tonight's match by tweeting @SchoolsFootball and showing your support - wherever you are.
If you can't watch the live coverage, you will be able to watch the match back time and time again on via ESFA TV, alternatively you could download ClubApp, free from the App Store or GooglePlay, where live match updates will be fed through directly to your phone.
WATCH | STREAM | TWEET | SUPPORT
Click here for the direct link to tonight's YouTube feed
#ESFA #ComeOnEngland
Archived News
Seasons
Season 2016-2017
March 2017
24th :: England's First Home International – Streamed Live Tonight!