Red Christmas for Maricourt Catholic School
Thursday 04 January 2018By ESFA Office
Last Updated:
10/02/2021 10:50:14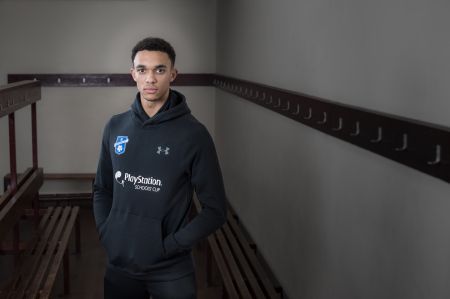 The last week of term before Christmas is always a time to get excited for kids. For this year's festive celebrations, pupils at Maricourt Catholic School were given a special treat they will never forget, when Liverpool star Trent Alexander-Arnold made a surprise visit in support of the English Schools' FA (ESFA) PlayStation Schools' Cup. Now in its fifth season, the ESFA PlayStation Schools' Cup is the biggest schools' football tournament in England, featuring over 200,000 competing school children since 2013.
A born and bred Scouser and boyhood Red, Trent started his visit with a Q&A session with over 40 pupils. With the classroom packed, some of the stories the Reds full-back revealed included Steven Gerrard was his biggest inspiration when he was growing up, Manchester City midfielder David Silva has proved the toughest player he has faced since breaking into the first team. Trent went on to explain that during training Philippe Coutinho is the king of nutmegs and out of his teammates he thinks Mohamed Salah would win a 100m race.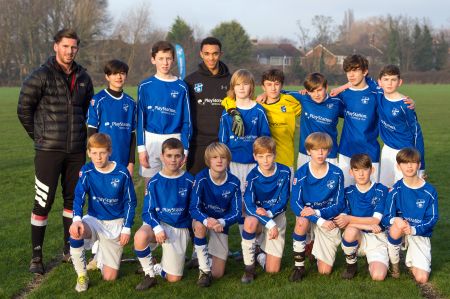 As part of the roadshow, Maricourt Catholic School were playing a local team in a specially-arranged PlayStation Schools' Cup U13 Boys football fixture. Prior to kick-off both captains introduced their teammates to Trent, with the Liverpool star explaining he had once played on the very same school pitch when he was their age. The news clearly inspired the home team, as they recorded an emphatic 10-0 victory against Holy Family Catholic High School.
"It only feels like yesterday, when I was enjoying representing my school at football," explained 19-year-old Trent Alexander-Arnold. "I am very proud of my Liverpool roots, so I was really pleased when I was asked to visit a local school in support of the PlayStation Schools' Cup. It was also nice to see the so many smiles on kids' faces, as I walked around the various activities."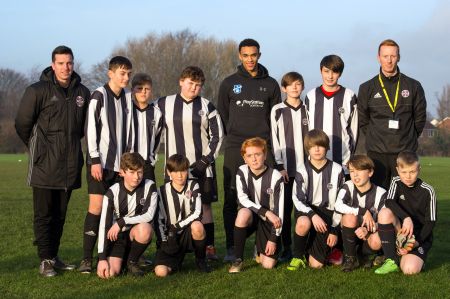 Adding to the festive activities, Maricourt Catholic School's assembly room, which is aptly named Arnold Hall, played host to a PS4 gaming zone. Gabriel Gray was given the chance of a lifetime, as he was chosen to take on Trent on the popular FIFA 18 football game, with the Reds hero supporting a selfie session with the gathering crowd. Six pupils from the school were also rewarded by being selected to star alongside Trent in a Sky Sports Game Changers feature filmed at the event.
You can follow all the behind-the-scenes action across the ESFA and PlayStation Schools' Cup, Instagram, Facebook and Snapchat channels.
Facebook – search 'Schools' Football' or 'PlayStation Schools' Cup'
Instagram – search schoolsfootball or psschoolscup
Snapchat – search psschoolscup
We would like to say a big thank you to Trent Alexander-Arnold for being an awesome ambassador and extend our appreciation to Maricourt Catholic School for helping make the fourth PlayStation Schools' Cup roadshow of the season such a memorable occasion.
Archived News
Seasons
Season 2017-2018
January 2018
04th :: Red Christmas for Maricourt Catholic School