Calling All England Supporters!
Friday 26 January 2018By ESFA Office
Last Updated:
10/02/2021 10:50:14

You've watched the trials process and seen the fresh new squads…now is the time to grab your tickets and cheer them on!
This season to Under 15 Girls and Under 18 Boys have a full schedule of international fixtures coming up in the Bob Docherty Tournament and the Centenary Shield. Following the players training weekend to receive their new International kit – provided by Pendle Sportswear.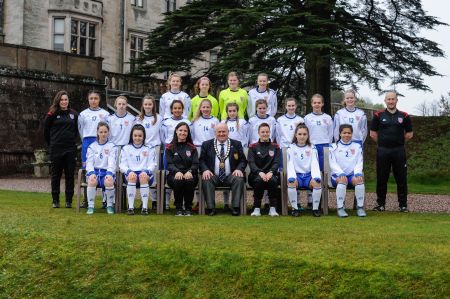 The Girls squad fixtures will kick off the international programme for the year with the John Read Trophy which will be played against the Republic of Ireland at Stafford Town FC on the 10th of March at 3pm. This will be the first game following their Inspiresport squad training camp at PSV Eindhoven in February. Standing tickets are £3 for Adults and £2 for Concessions and seating tickets are £6 for adults and £5 for concessions. Parking will also be available on the day for £1.

Luton Town FC will host the England U18s on 16 March 2018
Only 6 days later, we will see the Under 18 Boys take on the Republic of Ireland on at Luton Town FC at 7pm. The fixture on the 16th of March is the Under 18's first fixture of the 2018 Centenary Shield, and sees the boys play their first game after their training camp in Valencia with Inspiresport. Tickets are available to order in advance or on the day at the ground at £8 for Adults and £5 for Concessions.

York City FC will host the England U18s v Scotland on 23 March
The games will be coming thick and fast for the boys' squad with their next match the following Friday night at York City FC. The game on the 23rd of March sees them take on Scotland in the Auld Derby. Tickets are priced at £7 Adults and £3 Concessions and available to purchase in advance (from 1 February) or on the night of the match.
These two home games will be followed by matches against Wales and Northern Ireland on the 29th March and 6th April, with the Under 18s being hosted by their opponents.
The U15 girls' squad will be travelling to Belfast from the 23rd to the 26th of March to compete in the Bob Docherty tournament. The squad will play against each of the home nations in an intense weekend of footballing action. The event will be covered on the @SchoolsFootball twitter account to keep followers up to date.
For hospitality requests or bookings, please contact the ESFA directly via email by using this link.
Look out for further announcements regarding these matches and coverage and we look forward to welcoming as many supporters as possible along this year to cheer on our fantastic squads!