ESFA U15 Girls International Squad Announcement Season 17-18
Monday 15 January 2018By ESFA Office
Last Updated:
10/02/2021 10:50:14
The English Schools' FA England Under 15 Girls' final trial took place this past weekend at Stafford Town FC. The 32 remaining players participated in a match between squads from the North and South of England.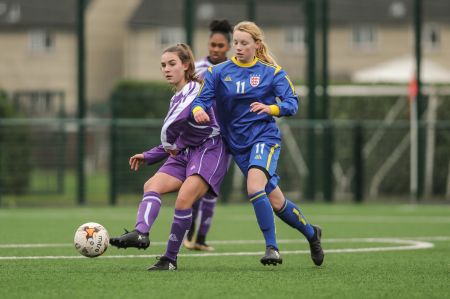 The trials began in early October with regional trials for the North, Midlands, South East and South West with players being put forward for selection from their county. The level of passion and effort at these trials was abundant to all in attendance. Following this stage the squads were reunited to play in regional matches. This saw the North take on the Midlands and the South East play against the South West. These matches took place in early November and in spite of the turning weather, two outstanding football matches took place in which all players showcased their abilities to the selectors. From these matches the two squads for the final trial match were chosen. Unfortunately the final trial had to be cancelled due to heavy snowfall in in December.
The rearranged trial took place this past weekend and was an exhibition of footballing ability. In spite of the cold, overcast conditions he players took to the field with the intent to play football and showcase their best skills. The match ended a 1-1 draw with the South taking the lead from a team goal that was passed into the net from the right edge of the box. The North drew level through a sublime 35-yard goal that dipped over the goalkeeper into the top corner of the net. The game was dominated by passing moves and cohesive rear guard action that lead to a tight match that would test the footballing intelligence of those on the pitch.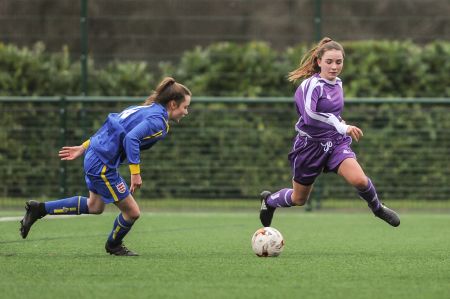 The ESFA would like to congratulate the following girls on successfully making this season's ESFA England U15 Schoolgirl Squad:
| | | |
| --- | --- | --- |
| NAME | POSITION | COUNTY |
| TIMSON, Lana | GK | Leicestershire |
| WEBB, Kiya | GK | Buckinghamshire |
| PARAISO, Safia | Defender | Worcestershire |
| HUGHES, Ruby | Defender | Inner London |
| SLATER, Emily | Defender | Lancashire |
| TREWEEK, Amber | Defender | Dorset |
| HOCKLEY, Kira | Midfield | Somerset |
| HITCHEN, Sally Ann | Midfield | Cheshire |
| ATKINSON, Emily | Midfield | Lincolnshire |
| PRYOR, Poppy | Midfield | West Midlands |
| WILCOCK, Tamara Abbie | Midfield | South Yorkshire |
| AHERNE, Alyssa Mae | Midfield | Lancashire |
| HART, Lauren | Midfield | Essex |
| ROSS, Mia | Midfield | Durham |
| McINNES, Libbi Mae | Forward | Durham |
| COLLIER, Mary | Forward | Lancashire |
| SMITH, Bebe | Forward | Dorset |
| JACKSON, Lily | Forward | Staffordshire |
The ESFA would like to thank all players that took part in all stages of this season's trials and wish them the best with the rest of their season. Congratulations to all players who have made the cut for the squad and we look forward to working with you for the rest of the season.
Photos from the trial are available from 353Photography and can be purchased directly from their website https://353photography.weebly.com/esfa.html
Archived News
Seasons
Season 2017-2018
January 2018
15th :: ESFA U15 Girls International Squad Announcement Season 17-18