Archbishop Temple School Christmas Truce Re-enactment
Friday 19 December 2014By ESFA Office
Last Updated:
19/12/2014 15:30:25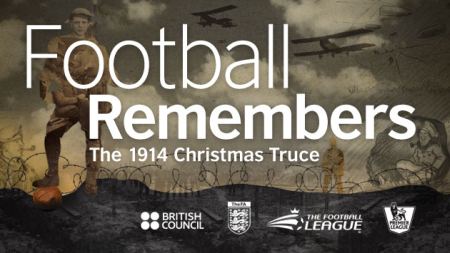 Inspired by the British Council's Football Remembers campaign, Archbishop Temple School in Fulwood, Preston commemorated the event of the 1914 Christmas Truce by staging a re-enactment of the historic event.
The event was preceded by a question and answer session with three Preston North End players, team Captain Tom Clarke, David Buchanan and Keith Keane; who answered questions from both pupils and teachers on their careers and on being part of the Preston team.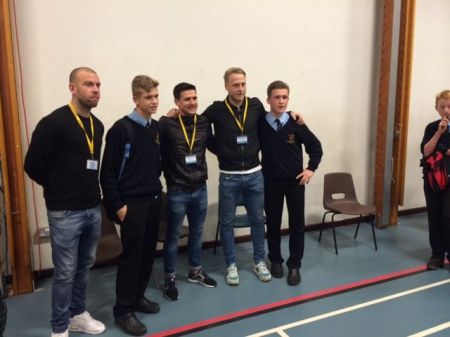 Preston Players Keith Keane, David Buchanan and Tom Clarke posing for photographs with Archbishop Temple School
Following the Q&A, staff, students and guests headed out to the school's tennis courts, where pupils and teachers had worked tirelessly to recreate the WWI scene of the truce, complete with trenches, crosses and a band of students to play Silent Night and The Last Post. The football match completed the re-enactment, with the two teams of German and English soldiers coming together, as history tells, to play a game against each other on Christmas Day 1914.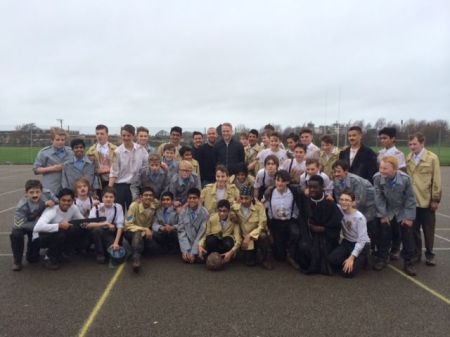 The Archbishop Temple School pose for a photo with Preston North End players for their British Council #FootballRemembers post
Sarah Kearney was lucky enough to represent the ESFA at this event and would like to not only thank Archbishop Temple School for allowing us the opportunity to get involved with such a lovely event but also Preston North End for kindly allowing their players to attend and support the school with their efforts.
The full story with all photos and videos will appear on the ESFA website just after the New Year, in celebration of the Football Remembers events that have taken place this month, marking the centenary of the Christmas Truce.
You can see all the photos taken by the Lancashire Evening Post here.

Archived News
Seasons
Season 2014-2015
December 2014
19th :: Archbishop Temple School Christmas Truce Re-enactment