PlayStation Schools' Cup Tie of the Round Launch
Thursday 19 September 2013By ESFA Office
Last Updated:
25/09/2013 16:50:55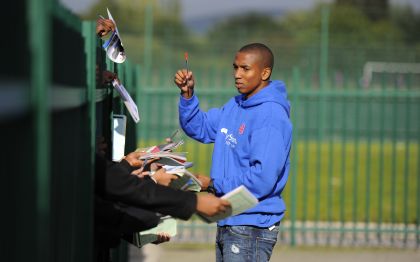 Ashley signs some autographs!
Yesterday we kicked off the PlayStation Schools' Cup in wonderful fashion with our first official 'Tie of the Round' event at Wright Robinson School in Manchester.
This is the first of 10 planned Tie of the Round events to be held at schools up and down the country this season in partnership with the PlayStation School Cup. At each event there will be a whole host of different activities including PlayStation gaming experiences, coaching sessions and a player appearance for the pupils to make the most of.
The events will go on throughout the day and will culminate in the school playing a live match in the ESFA PlayStation Schools' National Cup supported by their fellow pupils and team mates.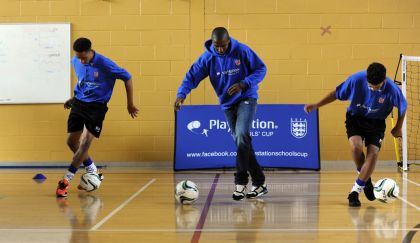 Ashley Young takes on the boys in a skills challenge
We were lucky enough to welcome Ashley Young, of Manchester United and England to Wright Robinson School. After some media interviews and a Question & Answer session with the pupils, Ashley spent some time in the coaching session working with the boy's from the school football team on their ball control and challenging them to learn some new skills!
In the PlayStation gaming experience area the pupils were treated to an advanced sneak peak of EA Sports new title 'FIFA 14' and were among some of the first children in the country to play the yet to be released football game.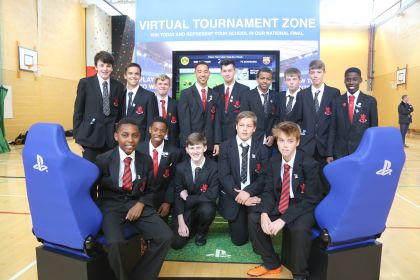 Pupils get ready to take on the Virtual FIFA Tournament
As the day's activities came to a close, all attentions turned to the live football matches that were taking place. Wright Robinson hosted both Sale Grammar School in the U15 PlayStation Schools' Cup and The Fallibroome Academy in the U14 PlayStation Schools' Cup.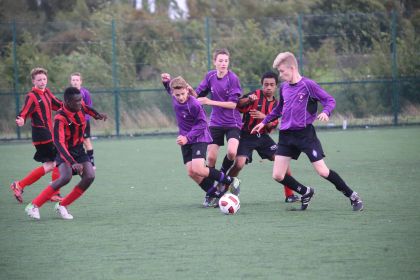 Wright Robinson take on Sale Grammar School
The ESFA would like to thank everyone at Wright Robinson for their hospitality and to everyone involved for making this such a successful Tie of the Round. We are looking forward to the next event which will take place at the Royal Docks School in London in a week's time.
For all the latest information on the PlayStation Schools' Cup, scores and photos, check out www.playstationschoolscup.com, follow us on twitter @schoolsfootball @psschoolscup or like our pages on Facebook!
Archived News
Seasons
Season 2013-2014
September 2013
19th :: PlayStation Schools' Cup Tie of the Round Launch