Ex-teacher now coaches the Galácticos
Thursday 19 September 2013By ESFA Office
Last Updated:
25/09/2013 16:50:55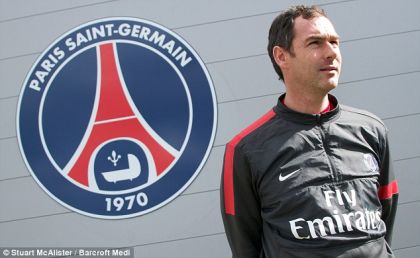 Clement while at PSG
The meteoric rise of Paul Clement, the ex-Glenthorne High School teacher in Sutton, has been one of what dreams are made.
Having three clubs like Chelsea, Paris Saint Germain and Real Madrid on your coaching CV isn't something a lot of qualified teachers can boast about. But for Clement, it has become his life after his whirlwind rise to the top of the professional game.
Clement, who worked as a PE teacher in Sutton from 1995 to 2000, is from a football family.
His father is the former QPR and England full-back Dave, who took his own life at the age of 34, and his brother is the ex-Chelsea and West Bromwich Albion defender Neil.
Paul never played the game professionally, though. While working as a teacher he studied for his coaching badges and helped with Chelsea's Football in the Community programme.
If for nothing else, this story proves that with hard work and dedication, anything is possible.
You can watch a video interview here with Paul.
Please click here to see the full article on BBC Sport.

Archived News
Seasons
Season 2013-2014
September 2013
19th :: Ex-teacher now coaches the Galácticos