ESFA Repton Coaching Course
Monday 02 September 2013By ESFA Office
Last Updated:
25/09/2013 16:50:55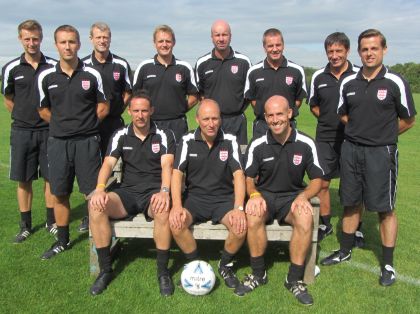 Our ESFA Repton Coaches
Each year we have managed to bring together some of the best players in England in the U-18 age group, that are still in full time education. Repton School plays host to this event, and it can boast in having some of the best sporting facilities in the country. This year the coaching provided by all our 'A' and 'B' licence coaches was as professional as ever. The sessions are tailored to the needs of the players with specific work done with groups of defenders, midfielders etc. The evenings are also an opportunity to educate the boys. This year we explored "roles and responsibilities" within the team, core stability exercises and what it is like to play for the full England Schoolboys U-18 team.
Playing without fear was my focus for the course. I was really keen to impress upon the players that this was an opportunity to play in games where the process was more important than the result. The coaches reinforced this message wonderfully well. It is not often, which is the case for so many young players. I think this helped in creating a fertile learning environment for them to enjoy.
Pass4Soccer, our partners in finding American Scholarships, also gave an excellent presentation, on how they might extend their education whilst still playing football at a high level. Daniel Gray and Tom Nutter will give you honest and professional advice if you are interested.
Finally, may I give a big thank you to Sue Gifford and John Read in our office for organising pretty much everything relating to the week. Elaine Shaw, from Repton School, who looked after our needs at the school. Steve Wilderspin and Mike Hewitt, the physios, who kept the boys on the field and lastly all the coaches who, as ever provided a quality experience for the players.
I would like to extend by thanks to the coaching team of Andy Blight, Ben Lavelle, Simon Coleman, Rob Hope, Andy Norwood, Nick Cox and Luke Hampton for imparting their coaching knowledge on the players.
Good luck for the forthcoming season everyone and keep in mind that we are educators first and foremost. Process is more important than outcome!
We thought the course was a huge success and here is a selection of quotes from player's who took part:
"First class coaching to professional quality standard with excellent lads to play and become mates with." Ollie
"Specific and personal training at the highest range of quality, effectiveness and professionalism. Outstanding week." Matt D, Cheshire
Great coaching in a professional place. Great chance to learn and improve as well as meeting new mates from different places." Jordan, Hull
This week course was eye opening and very helpful to improve my footballing ability" Anon.
This course has definitely been one of the highlights of my footballing career. The coaching, the organisation and all of the lads were a credit to themselves and to the ESFA. Very lucky to be given the opportunity to partake and would love to do it again if possible." Conor K
This week has been a great experience. This is the second year I have been on the course and I have really enjoyed my time." Oliver BH
"The course helped me improve as a player by learning new aspects and skills. The coaches were very helpful and they taught me ways in which I can improve my game." B Downing
"We really enjoyed our experience on the course. We gained a lot of knowledge that will help us through our footballing careers." Foster G, Chris S.
"The course is very helpful, enjoyable and opens the mind to the wide range of footballing knowledge." Kev
Andy Buckingham