International football returns to Ewood
Friday 06 September 2013By ESFA Office
Last Updated:
25/09/2013 16:50:55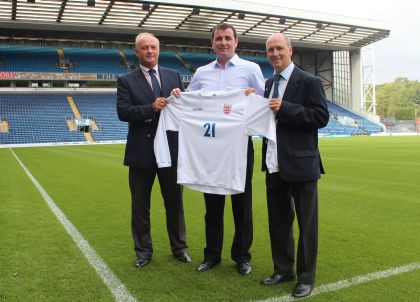 ESFA CEO, John Read (L) and U18 Manager Andy Buckingham (R) with Blackburn Rovers Manager Gary Bowyer
Blackburn Rovers will welcome some of the country's most promising young players to Ewood Park next year after agreeing to host a prestigious schoolboy international.
The English Schools' FA Under-18s will take on their Scottish counterparts in a Centenary Shield match at Ewood Park on Friday April 11th, 2014 (kick-off 7pm).
The competition has been running since 1973 and is contested by select boys sides representing the Schoolboy Associations of the home nations.
Ewood last played host to a Centenary Shield fixture in 2007, when England took on Northern Ireland, who are the current holders of the coveted trophy.
ESFA manager Andy Buckingham, who is a teacher at nearby Queen Elizabeth's Grammar School, said: "As an adopted Blackburnian,I am so pleased and honoured that the club have made their wonderful facilities available. I am sure it will be memorable occasion for everyone involved."
Rovers manager Gary Bowyer added: "This club has always been extremely supportive of youth football and so we are delighted to host such a high-profile fixture between two fierce footballing rivals.
"Representing your country at any level is a proud moment and so the Schools model is one we are happy to encourage. We look forward to welcoming the two teams to Ewood Park next April."
Ticket details will be announced at a later date.
Archived News
Seasons
Season 2013-2014
September 2013
06th :: International football returns to Ewood