U14 Boys' County Final: Surrey win on penalties
Friday 13 May 2011By ESFA Office
Last Updated:
02/06/2011 10:35:10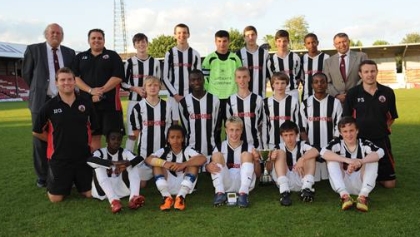 U14 Inter County Trophy Winners 2011 - Surrey CSFA
Tuesday 10 May saw Surrey lift the inaugural ESFA Under 14 Inter County Trophy for boys after they defeated Oxfordshire at Brentford Football Club, on penalties.
Andrew Mills put Surrey in the lead in the 5th minute when he headed home from a free-kick. Oxfordshire then equalised on 20 minutes thanks to Scott Gee after the ball was half cleared by the Surrey defence following a corner.
Surrey then regained the lead on 34 minutes thanks to another Andrew Mills header following a free-kick. Oxfordshire then levelled the scores in the last minute after a handball incident. Jack Alexander stepped up and converted the penalty to take the tie into extra time. With no goals scored during extra-time, the tie was eventually settled 4-3 on penalties in favour of Surrey.
The ESFA Chairman, Mike Coyne, was on hand to present the trophy to Surrey captain, Bill Bishop.
Squads
Surrey: Billy Bishop (Goalkeeper & Captain), Andrew Mills, Sam O'Brien, Daniel Gallagher, Ollie O'Dwyer, Ryan Sweeney, Jake Gill, Renny Smith, Joel Lumeya, Aaron Redford, Patrick Roberts, Callum Wilson, Kyle Spence, Jacob Berkeley-Agyepong, Issa Soulemane , Ramelle Le Blanc. Team Management: H. Griffin (Coach), J. Spriggs (Coach), P. Summers (Coach).
Oxfordshire: Eddie Cavanagh (Goalkeeper), Matthew Taylor , Joel Washbourne-Calcutt, Eima Meade, Robbie Cundy, Kaine Wainwright, Joshua Smile, Scott Gee, Jack Alexander, Jordan Jeacock (Captain), George Reid, George Morgan, Edward Barker (Goalkeeper), Giorgio Rasulo, Adriel George, Luca Headford. Team Management: Steve Alman and Des Williams (Team Managers).
Match officials
Referee: Daniel Wyatt; Assistant Referees: Nick Cornwell & Martin Rowles; Fourth Official: Iain Southgate. Match officials supplied courtesy of Kent County Schools' FA.
Photo courtesy of www.rwt-photography.co.uk
U14 Inter County Trophy Results 2011
Archived News
Seasons
Season 2010-2011
May 2011
13th :: U14 Boys' County Final: Surrey win on penalties