Poole & East Dorset make Trophy final
Wednesday 14 March 2007By ESFA Office
Last Updated:
13/11/2010 16:02:59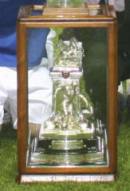 N.U.T. Trophy
Poole & East Dorset 1 Nottingham 1 (aet)
*Poole won 5-4 on penalties
Poole & East Dorset are through to the final of the ESFA N.U.T. Trophy after overcoming Nottingham, in a close encounter, at Poole Town Football Club yesterday evening.
Neither team managed to score in the first half despite several chances created by both teams. It was Nottingham that took the lead thanks to a Lemah Griggs strike, only for Ben Reeves to equalise for Poole & East Dorset and take the tie into extra-time.
Extra-time failed to determine a winner so penalty kicks were required to resolve the tie. Nottingham missed the first penalty and the remaining nine penalties were converted, allowing Poole to triumph with a 5-4 win.
Poole will play the winners of Worksop & Retford v Reading, which will be played on Saturday 17 March at Worksop Town FC, kick-off 1 pm.
The final will be contested over two-legs. Details of which will be published here when available.
Archived News
Seasons
Season 2006-2007
March 2007
14th :: Poole & East Dorset make Trophy final