Worksop & Retford join Poole in Final
Monday 19 March 2007By ESFA Office
Last Updated:
13/11/2010 16:02:59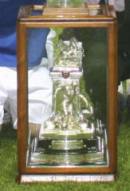 N.U.T. Trophy
Worksop and Retford, one of the smallest Associations in the country, became only the second team from Nottinghamshire to reach the finals of the premier schools' competition is its 103 years' history when they defeated Reading on Saturday (March 17) at Worksop Town Football Club. South Notts won the Trophy in season 1998-99.
After being in the lead three times in the first match at Reading last week, Worksop and Retford suffered a first minute shock when the visitors went ahead for the first time in the tie. They forced a corner on the right and the inswinging kick was met with a towering header from Rhys Tyler which bypassed goalkeeper Anthony Crump and the two full backs on the line.
Questions had to be asked about the home side's defending on that occasion, but they soon recovered to snuff out some dangerous Reading attacks which were aided by the wind blowing down the pitch. Perry Jones in central defence was outstanding and well supported by Ross Stallworthy and Kurt Smith.
Worksop had a chance within five minutes but Reading's keeper Chris Rackley dived well to save a Lewis Croucher header which did not have much power. After fifteen minutes, however, the Bassetlaw based side drew level with a brilliantly taken goal. Craig Gladwin did well on the right to put Conor Higginson in possession and with his back to goal, he put in a superb overhead kick which left Rackley with no chance.
Curtis White then headed over as Worksop and Retford continued to press although they had to be aware of the threat of the pacey Karlton Lee up front for the visitors while Greg Beckett in central defence proved a formidable barrier to the home side's forwards.
Worksop and Retford suffered an injury blow when White had to be taken off to be replaced by Daniel Fox and while they were reorganising, Reading forced two corners while Trevor Mutero on the right caused some problems, the closest of which saw him cut in and force Crump to make a save at his near post.
The second half opened brightly for Worksop and Retford who now had the brisk wind behind them and although a number of longer passes ran away from their strikers, the majority of the play was in the visitors' half. A cross from the influential Gladwin was hit over the bar by Conor Higginson and then Daniel Fox had a 20 yard shot deflected on to the bar by Rackley.
Worksop and Retford continued to press forward and gained their reward with a fine build-up. Fox waited before making an inch perfect pass to Gladwin who timed his run perfectly and a Reading defender could not clear his low cross which fell to Lewis Bingham who poked the ball low into the net.
A header from Tyler and a couple of breaks by Lee and Campbell were all that Reading could offer and as the home side continued to dominate, Fox again hit the bar from the edge of the box and Croucher headed a through ball just wide.
The strength of the Worksop squad was illustrated by their substitutions with Fox in midfield, Sam Hall, playing his first game since Christmas, Tom Mullen and Dominic Hammond all looking impressive as they gained a deserved win, while Reading had two of their Academy based players missing.
Worksop and Retford: Anthony Crump, Perry Jones, Kurt Smith, Ross Stallworthy, Brandon Shaw, Sam Stretton, Curtis White, Lewis Bingham, Conor Higginson, Lewis Croucher, Craig Gladwin Subs: Daniel Fox, Tom Mullen, Sam Hall, Dominic Hammond, Tom Hunt
Reading: Chris Rackley, Quinten Cumberpatch, George Batts, Carlton Cox, Greg Beckett, Gareth Snashe, Trevor Mutero, Tristan Campbell, Karlton Lee, Rhys Tyler, Tom Browne Subs: Ian McCulley, Aaron Derama, Josh Helmore, Andre Bell, Matt Mures.
In the final which be a two leg affair, Worksop and Retford will meet Poole and East Dorset on dates and venues to be arranged. Both sides will be making their first appearance in the final so there will be a new name on the Trophy!
Archived News
Seasons
Season 2006-2007
March 2007
19th :: Worksop & Retford join Poole in Final