U11 Primary: St Bede's host North Finals
Tuesday 06 March 2007By ESFA Office
Last Updated:
13/11/2010 16:02:59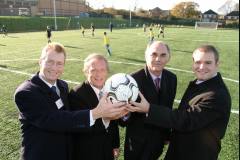 Gordon Taylor, CEO of the PFA
opens the new facility at St Bede's, Blackburn
St Bede's RC High School, Blackburn, is honoured to be the venue for two forthcoming English Schools' FA U11 Northern Primary Finals to be held on Saturday 21st April (Girls' 7-a-side Schools' Cup) and Saturday 28th April (Boys' 6-a-side Schools' Cup). St Bede's School has gained the prestigious FA Charter Standard Development Award, which acknowledges the school's commitment to high quality football within the school and its community.
As part of the school's community remit they are home to Blackburn Rovers Girls' School of Excellence and the successful Blackburn Rovers Ladies Team. Lancashire FA also make use of the facilities for their coaching courses, as do the District Schools' FA Representative Team.
The Blackburn based school are also a venue for a whole variety of junior grassroots football teams. Any enquires for potential community use on a Saturday for U16 affiliated groups please do not hesitate to contact school on 01254 202519 ex 278 for further information.
Headteacher Mr John Challoner said

The completion of the new 3rd generation all weather pitch artificial floodlit football pitch is a tremendous new facility that will offer enormous benefits to the school children of Blackburn and Darwen. This exciting new project was opened by Gordon Taylor Chief Executive of the Professional Footballers' Association. The pitch, imported from Canada was funded by the Football Foundation, Blackburn with Darwen and the school.

The pitch will be used primarily by school but also by community groups with the aim of increasing participation in football and sport generally"
St Bede's RC High School, a specialist sports college, Livesey Branch Road, Blackburn BB2 5BU.
Archived News
Seasons
Season 2006-2007
March 2007
06th :: U11 Primary: St Bede's host North Finals