Centenary Shield: Scotland 0-1 England
Monday 26 March 2007By ESFA Office
Last Updated:
13/11/2010 16:02:59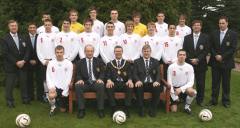 England off to a winning start!
England got their defence of the Centenary Shield off to a positive start with a 1-0 win away to Scotland at Stirling Albion FC on Friday 23 March.
A well taken goal from Phil Bannister (Monkseaton School and Northumberland CSFA) on the stroke of half time was enough to separate the teams and allow England to collect all three points on the evening.
Archived News
Seasons
Season 2006-2007
March 2007
26th :: Centenary Shield: Scotland 0-1 England